Minnesota woman stabbed and brutally beaten for wearing American flag shirt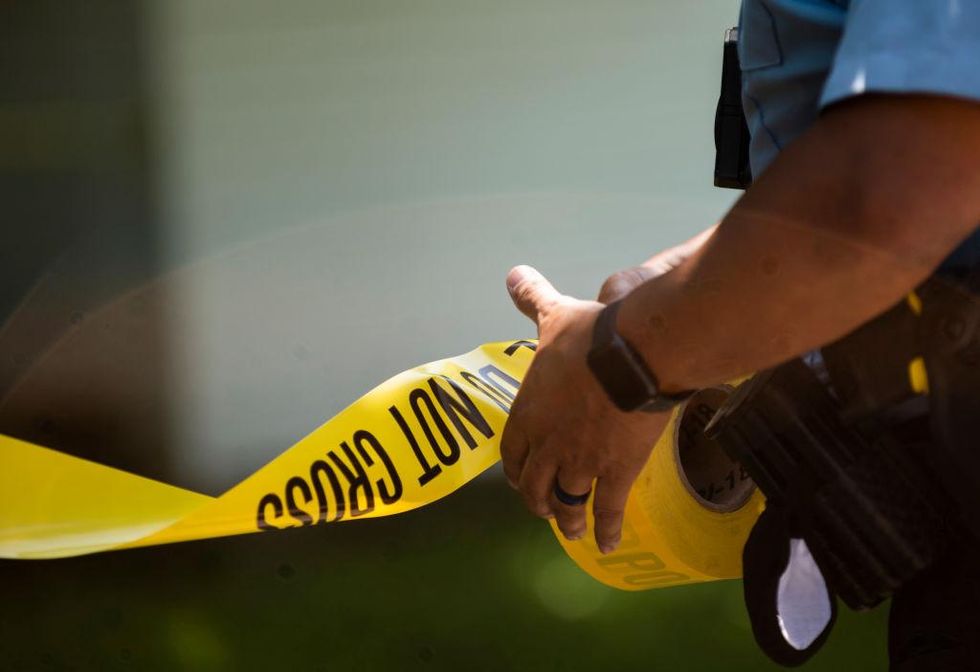 A repeat offender allegedly abused a woman so brutally because she wore a shirt emblazoned with the American flag that police "couldn't see her eyes."
At around 4:15 a.m. on October 2, police in Mankato, Minnesota received a hair-raising phone call from a woman. Loud noises and a man's voice could be heard in the background. First responders rushed to the scene to find a bloodied female victim and evidence of a gruesome attack.
According to that Judicial ComplaintWhen police arrived, the victim was soaking wet and bleeding profusely. Her face was so swollen that officers reportedly could not see her eyes. Broken plastic was strewn across the kitchen floor, which was also soaked with water. Several broken cell phones lay on the ground among the rubble.
The victim told Mankato Department of Public Safety officials that when she saw her in the American flag shirt, she was a 23-year-old repeat offender Paul Peter Jal choked and beat her.
Jal allegedly ripped a towel rack out of the wall and stabbed the victim, threatening that she would "die tonight."
It quickly became clear why several broken phones were lying on the floor. The victim had tried to call the police twice: first on another victim's phone and then alone. Jal destroyed both.
Jal, who remains at large, has been charged with second-degree assault with a deadly weapon; Third degree assault with significant bodily harm; threat of violence; interrupting or aggravating a 911 call; and property damage.
This was not his first encounter with the law.
The free press reported that Paul Peter Jal was pulled over by a State Patrol officer around midnight in December 2019 for having a headlight. Unbeknownst to the officer, Jal had outstanding arrest warrants, including one for domestic assault and another for theft.
The police officer noticed the smell of narcotics and began searching Jal, but the criminal ran away and around a nearby building. He quickly circled back and climbed back into the driver's seat.
The officer attempted to pull Jal out of the vehicle, but Jal began to drive away. In order not to be pulled from the car or run over, the policeman fired his stun gun. Although one of the prongs found Jal, the felon managed to escape.
Law enforcement later tracked Jal down and arrested him.
On December 30, 2020, Mapleton Police Department officers investigated Jal for making possible threats. They tracked him to a vehicle with expired tags and possibly illegally tinted windows. As officers attempted to stop Jal, he accelerated, eventually losing control and crashing into a snowy boulevard. Despite the accident, Jal managed to get the vehicle back on the road and continued to evade police.
After running over a stop sign, he spun again and crashed into an embankment. With the vehicle immobilized, Jal fled on foot, but police were able to catch up and arrest him.
He was accused of fleeing a peace officer, both in a motor vehicle and by means other than a motor vehicle.
Other booking report stated that last year he tried to evade arrest and was charged with obstruction.
Undeterred by previous arrests and free to continue committing crimes, Jal was at it again this year and was charged with fraud after allegedly stealing a check from a mailbox and attempting to cash it June 29th.
According to the Center of the American ExperimentMinnesota – for which the Democratic governor Tim Walz faces re-election on November 8 – has seen crime rates rise 9.1% since 2018. Contributing to this increase is an 84% increase in homicides and a 59% increase in serious assaults between 2018 and the 2022 estimate.
Scott Jensen, the Republican-backed gubernatorial candidate opposed to Walz, has indicated he will ban nonprofits from rescuing criminals and increase penalties for repeat violent offenders.
https://www.theblaze.com/news/minnesota-woman-stabbed-and-brutally-beaten-for-wearing-an-american-flag-shirt Minnesota woman stabbed and brutally beaten for wearing American flag shirt