Missing Texas National Guard soldier named Bishop Evans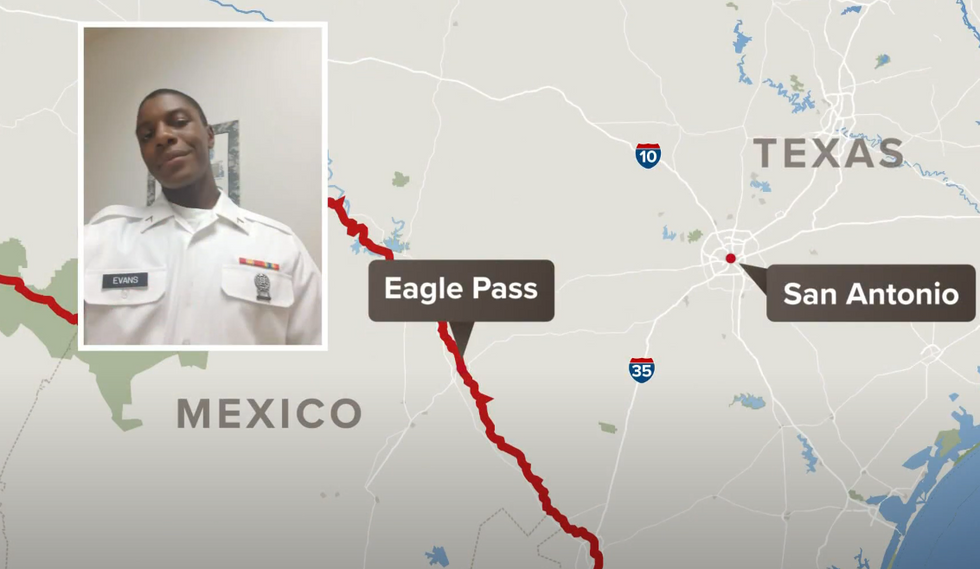 The Texas National Guard, who went missing while trying to rescue two drowning migrants at the southern border, has been identified. The search for the missing Texas National Guard continues.
The Soldier, who went missing in Maverick County, has been identified as 22-year-old Bishop E. Evans of Arlington, Texas. The department notified the missing soldier's family Friday night.
Migrants attempted to cross a river in Eagle Pass on Friday. Two migrants "appeared to drown while illegally crossing the river from Mexico to the United States," officials said FoxNews. Bishop – who was assigned to Texas Gov. Greg Abbott's Operation Lone Star border initiative – tried to rescue the drowning migrants.
This was announced by Maverick County Sheriff Tom Schmerber Associated Press that "Evans removed his jacket and left his radio before entering the water around 8:30 a.m. on Friday."
"He jumped into the river," Schmerber added. "You never saw him come out."
After Evans went missing in the river, multiple search and rescue operations including search parties, boats and helicopters began. Dive teams joined the search shortly thereafter, but were forced to halt operations after the river currents increased in strength.
The Texas Department of Defense released an update on the search Sunday: "The search for the missing TMD soldier continues until we have exhausted all available resources. Our thoughts and prayers remain with the soldier's family."
Fox News national correspondent Bill Melugin wrote on Twitter: "First photos of 22-year-old TX National Guard Spc. Bishop E. Evans of Arlington, TX, who has been missing since Friday morning and is believed to have drowned in Eagle Pass after his jump in the Rio Grande to save lives. Photos courtesy of his family."
In a statement to Fox News, the Texas Military Department confirmed that the Texas Rangers determined the two migrants were "involved in illegal transnational drug trafficking."
That Texas Military Department said about bishop:
Spc Evans, 22, a field artilleryman from Arlington, Texas, is assigned to A Battery, 4-133 Field Artillery Regiment in New Braunfels, Texas and joined the Texas Army National Guard in May 2019. He returned from mobilization in the fall of 2020 for Operation Spartan Shield in Kuwait. During this mobilization, his dedication, talents and tactical acumen resulted in his leadership regularly deploying him to operations in Iraq in support of Special Operations Forces for brief periods before returning to Kuwait.
Governor Abbott called: "Texas National Guard Specialist Bishop Evans is a hero who risked his life in the service of Texas and America. Law enforcement and rescue teams continue to search tirelessly for him. Pray with us for a successful recovery. Updates will be provided as they become available."
Agent Tony Gonzales (R-Texas) tweeted: "SPC. Evans will forever be remembered for the courage and compassion he showed in saving lives in the Rio Grande. We will ensure that this young soldier's sacrifice will never be forgotten."
Rep. Marjorie Taylor Greene (R-Ga.) wrote: "Ta great loss to the Texas National Guard and family and friends of Bishop E. Evans. We all pray for her loss. Our border is out of control and extremely dangerous. We have to secure the border immediately."
https://www.youtube.com/watch?v=GGe53jl7C2E
Texas Army National Guard soldier from Arlington missing after mission-related incident

www.youtube.com

https://www.theblaze.com/news/texas-national-guard-missing-soldier-bishop-evans Missing Texas National Guard soldier named Bishop Evans