Mitch McConnell and other congressional Republicans visit Zelenskyy in Kyiv as a $40 billion aid package is unveiled in the Senate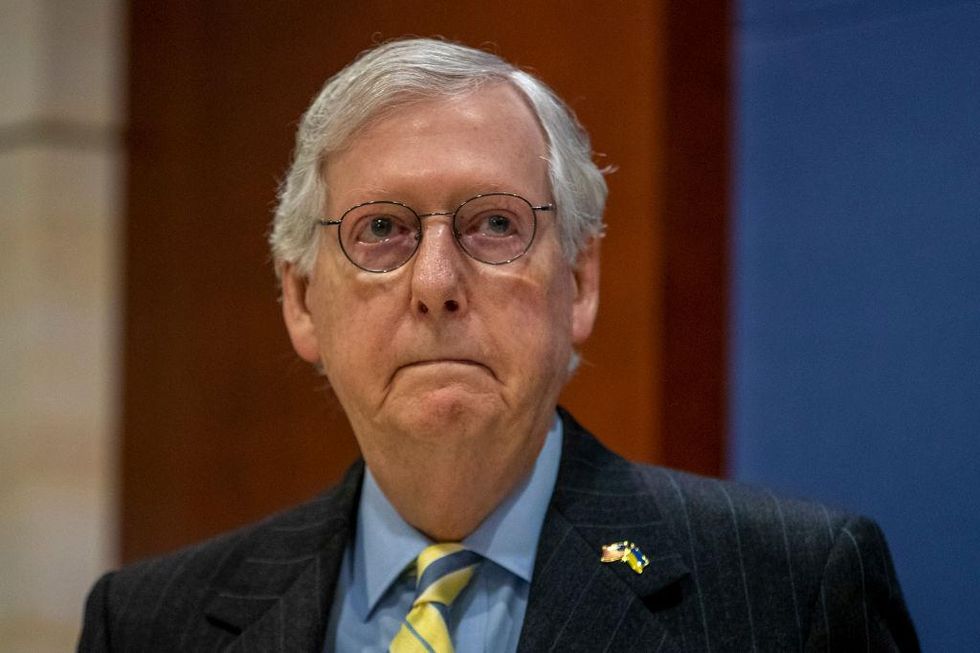 Senate Minority Leader Mitch McConnell (R-KY) led a delegation of Republicans in Congress to meet with Ukrainian President Volodymyr Zelenskyy in Kyiv this weekend.
McConnell was joined by Republican Senators Susan Collins of Maine, John Cornyn of Texas and John Barrasso of Wyoming, among others, NBC News reported.
After leaving Ukraine, the Kentucky Senator issued a statement that the Republican delegation witnessed firsthand the "courage, unity, and determination of the Ukrainian people" and that they, the Ukrainian government, "just wanted to… tools they need for self-defense. "
McConnell said the Republican delegation "reassured President Zelensky that the United States fully supports Ukraine and will maintain our support until Ukraine wins this war."
McConnell added that defending Ukraine and defending sovereignty principles directly impacts US national security, saying, "It's also important that America doesn't stand alone. Our allies and partners must continue to step up and play their part."
After meeting the Republican delegation, Zelenskyy said that the group's visit shows the strength of US-Ukraine relations.
Zelenskyi said: "We discussed various areas of support for our state, including defensive and financial. As well as the tightening of sanctions against Russia. Thank you for the historic decision to renew the Lend Lease program. I have called for official recognition of Russia as a terrorist state."
The Republican delegation's visit comes just days after the US House of Representatives passed a $40 billion spending package that includes military and humanitarian aid to Ukraine. Rand Paul, the junior Republican senator from Kentucky, recently stalled passage of the package in the Senate.
The Republican delegation is just the latest group of American leaders to visit Ukraine amid Russian President Vladimir Putin's ongoing invasion.
In late April, US Secretary of State Antony Blinken and Secretary of Defense Lloyd Austin met Zelenskyy to reassure him that the federal government would soon provide him with more than $300 million in military funding.
In early May, Speaker of the House Nancy Pelosi led a delegation of congressional Democrats consisting of Representatives Jason Crow of Colorado, Jim McGovern of Massachusetts, Gregory Meeks of New York and Adam Schiff of California to amid the renewal of Russia's military their to express political support for Ukraine attacks in the eastern regions of Ukraine.
First Lady Jill Biden also paid a visit to Ukraine about a week after Pelosi's delegation met with Zelenskyy.
There is still no plan for President Joe Biden to visit Ukraine or meet with Zelenskyy.
https://www.theblaze.com/news/mitch-mcconnell-and-other-congressional-republicans-visit-zelenskyy-in-kyiv-as-40-billion-aid-package-stalls-in-the-senate Mitch McConnell and other congressional Republicans visit Zelenskyy in Kyiv as a $40 billion aid package is unveiled in the Senate