Monica Garcia of RHOSLC was a federal government witness against Jen Shah
Real Housewives of Salt Lake City returned this week for season four and what a premiere we were treated to. Not only was there a ridiculous argument about dirty bathtubs, but there was also a big bombshell. New RHOSLC castmate Monica Garcia has kept a secret about her history with jen shah. Here are all the details we learned from the RHOSLC season 4 premiere.
Monica helped put Jen behind bars
"Honestly, if she was in the witness protection program or the police, I wouldn't be able to spot her," joked Lisa Barlow of the newest cast member. Oddly enough, she might not be too far off the mark. I'm shivering. I am physically shaking.
"So Jen fired her assistant and I stepped in to help her. One night Jen asked me, "Do you want to be rich?" Do you want to make $600,000 a year? All you have to do is put this, this, and that in your name," Monica claimed.
"I remember being so confused and thinking, 'Wait, what?' It was very bizarre and I have a friend in Intelligence and I called him. And he said, "Get the fuck off Jen Shah, she's going to jail." And she was arrested two months later. And so I became a federal government witness at their trial." Did anyone else get goosebumps during that scene?
First of all, kudos to Monica and the RHOSLC cast for not having this information leak. It is clear that we are not in Beverly Hills here. Andy Cohen can count on each and every one of these "Real Housewives" to keep their storylines secret! Second, what a move! Not many witnesses against someone like Jen Shah would then take her place on the reality show that made her famous. And all while bragging about it! Monica is already becoming an iconic addition to the series.
Real Housewives of Salt Lake City continues Tuesdays at 9/8 p.m. on Bravo.
TELL US – WERE YOU SHOCKED BY MONICA'S confessional?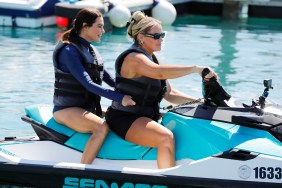 She is committed…
Check out these fiery moments.
There's something about Monica…