More Russian "Kamikaze Drone" Attacks Hit Kyiv, Ukraine Says
The Ukrainian capital Kyiv was attacked by more Russian "kamikaze drones" in the early hours of Monday morning, officials said, a week after Russian attacks claimed several civilian casualties across the country.
Andriy Yermak, head of the office of Ukrainian President Volodymyr Zelenskyy, said in a statement that Monday morning's attacks in Kyiv came from so-called kamikaze drones, also known as Iranian Shahed drones.
Several blasts resounded in Kyiv, with loud blasts echoing through the center of the city. The first explosion was reported around 6:35 a.m. local time.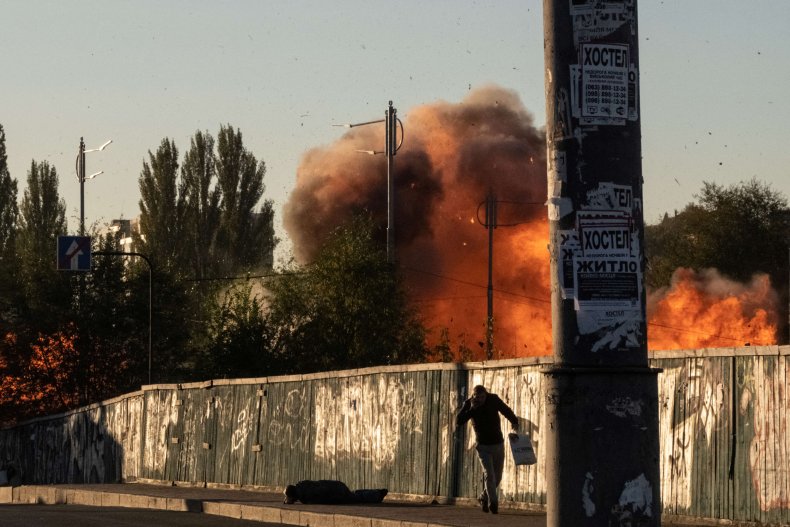 Vitali Klitschko, Mayor of Kyiv, said there had been at least two explosions in the Shevchenkivskiy district in the center of the city.
The mayor said a fire had broken out at a non-residential building in the district and that emergency services were at the scene.
"The explosion in the Shevchenkiv district – in the center of the capital. All services follow on site. details later. The air alert continues. Stay in emergency shelters! We're clarifying the information about the victims," ​​he said.
The neighborhood was hit by Russian explosions on October 10, exactly a week ago. At least 19 people were killed and more than 100 others injured in Monday's attacks.
Zelenskyi said last week that Russia used an Iran-supplied Shahed drone and its own missiles in these attacks.
Yermak called for "more air defense systems" and "as soon as possible".
He said, "More weapons to defend the sky and destroy the enemy."
According to the Ukrainian military, strikes were also reported in the Sumy region of Ukraine with casualties and in the southern city of Mykolaiv.
news week has asked the Russian Foreign Ministry for comment.
This is an evolving story and will be updated.
https://www.newsweek.com/russian-kamikaze-drones-strikes-kyiv-ukraine-1752269 More Russian "Kamikaze Drone" Attacks Hit Kyiv, Ukraine Says