More than half of Americans don't see school shootings as a 'gun problem': poll
More than half of Americans believe school shootings are caused by mental health issues, not gun problems, according to a new study.
That economist/YouGov poll of 1,500 American adults May 28-31 found 51 percent agree that "school shootings are a mental health issue, not a gun issue." Meanwhile, 41 percent said they disagreed with that view and 9 percent said they weren't sure.
The poll results come over a week after the mass shooting at Robb Elementary School in Uvalde, Texas, where 18-year-old Salvador Ramos killed 19 children and two teachers with two AR-15 rifles he legally purchased days before the incident.
Wednesday's poll also found that 66 percent of respondents described the Uvalde school shooting as "an act of violence," while 53 percent said it was "an act of mental illness."
Forty-four percent of respondents classified the Robb Elementary school shooting as an "act of hate" and 36 percent said they viewed it as an "act of terrorism."
Given possible gun control measures to protect schools, 62 percent supported having armed guards stationed in all schools, while 51 percent supported giving teachers and school administrators the "option to be armed in school."
In that regard, a poll conducted between May 25 and 29 by the Trafalgar Group found that 57.5 per cent of likely general election voters believe schools are slightly or much more dangerous if there are properly trained teachers and school staff prevented from carrying a firearm.
Other mass shootings have taken place across the country in recent weeks, including the grocery store shooting in Buffalo, New York, where 10 black people were shot dead by an 18-year-old white man.
Another mass shooting also occurred in Tulsa, Oklahoma, where a 45-year-old patient fatally shot his doctor and three others at St. Francis Hospital on Wednesday. The shooter, identified by police as Michael Louis, specifically targeted Dr. Preston Phillips, who was the attending physician for Louis' back surgery in early May.
The gunman opened fire on his victims and then allegedly killed himself, according to police, who mentioned that Louis had with him a note saying he wanted to kill Phillips after complaining of back pain after surgery and um asked for medical help.
The recent mass shootings have prompted nationwide calls for tougher gun control laws. However, on Wednesday The economist/YouGov polls showed Americans are almost divided over whether stricter gun laws would have prevented one of the recent mass shootings.
Around 41 percent of those surveyed said stricter gun laws would have prevented the shootings, while 40 percent said they hadn't. 18 percent stated that they were not sure.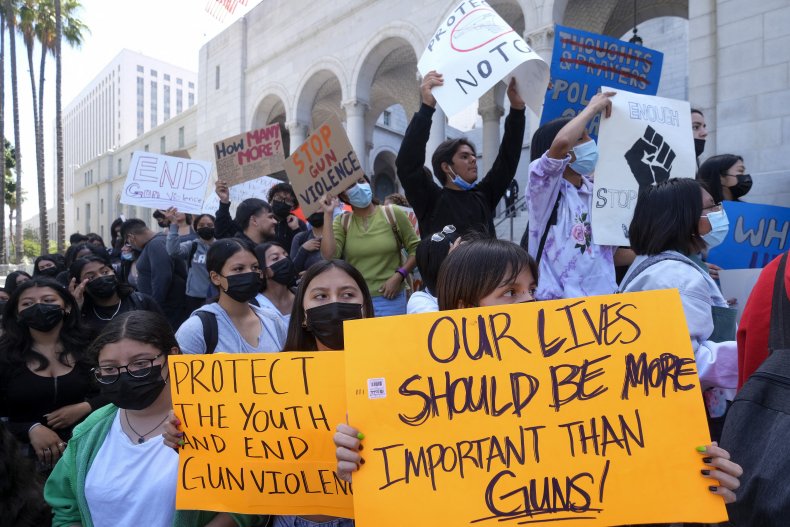 Also, 53 percent of respondents said they support stricter laws on handgun sales, compared to 10 percent who said they would like less strict laws.
When asked, "How likely do you think it is that Congress will pass new legislation expanding gun control in the United States?" 43 percent of respondents said it was "unlikely" or "definitely not going to happen," while others said it would 43 percent said there could be a "50% chance" it would happen.
Some lawmakers are hoping to pass a "red flag" law that would allow authorities to temporarily remove firearms from people believed to pose a danger to themselves or others.
In the meantime, The economistsA t/YouGov poll showed Americans support other forms of gun control policies, as 79 percent said people with a history of mental illness should be barred from owning guns.
In addition, 75 percent of respondents said criminal and background checks should be required for all gun buyers, and 55 percent supported a ban on semi-automatic guns.
https://www.newsweek.com/over-half-americans-dont-see-school-shootings-guns-problem-poll-1712502 More than half of Americans don't see school shootings as a 'gun problem': poll