Morocco celebrated the historic World Cup success despite the defeat against Croatia
Morocco's historic success at the World Cup came to an end on Saturday as the North African team lost to Croatia and finished fourth at the international soccer tournament in Qatar.
The final score was 2 to 1 with Croatia scoring the first goal of the game. Later, Moroccan Achraf Dari gave his side's supporters new hope by scoring the tie with an impressive header.
Ultimately, however, Croatia scored again and won the game, allowing them to finish the World Cup in third place behind Argentina and France. These two teams will face off on Sunday to determine first and second place.
While Morocco's Atlas Lions did not finish third, the team still made history as the first African and Arab team to go that far in an international tournament. They even surpassed analysts' predictions in a string of victories that propelled them to the semi-finals of the tournament.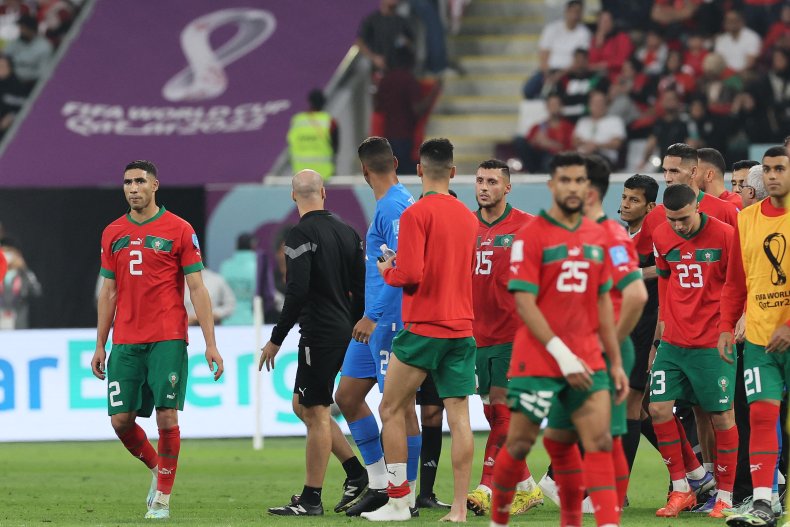 While fans were disappointed, they also highlighted the Atlas Lions' success.
"Thank you Morocco. They dared to dream and they absolutely delivered. The best result ever achieved by an African nation in the #FIFAWorldCup," the Confederation of African Football (CAF) tweeted on Saturday after the team's defeat.
"Didn't win the World Cup but won our hearts. Thank you #Morocco!" London Mayor Sadiq Khan said on Twitter.
"Thank you Morocco! By 2026," CNN international correspondent Larry Madowo wrote in a tweet.
"Morocco represented Africa well at this tournament. A great team with a great spirit that I hope has inspired other football federations on the continent," tweeted journalist Mimi Fawaz. "So much to build on from this team as we build Afcon through 2024."
"Congratulations to Morocco for fourth place; highest finish achieved by an African nation in #FIFAWorldCup history. 2026 will be even better for Africa," wrote African sportswriter Eric Nijru.
Morocco's historic run at the World Cup drew praise and excitement around the world, including in the North African country. Photos and video from Morocco showed huge crowds cheering and celebrating as they beat Portugal last week.
This victory propelled them to the semifinals and made history for their continent, their country and the Arabic speaking nations. They then lost to France on Wednesday.
Even President Joe Biden and other US lawmakers shared their praise for Morocco after its historic success.
"It was a great honor to watch today's World Cup match with Prime Minister Akhannouch of Morocco," Biden tweeted after the team lost to France, sharing a photo of him watching the game. "No matter who you're cheering for, it was remarkable to see how much this team could achieve."
After Morocco defeated Portugal, Rep. Ilhan Omar, a Minnesota Democrat, hailed the team's success.
"Congratulations Morocco," the progressive congresswoman tweeted last week. "What a brilliant, happy game."
news week contacted the Royal Moroccan Football Federation for comment.
https://www.newsweek.com/morocco-cheered-historic-world-cup-success-despite-loss-croatia-1767926 Morocco celebrated the historic World Cup success despite the defeat against Croatia