Most transgender adults are not Democrats
The majority of transgender Americans are not Democrats, new findings reveal KFF/Washington Post Trans survey confirm.
The survey included the experiences of more than 500 transgender and gender non-conforming adults, and despite the Democratic Party's pro-LGBTQ reputation, six in 10 transgender people do not identify as Democrats.
While four in 10 respondents would say they are Democrats, a higher percentage identify as independent or something else.
According to the survey, 28 percent said they were independent, while another 20 percent said they identified as something else. Not surprisingly, only 10 percent identified with the Republican Party, compared to about 45 percent of the national population.
Other identity markers
Transgender Americans also differed in several other ways: For example, while the majority, or around 70 percent, identified as gay, lesbian, bisexual or queer, nearly a third did not identify as part of that group.
Additionally, the transgender community is almost twice as likely to be unemployed than the general population. Meanwhile, 57 percent of transgender adults live on less than $50,000 a year, compared to just 45 percent of the general population.
They were also more likely to rate their mental health as "not good" on more days compared to other U.S. adults, leading to questions about the role these factors play in their partisan identity.
Transgender Politics and the Democratic Party
Even though the Democratic Party appears to be the most pro-transgender party in American politics, there is evidence that a growing number of liberals believe it is not doing enough when it comes to protections of transgender rights.
According to a study by Data For Progress, about 56 percent of likely Democratic voters said the Democratic Party should do more to protect the rights of transgender and queer people.
With hundreds of anti-transgender bills making their way into state legislatures, liberal-leaning voters may expect the Democratic Party to do more to protect gender-affirming medical practices and prevent community discrimination in jobs, school and sports.
The Human Rights Campaign, an LGBTQ advocacy organization, found that more than 30 state legislatures had proposed more than 100 bills that would restrict transgender rights in some way.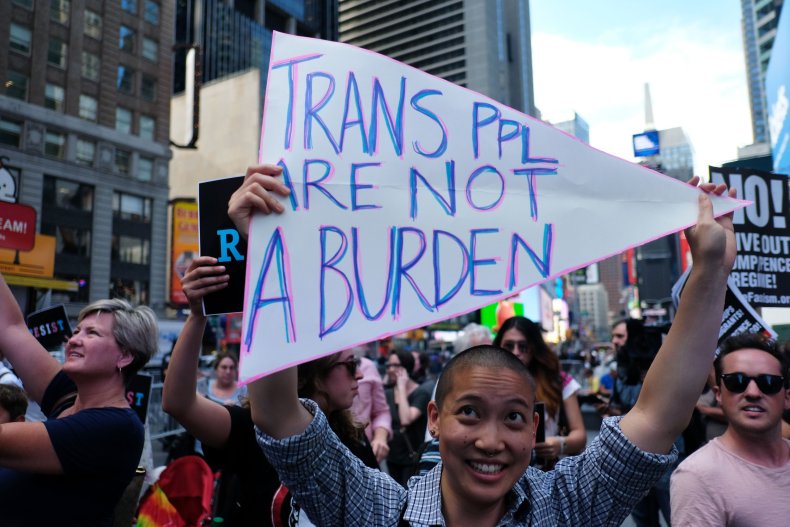 Additionally, some in the transgender community believe that the Democratic Party focuses only on the most external issues facing the community, such as which bathroom they can use or which sports team they play on.
But as the study shows, transgender people are more likely to face economic instability and mental health issues, which some say the Democratic Party is not adequately addressing.
"[Democrats] "I want to say something like, 'Let transgender people be,' and that's not enough," said Xemiyulu Manibusan Tapepechul, a transgender author and advocate New Republic. "We need trans people to be accommodated. We need trans people to eat, to have jobs, to find love, to raise families and to be safe."
On the other hand, many formerly left-leaning people disagree with some of the more controversial transgender policies, namely allowing children to be treated with puberty blockers if they identify with the opposite sex.
"What's happening now is that the basic principles of transgender politics are driving even long-established 'leftists' away from the left," said Sky Gilbert, an academic at the University of Guelph who also works as a drag performer.
"Children should not be treated with puberty blockers," he said Newsweek. "We don't know all the side effects, but more importantly, no child can even decide what gender they want to be before reaching puberty."