Mother celebrates cancer all-clear by posting pictures with daughter
A mother diagnosed with cancer while pregnant shows she is doing fine by posting three identical photos of her and her daughter over their eight-year journey.
Roisin Pelan, 40, was told she had breast cancer when she was 34 weeks pregnant with her first baby.
She then had to undergo a mastectomy just six days after giving birth to their daughter Ivy, and then went on to tackle the cancer with intensive chemotherapy.
Although the cancer went away after a year, it returned in 2018 and doctors warned her she wouldn't live more than three years – but incredibly, Pelan got the all-clear again in February.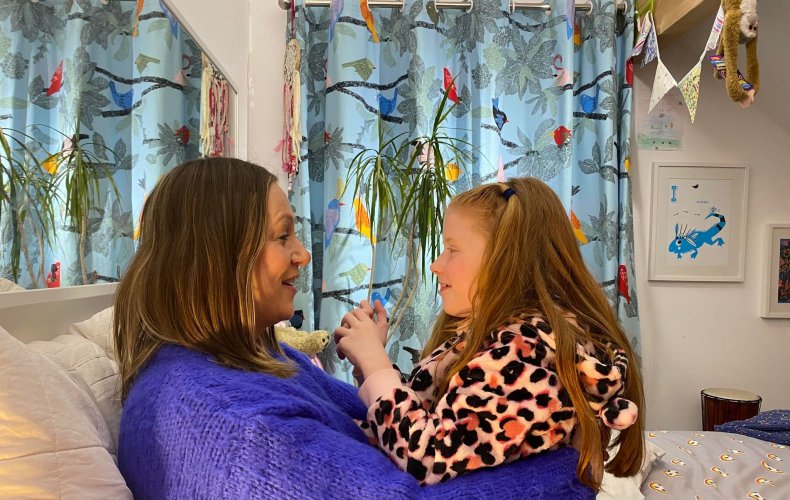 Pelan, who is now a mother of two and awaiting her marriage to partner Michael Brown, 37, told how her daughter, who was born days before her diagnosis, has never known life without her mother's cancer.
Pelan, from Preston in Lancashire, England, celebrated her clear scan with a moving Facebook post that showed three identical images of her and her daughter during their eight-year battle with cancer.
The online entrepreneur said: "These last eight years have undoubtedly been the most difficult years of my entire life, but they have also been some of the best.
"Managing your mental health is the hardest part – trying to believe you have a future when it feels like you don't have one.
Roisin Pelan, who was diagnosed with cancer while pregnant, celebrated her cancer freedom by posting three identical photos of her and her daughter during their eight-year journey.
Michael Braun/Zenger
"Cancer is all my daughter and later my son have ever known. But being diagnosed with cancer twice really makes you want to live your life.
"We're only here once and I've been given a second and third chance."
Pelan first noticed a lump in her left breast in May 2014 when she was applying moisturizer to prevent stretch marks at 34 weeks pregnant.
She saw a doctor to examine the olive-sized lump, and an ultrasound and biopsy revealed she had breast cancer.
She and now-fiancé Michael were given options and decided to have their daughter, whom they named Ivy, born prematurely before having a mastectomy.
Just six days later, on June 6, Pelan had the procedure, followed by six months of chemotherapy while juggling the grueling process alongside raising her young daughter.
The year she was diagnosed, she had a photo taken with baby Ivy – which would later become an emotional reminder of her long cancer journey.
Thrilled to receive a clear scan in January 2015, the new family began applying to adopt their second child.
They believed that a second pregnancy due to the hormones would risk bringing the cancer back, and they were finally approved for adoption in November 2017.
They planned to start the matching process in January 2018 — only things were going downhill at that point.
She said: "Days before I would have celebrated three years of remission, I found another lump.
"I had spoken to someone and I just felt it and my stomach clenched.
Roisin Pelan, who was diagnosed with cancer while pregnant, celebrated her cancer freedom by posting three identical photos of her and her daughter during their eight-year journey.
Michael Braun/Zenger
"I knew straight away that the cancer had come back. When I went to a scan that confirmed it, I couldn't even look at Ivy.
"I didn't know what I was trying to do to her – usually when she relapses, it comes back in the later stages."
A week later, Pelan was back in the chemo chair and was horrified when doctors told her it had spread beyond the original area but not to any other organ.
They warned her that she probably only had three years to live and that there was little chance of surgery.
She said: "I went out without the slightest hope that I would live. I thought I was going to die and that was it."
But after going to another hospital for a second opinion, various doctors agreed to proceed with aggressive chemotherapy and radiation therapy to eradicate the cancer a second time.
In 2019 she had a clear scan again and was able to adopt her son at the age of 9 months – and he and Ivy quickly became best friends.
Three years later, she proved doctors wrong by surviving her three-year prognosis – which she celebrated with a third identical photo with almost 8-year-old Ivy.
While the first two photos of her cancer diagnosis show her hairless due to chemotherapy, in this year's photo she has the biggest smile as she has a full head of hair.
The trio of images serves as a reminder of just how far she's come – a journey Ivy has been with her from the start.
She said: "Ivy knows words like chemotherapy and she knows what CT scans and MRI scans are.
"At 7 years old, she shouldn't know these things.
"I'll be getting chemo forever, but it's just become our life now — it's what keeps me alive."
This story was provided to Newsweek by Zenger News.
https://www.newsweek.com/second-chance-mom-celebrates-cancer-all-clear-posting-pictures-daughter-1709262 Mother celebrates cancer all-clear by posting pictures with daughter