MSNBC Host Accuses Ron DeSantis of 'Child Abuse' Over Black College Students Wearing Anti-CRT Signs: 'Extra Sick'
MSNBC host Joy Reid last week accused Florida Gov. Ron DeSantis (R) of complicity in "child abuse" because several students held anti-racism signs during a law-signing ceremony.
what are the details
Last Friday, Governor DeSantis signed HB7, a bill into law which gives Floridians "Tools to Defend Against Discrimination and Awakened Indoctrination". The law is also known as the Stop WOKE (Wrongs Against Our Kids and Employees) law.
During the bill signing ceremony, DeSantis was flanked by various students holding "Stop Wake" and anti-CRT signs.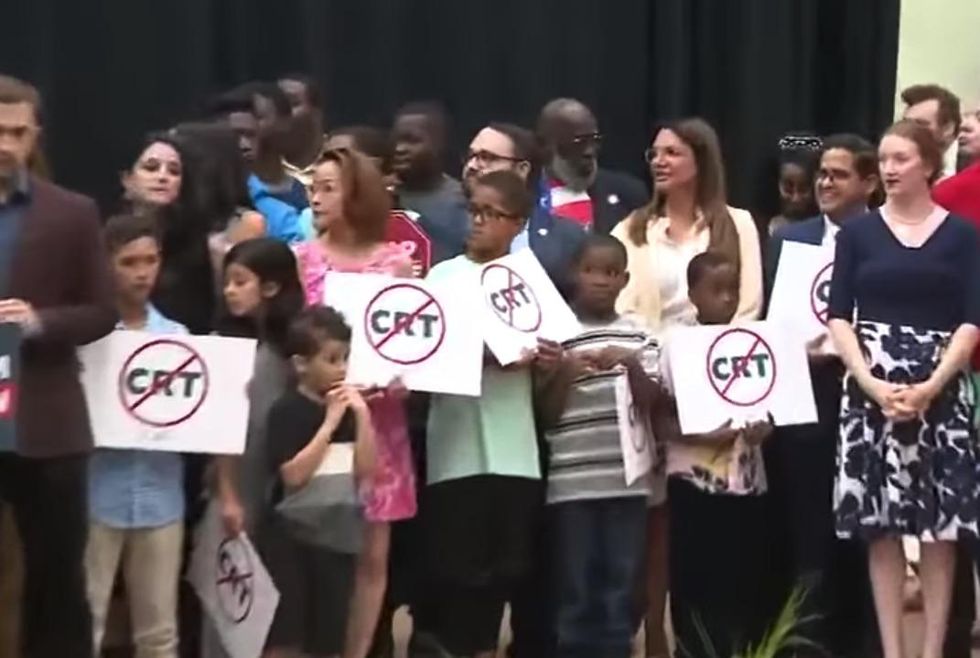 Image source: YouTube screenshot
In response, Reid accused DeSantis of "abusing" black students, comparing it to "child abuse."
"This abuse of black boys is tantamount to child abuse," Reid said. "I'd really like to hear the backstory of who these kids were and how they ended up at a DeSantis event. Given how anti-black DeSantis is, using black kids in this way is particularly sick."
In a follow-up attack, Reid claims The students used as "props" by DeSantis, who she called "America's most racist governor," were from a Miami-area charter school and "whom they may not have known in advance why they were there."
However, Reid did not provide any evidence to back up her claims.
How did DeSantis react?
DeSantis spokeswoman Christina Pushaw confirmed that Reid's claims are false.
On Saturday, Pushaw clarified that each person who stood behind DeSantis at the ceremony did so voluntarily. She even shared a picture of the same black students that Reid claimed were "props" looking for the pens DeSantis used to sign the bill.
"I worked at this event and helped set it up. My colleague spoke to all the children beforehand and told them what the problem was and what the bills were @GovRonDeSantis signed. Hundreds of people attended this event; The 50 or so who ended up on stage voluntarily chose to be on stage," Pushaw explained.
"Here are the same kids (on the left) excited to get @GovRonDeSantis' pen after he signed the bills," she continued.

Governor DeSantis signs the so-called "Stop WOKE Act" into effect

www.youtube.com

https://www.theblaze.com/news/joy-reid-desantis-child-abuse-anti-crt-signs MSNBC Host Accuses Ron DeSantis of 'Child Abuse' Over Black College Students Wearing Anti-CRT Signs: 'Extra Sick'