My Half Sister Starts Family Drama During Pregnancy – What Should I Do?
Dear Newsweek,
Me and my half sister, I call her Karen, were never close. When I was 18 I had a stillbirth and last year I had a baby who was born at 25 weeks. Both didn't make it because of preeclampsia. I also have a son who is now 8 years old who was born at 26 weeks due to preeclampsia and a healthy girl who is now 4 years old.
Last year, just a few months after the death of my stillborn son, my half sister miscarried. She couldn't really feel sorry for me as my son had died in my arms a few months earlier. It's not that I didn't take care of her miscarriage, I did. But my only focus was on helping my four-year-old daughter and I cope with the loss of the baby.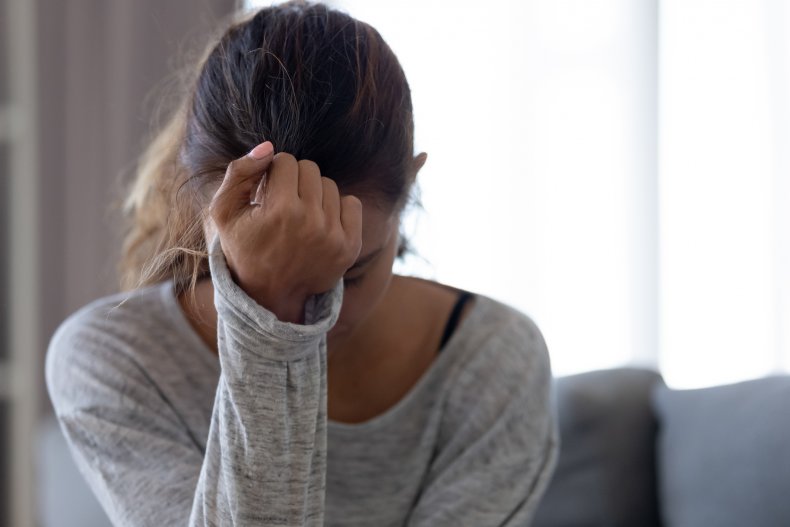 A few days ago my half sister told me she was pregnant again. I replied with a "good for you!!!" My sister has seizures and tends to cause drama and start a lot of fights. She's always running around and never eats properly. She will go two or three days without food and is always hunting and robbing with her dog. So I just replied with a "good for you!"
Of course everyone is mad and saying I'm the ass and that I'm not supportive? How am I supposed to feel? Should I be more happy for her? I just have a hard time being excited until the baby is here?? As she just found out and already starting the drama?
Heath, Indiana
Newsweek's "What should I do?" offers readers expert advice. If you have a personal dilemma, let us know at life@newsweek.com. We can ask experts for advice on relationships, family, friends, money and work, and your story could be featured on WSID at Newsweek.
You are entitled to all the feelings you have
Karen Pavlidis is a Clinical Psychologist, Owner of Child and Teen Solutions and Clinical Instructor in the Department of Psychology at the University of Washington.
My heart goes out to you readers for suffering these tragic losses. There is no answer to how you "should" feel. It is completely understandable that you are not excited and that your feelings are complicated by your story. You are 100% entitled to whatever feelings you have.
However, how we feel sometimes needs to be separated from how we behave towards others. The reason you get shot at by those around you is because your reaction to your sibling's announcement went against social norms. This doesn't mean you have to expand and support yourself in a genuine way, but rather be more strategic in how you express yourself to your siblings.
You don't say if you're angry, but it seems that that's part of what's bubbling up and distracting others from what's probably beneath the anger – emotional pain and sadness. Anger is unique in that the expression of this emotion, when released in a context that violates social norms, can backfire on the person meeting their needs. You'd better access the painful emotions, which are probably more primary than anger. You may need the support of an experienced counselor to process the grief and talk about how best to navigate this incredibly difficult situation.
Your lack of empathy isn't because you don't care
Peace Anumah is a Marriage and Family Psychotherapist who has her own company called Piece Into Peace.
My deepest condolences on the loss of your children. The death of a child feels unnatural, with a pain that is difficult to explain. It is deeper than grief and involves various forms of trauma. What you have described is a deeply traumatic experience and it sounds like you are still grieving and experiencing some form of PTSD.
You say you and your half-sister have never been close and she suffers from seizures; That tells me a few things about your relationship with her. There are unresolved relationship issues between you and her that will affect your ability to connect with her during her difficult time.
I wonder how your health affected you growing up. For example, has your health cost you time? Maybe your parents spent more time with her, and maybe that event of her miscarriage is a kind of reminder of what life was like for you back then. I'm asking this mainly because you described causing "drama".
It makes sense that you struggled to get excited about her when she announced her pregnancy because of her life choices and eating habits. This, along with the experience of losing your children, has made it difficult for you to look forward to being pregnant until the baby comes to avoid heartache.
The unresolved conflict you have with your half-sister, her life choices, and your personal loss make it difficult for you to empathize with her.
No one can understand your pain, but maybe you can help them know that your lack of empathy isn't because you don't care. They show compassion in other ways that may differ from what they expect. Helping them see this will help them better understand you and the pain and sorrow you are still experiencing. Keep taking care of yourself, self-care is very important when dealing with grief. If you're struggling to deal with PTSD, it can be helpful to have a therapist who can support you.
https://www.newsweek.com/pregnancy-stillborn-miscarriage-family-1747759 My Half Sister Starts Family Drama During Pregnancy – What Should I Do?