"My show is the least political"
news week reported 13 months ago that Greg Gutfeld was the new king of late-night TV when, according to Nielsen, his Fox News show Gutfeld!garnered larger weekly audiences than those hosted by Jimmy Fallon on NBC, Jimmy Kimmel on ABC, and Stephen Colbert on CBS.
Since then, Gutfeld has bested the three major broadcasters several more times, including a recent six-week run, and perhaps cemented the notion that impartial comedy — or at least equally partisanship — from the likes of Johnny Carson and Jay Leno is a thing of the past.
news week asked the new, sporadic late-night king to comment on the matter in a Q&A, and he didn't hold back his criticism of the competition while also offering some advice to Sunny Hostin, a co-host of The viewwho recently caused an uproar on social media after criticizing Conservative politician Nikki Haley for not using the Indian name she was given at birth.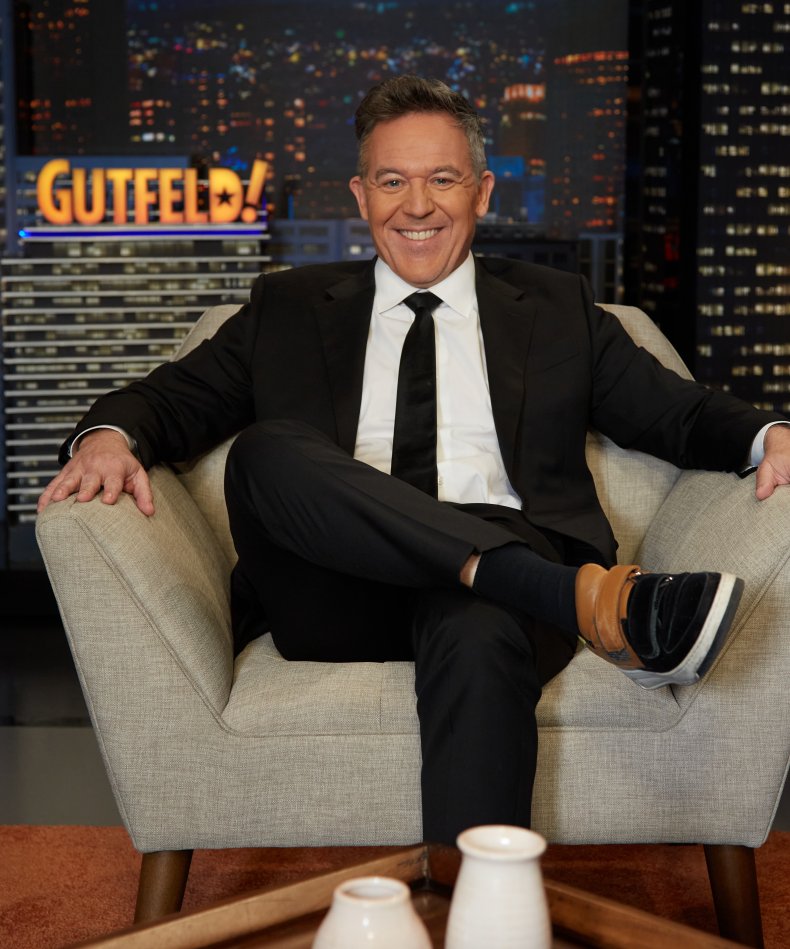 news week: Why do you often have more viewers than Colbert, Fallon or Kimmel even though they are on free TV and you are on a cable channel?
Gutfeld: We are fun and unpredictable and we are not interested in lecturing or indoctrinating, just entertaining.
news week: And the other three not? Do you like one of these?
Gutfeld: All they do is repeat the same assumptions you can get elsewhere so you don't get anything new. Why bother?
news week: They were recently No. 1 late night and Colbert, who is also very political but left-wing, was No. 2. So it pays to be partisan and the days that Johnny Carson and Jay Leno impaled both sides, are over?
Gutfeld: No, because I think my show is the least political. We have five blocks, three are cultural, one is political and one is crossover. I try to structure it so that if you're watching with your sister and she's liberal, maybe she'll laugh.
news week: But even if your show is cultural, it's political. When you hosted a called late night show Red eye Years ago, Andrew Breitbart was a regular and used to say that politics is secondary to culture. you agree
Gutfeld: Yes, but our side didn't do that. We're just playing a game with rules set up by liberals who think everything is political. If I have a reasonable opinion on something, it's not my fault, it's political, it's the liberals' fault. I'm not trying to be political when I say something about biology. If it's suddenly political, it's not my fault. I did not change myself; You have changed.
news week: Give me an example of how you say something about biology and then liberals turn it into politics.
Gutfeld: It is not political to think that there are men and women. It's not political to think that maybe children who are confused about their gender by the age of 5 or 7 shouldn't be operated on. These are not political positions, but the left makes them political, not me.
news week: What guests did you want for your show but couldn't get them?
Gutfeld: I've had people say yes, but then they canceled, but they may have had valid reasons. Russell Brand, for example, was supposed to be there this week but was cancelled. Maybe he just had another commitment. And I was disappointed because I really like Russell Brand a lot. It would have been fun. Hopefully we'll reschedule the appointment.
news week: Did you have a favorite guest?
Gutfeld: I like the people I can make fun of and the people who make fun of me. That's why Kat Timpf and Tyrus are there. They're panelists, but sort of my favorite guests. I like familiar faces – the Fox people. Brian Kilmeade is fantastic because I insult him the whole show and he puts up with it, then he insults me. I like a pool of familiar faces, like on The love boat. and The five (a Fox News show he co-hosts) is like a real version of friends. It can be a strength or a weakness, but I'm uncomfortable around people who are uncomfortable. It's really contagious. If you feel very comfortable around me, then I feel comfortable.
news week: Roseanne Barr will be featured on the Fox News streaming service. Do you ever have them on your show?
Gutfeld: I've been DMing her for five years. Now that she's doing Fox Nation, I hope she does my show. I know she saw it and liked it before it got cancelled. She would be a hoot. But I don't know if she would travel (to New York). A lot of people don't. You are too rich.
news week: Speaking of canceled, what do you think of Hollywood or left-wing activists trying to unseat comedians like Roseanne, Ricky Gervais and Dave Chapelle for telling hateful jokes?
Gutfeld: An interesting trend is that the biggest stars in England are anti-cancel culture, like Russell Brand, Ricky Gervais and all the Monty Python alumni. These guys are really funny and edgy so that's a really good sign. It's that thing where when they tell you not to do something, it ends up creating something better than rebellion. "You think we're too mean, then we get really mean!" Cancellers always bribe because they have nothing; You say you are insensitive and put a target on someone's back because of words. This can be applied to anyone, so comedians like Gervais and Chapelle went even further.
news week: Are you attacked by critics?
Gutfeld: When you're at Fox, you're always attacked, and always by the same people. Just as boats have barnacles attached to them, or a giant fish provides food for tiny fish. That's what I've been for microblogger on the spot Daily Beast and media matters. These are people who get paid to watch The five and Gutfeld! then write about it. It must be demoralizing that your entire career is based on someone else's career. I create jobs for really miserable people. I feel kind of bad for her. I just make fun of them because I can tell they're not having a good time.
news week: Speaking of Media Matters, your latest claim is that you are a book banner.
Gutfeld: I'm not. That was funny. But I haven't read it. Your whole trick is that you don't read the story, just the headline. It pops up in a feed and I don't read it and nobody reads it. Something like that is out of gas. It used to be these left sides that gained traction and created controversy that doesn't exist. If you do this over and over again, people get used to it. When you see a headline just too pushy and overdone, you know you're going to get upset if you click on it because it's fake. All of these companies coming after Fox are suffering from declining earnings. Everyone sees the trick and that it's a lucrative thing here and there for pennies.
news week: Are any of these attacks on you ever threatened when security guards or police officers are involved?
Gutfeld: That goes for most people at Fox. I learned early on not to complain about the death threats. Don't complain about it. It's the life I chose. There are serious things I have to deal with. Thanks to social media, television and a population of 370 million people, everyone in the public eye is dealing with it. A death threat isn't the same today as it used to be. The bar has been lowered. They said things to drunk people on Twitter. You have to let that roll off you. But some things are more serious, like saying they know where you live and it's important to investigate.
news week: How did you go from liberal student at UC Berkeley to conservative talk show host?
Gutfeld: By stepping out of the bubble. When you live in the bubble, you can't see around corners. I kept saying that The five and it's the best thing I've ever said because it encourages people to get out of the bubble where there's no one with another idea. The reason for this is Sunny Hostin The view made fun of Nikki Haley's name because she didn't realize she was walking into a trap. Little did she know it would come back to her. Her name "Sunny" is a nickname and Nikki's name is on her birth certificate. If she lived outside of her bubble, she would have looked around this corner.
news week: You constantly poke fun at MSNBC and CNN. Is there someone on these channels that you like?
Gutfeld: I watch them for entertainment reasons; You are so angry and confused. I think CNN is just a curiosity. I see they are making some progress but they are definitely not in the middle. You try. You've made some good employment moves. I'm never for people getting fired, but they still have a long way to go.
news week: Let's imagine this Q&A has already been published and some people in the comment box criticize me for giving you a platform to spread your hate. any answer?
Gutfeld: I don't care. who is there Why should I even consider that? And why should you? That offends you, not me. Someone tells you you can't pick a topic they disagree with? You should be the one who is offended. You should be the one who says, "Fuck yourself." This has nothing to do with me. You have to grow there.
news week: Why do comedy seem to have far more liberals than conservatives?
Gutfeld: That's not true – when people say there are no conservatives in comedy because conservatives aren't funny, I don't think they know what a conservative is. If you go back in history and look at some of the great comics, they would never be identified as liberal today, and now being a leftist comedian just means being leftist and replacing comedy with cutesy, virtuous lectures.
news week: I've seen articles and books warning of the rise of conservative comedy. What are the liberals afraid of?
Gutfeld: Audiences on both sides of the aisle are fed up with being talked down and are looking for something to make them laugh rather than constantly pounding on left-wing topics of conversation. The late-night shows that have aired have been pecking at the same buffet for years, and it just isn't funny. They look at the numbers and they know their audience is leaving. They have forgotten that more than half the country disagrees with them.
news week: What is the most interesting topic of conversation on both of your shows?
Gutfeld: The world is never boring. If you're bored with the world, that's your problem. I find something to talk about every day and I'm fortunate that Fox trusts me to do it.
https://www.newsweek.com/greg-gutfeld-assesses-competition-my-show-least-political-1745910 "My show is the least political"