"My unusual Halloween-Halloween in my childhood shaped me"
It's Halloween and I've been thinking a lot about my 10 year old self and my reactions to the traditional movie scenes from that spooky annual holiday. Children roam the decorated streets in their costumes with pumpkin buckets or pillowcases full of sweets.
They walk from house to house, skipping those with less than desirable candy offerings. Later in the evening they might compare their loot or work together with their friends to avoid the bullies who steal their candy, witch hat or ghoul mask. My Halloweens as a kid looked very different.
Although 86 percent of the population in the US lives in suburban or urban areas where this scene is logistically possible, or at least in close proximity, there are some of us who don't find ourselves in these stories.
Halloween costumes and trick or treating
I grew up in a small town in northern Minnesota of about sixty people. The roads are unpaved and there is exactly one stop sign. The nearest place to buy milk or gas is twelve miles away – but this little corner shop pays a premium when it's even open. The nearest major shop for essentials is a 60 mile drive past woods and lakes. Note a deer's tiny white eyes, especially at dawn and dusk.
How is my Halloween story different? Let's start with the most obvious difference in my story: It's cold in Minnesota. Do you know how hard it is to slip angel wings over a snowsuit? I do. According to editions of Farmer's Almanac—my father's favorite book—the October 31st temperature of my childhood ranged from 28.4 degrees in 2002 to 69.7 degrees in 1999, although it most often fell in the mid-40s. Depending on the season, you can either be a snow queen with a fabulously warm robe or a sun-loving spring animal. No matter what you're supposed to be on Halloween, your costume needs to be adaptable. Every year I've been treated to tales of the 1991 Halloween blizzard, when the highest temperature was a chilly 90 degrees, meaning all costumes had to be reworked to accommodate winter gear.
While a typical Halloween scene might have costumed kids flooding neighborhoods on a collective mission to secure candy, I've rarely seen another kid trick-or-treating. Instead, I drove from house to house with my father in a pickup truck. It was too far and too cold to walk, even to the nearest neighbor's house. I would be in the passenger seat after climbing into the truck with all the complex kid costumes. If I was lucky, my dad would let me listen to a Halloween-themed tape, but mostly it was old country songs. In any case, I was excited for the joy of showing my costume to my neighbors, who we all knew, and collecting the goodies.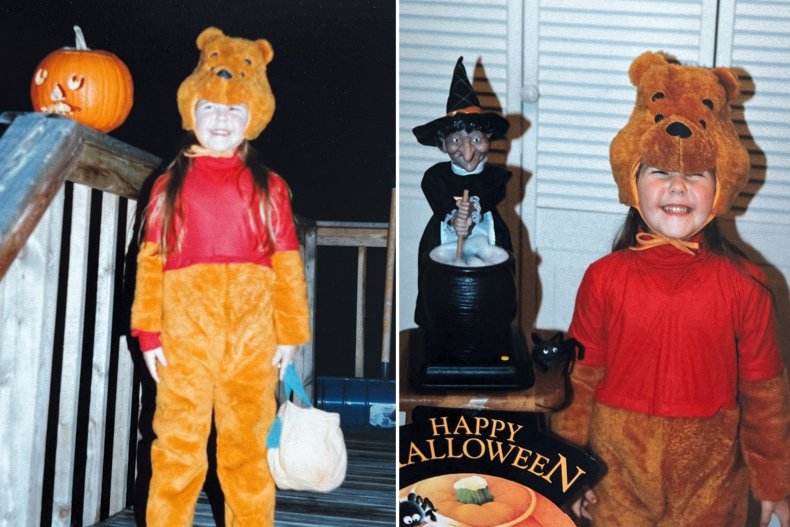 The local resort owners always gave king-size candy bars straight from the lodge store, and the selection from the glass case with no currency exchange always felt like they could get away with something. One of my favorite stops was an elderly woman named Dot handing out homemade caramel popcorn balls and a can of pop. I remember sitting on her porch, swinging my legs and dangling from my chair, shielding my ball of popcorn from her little dog while she and my dad checked out the local weather forecast.
Combine Halloween and Christmas
Now there were other houses where no one waited at the front door to hand out sweets. Instead we would see that in the garage all the lights were on and maybe some smoke was coming out of the chimney. We would find our way to the garage.
As soon as we opened the side door, we were greeted by a very specific, pungent yet familiar smell: balm. As we walked into the garage, we were met with stacks of sprigs of balm, stacks of metal rings, and family members with heavy work gloves operating small heavy machinery. Instead of having the night off to focus on Halloween costumes and candy, families were in their garages making Christmas wreaths.
Most of us don't think much about the journey of our fresh Christmas wreaths, many of the festive decorations begin their journey in small towns in northern Minnesota. Before any wreaths can be tied, the season begins gathering sprigs of balm just after the second severe frost. This often happens in early October, but can begin as early as late September. If you wait until after the second frost, the needles can be saved over the Christmas period, otherwise they may all fall off on the way from the woods to the front door.
For many teenagers in northern Minnesota, cutting and selling tree branches is their very first job. Branches for wreaths are cut from the base of balsam trees to allow for growth for years to come. For much of the fall, I saw my neighbors riding around on four-wheelers with small trailers cutting and gathering branches. The Minnesota Department of Natural Resources (DNR) regulates branch collection to ensure future tree health and production. Cutting branches on public land requires a permit, but many can cut and collect branches from their own land.
From there the journey continues to the branch buyers who buy from the branch pickers. The branch buyers can fashion the branches into wreaths themselves, usually in their garages, or they can sell them to larger companies. Today, branch buyers buy branches for about $0.20 per pound, depending on quality. This means that a very hard day of branch picking, which can net about 1,000 pounds, will net the picker about $200. This can go a long way towards supporting a family.
Major holiday wreath makers hire Minnesota families to make wreaths from the freshly plucked boughs. When I was a kid and a teenager, to make a wreath you had to arrange the branches in bunches along a metal hoop and use a single-handle machine to close the metal prongs that hold the branches in place. Not sure if every single wreath has to be hand made these days. When I was a kid we knew families who could make up to $20,000 a year by making wreaths in their garages. After the wreaths are made, they are taken to a larger company's processing facility where finishing touches such as bows and ribbons and pine cones are added.
community during the holiday season
In an analysis of non-timber forest products, University of Minnesota researchers argue that balsam harvesting should be understood as a form of cultural economy that is not just about making money, but a way of life. An Asterter interviewed for the study noted that it's a way for families to spend time together. Others said they enjoyed spending time in the woods, as do many who live in northern Minnesota.
There was something very special, but also harrowing, making our way out of the cold, sizzling darkness of the forest-lined streets into the warm, inviting and bright garages, filled with holiday scents and families working together and sharing thermos coffee.
When I think about it, the other peculiarity of my Halloween experience is that the rest of the year I would visit neighbors' houses with my dad, so their houses and rooms were familiar. Every morning he visited his friends for coffee. Roy and Caroline were the first and most consistent house because they got up the earliest before my father started his work for the day. After entering the garage and completing the required candy collection on those chilly Halloween nights, we relaxed into our daily work rhythm and discussed the latest news: how will the weather be and where will the biggest deer be in the upcoming hunting season?
My family didn't make commercial wreaths although we always made our own for our front door, maybe that's why this particular aspect of Halloween stands out so much to me. I remember so clearly taking candy from gloved hands, sticky with balm, the sound of crunching metal and working machines and the stacks of finished wreaths. I remember the ease with which Minnesotans have worked closely with the country and with each other at many times of the year and at all times of the day. We have harvested wild rice, rhubarb, wild berries and venison from the forest in the practice of life, not as a special occasion.
In those garage moments on Halloween, I forgot the costumes and the candy I'd seen in Halloween movies and marveled at the collective work that was being accomplished and the long journey that awaited those wreaths. It felt like a secret window into the life of these decorations that are so integral to our holiday cinematics. And maybe I remember that Halloween experience so vividly because so few of us get to witness that culture of connectedness to country and collaboration that then spreads Christmas cheer through homes and doors across the United States, as we say, "Honey or sour?"
As I ponder what we need in our lives this holiday and election season, I recall the steady, slow but steady pace of northern Minnesota and strive to embody the practice of working collectively toward a common goal. To me that means family, both gift and choice, coffee and Halloween candy.
Lacey J. Davidson is an assistant professor of philosophy at the University of Indianapolis. She organizes transformative change in the community with Indiana Task FORCE (Feminists Organizing and Reimagining Civic Engagement) and is a Public Voices Fellow at The OpEd Project.
All views expressed in this article are the author's own.
https://www.newsweek.com/halloween-unusual-costumes-holidays-growing-shaped-my-life-1755263 "My unusual Halloween-Halloween in my childhood shaped me"