NASA reveals never-before-seen images of 'early universe'
NASA on Wednesday revealed new images of an "early Universe" as part of findings from three scientists observing distant galaxy MACS0647-JD with the James Webb Space Telescope.
"The nature of the galaxies during this early period of our Universe is neither well known nor understood. But with the help of gravitational lensing through a foreground galaxy cluster, faint background galaxies can be magnified and also appear multiple times in different parts of the image," NASA said in a statement.
Scientists who worked on the findings include Dan Coe of the European Space Agency's AURA/Space Telescope Science Institute and Johns Hopkins University, Rebecca Larson of the University of Texas at Austin, and Tiger Yu-Yang Hsiao of Johns Hopkins University .
The James Webb Space Telescope used by the team is the largest optical telescope in space, with a high resolution and sensitivity that allows astronomers to see objects that are ancient, distant or faint. It was designed to detect the faint infrared light from very distant galaxies.
The new Webb images show "little dots" in the background, which are all galaxies, according to Larson, who added, "It's amazing how much information we're getting that we just couldn't see before. And that's not deep field.
"This is not a long exposure. We haven't even really tried looking at a point with this telescope for a long time. This is just the beginning!" added the scientist.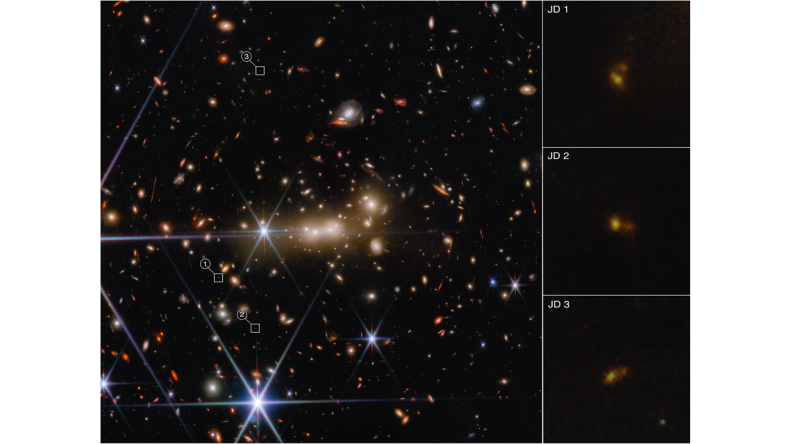 Larson added that before Webb, scientists had not been able to thoroughly study galaxies in the early Universe.
"Studying them can help us understand how they evolved into the kind of galaxy we live in today. And also how the universe has evolved over time," Larson said.
Meanwhile, Hsiao spoke about the "interesting" insights they discovered about the "early universe."
"It's really interesting that we see two structures in such a small system. We could be witnessing a galaxy merger in the very early Universe. If this is the farthest fusion, I'll be really excited!" said Hsiao.
Last week, a NASA probe captured images of two comets falling to the Sun's surface. The footage was captured by the Solar and Heliospheric Observatory (SOHO) spacecraft, launched in 1995 by NASA and the European Space Agency.
Coronagraph images showed the two "Kreutz sungrazer" comets heading straight for the sun.
Kreutz Sungrazer are a group of comets with a similar orbit, and most of them are falling towards the Sun. They are all thought to have come from a progenitor comet that was broken up, forming thousands of smaller cometary fragments.
"What makes Kreutz comets unusual is that they all share the same (or very close) orbit, so we think they're fragments of a parent comet that was previously disrupted," said Tabaré Gallardo, an astronomer at the Universidad de la Republica in Uruguay news week. "It is unclear when this disruption occurred."
news week reached out to NASA's communications office for comment.
https://www.newsweek.com/nasa-images-reveal-early-universe-james-webb-space-telescope-1755473 NASA reveals never-before-seen images of 'early universe'