NASCAR rules on Bubba Wallace's obscene gesture during an interview with Fox Sports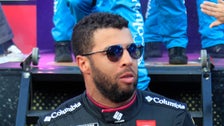 According to a report, NASCAR driver Bubba Wallace will not be fined for flipping the bird in an interview with Fox Sports on Sunday. (Check out the video below.)
Wallace briefly extended his middle finger to someone off-camera during an interview with reporter Jamie Little after finishing second in the NASCAR Cup Series All-Star race in North Wilkesboro, North Carolina.
NASCAR investigated but put the brakes on punishing Wallace, Fox Sports reporter Bob Pockrass reported Monday.
"As far as NASCAR knows, he gestured at a friend, and while it was inappropriate, it wasn't malicious[ly]"," wrote the NASCAR reporter on twitter.
Some reports suggest Wallace's gesture on Fox Sports 1 was related to fans mocking him on the track or a breach on his team's radio station.
Wallace, the only black full-time NASCAR Cup Series driver, responded to boos during his pre-race debut by mock crying: Mediaite reported.
After the race an unknown person cut into Wallace's team radio station and said, "Go back where you came from, asshole. "You suck and you're not wanted in NASCAR." Motorsport.com reported.
Wallace had "already turned off the radio and not heard the comments," according to reporter Pockrass wrote on Twitter.
Officials are also reportedly investigating this incident. NASCAR did not immediately respond to HuffPost's request for comment.
In 2020, a noose was found in Wallace's garage at a racetrack, but the FBI later determined that the driver who campaigned for NASCAR to ban the Confederate flag was not the target of a racial attack. The sling was in place months before Wallace's garage use, serving as a pull-down garage door.
Wallace is currently 15 in the NASCAR Cup Series standings. He has three top five finishes so far this season.