Nashville students hid in the woods during the Covenant School shooting
Students reportedly tried to hide in a nearby forest during the mass shooting at Covenant Presbyterian School, according to a local reporter.
At least three students and three adult teachers at the religious school were killed Monday morning when a 28-year-old woman, believed to be a former student, entered the building with assault rifles and a pistol and opened fire. The identity of the gunman who was shot and killed by police was not released at the time. According to the Gun Violence Archive, this was the 129th mass shooting in the United States in 2023.
More details about the shooting leaked through local media reports throughout the day. In a live broadcast hours after the incident at Covenant School, local reporter Lydia Fielder of WSMV News reported that some students fleeing the violence tried to hide in the woods near the school.
Fielder had been able to enter a reunion center set up to help parents find their children and heard the claims of a church elder working there. They said some children came to the center with scratches from thorns after jumping into bushes and running among the trees.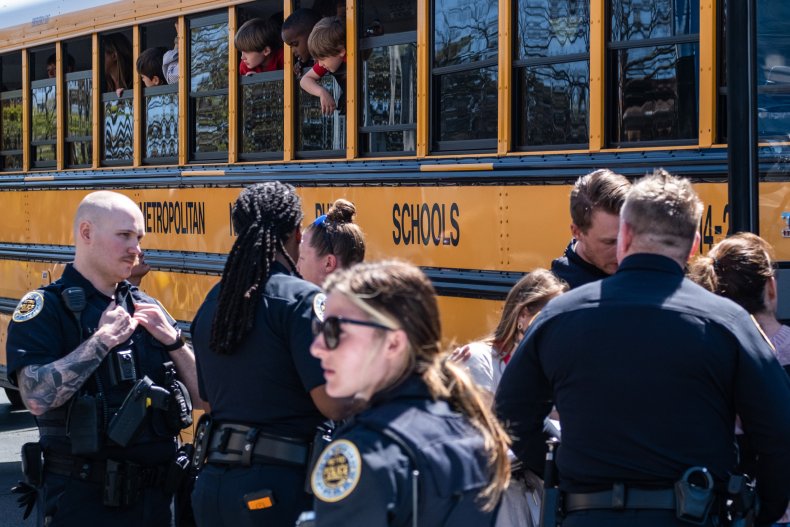 Another WSMV report Monday detailed other methods the students used to hide during the chaotic shooting. Avery Myrick, the daughter of a Pre-K teacher who has worked at Covenant for nearly 10 years, said her mother hid in a closet with her students and that the gunman may have tried to break into her classroom.
'She said they were hiding in the closet and there was gunfire everywhere,' Myrick said. "[She said] They may have been trying to get into her room."
Speaking to the press, Nashville Police Chief John Drake said the gunman entered Covenant School through a side entrance and made her way from the first floor to the second, firing multiple shots as she went. She was eventually overpowered in an altercation with two of the five police officers who entered the building. The only injury reported in the shooting was an officer who was injured by broken glass while attempting to attack the gunman.
Drake's address to the media also suggested that the school had active gunnery protocols and that escaping to the nearby forest may have been part of that.
The shooting is currently under investigation by the Tennessee Bureau of Investigation. A vehicle believed to be linked to the gunman was found near the scene of the crime and may have helped provide clues to her identity.
The victims were: Evelyn Dieckhaus, Hallie Scruggs and William Kinney, all aged 9; Cynthia Peak, 61 years old; Katherine Koonce, 60 years old; and Mike Hill, 61, according to The Guardian.
news week emailed the Nashville Police Department for comment.
https://www.newsweek.com/nasville-students-hid-woods-during-covenant-school-shooting-1790681 Nashville students hid in the woods during the Covenant School shooting