National Blood Donor Month highlights the need for blood donors in central Texas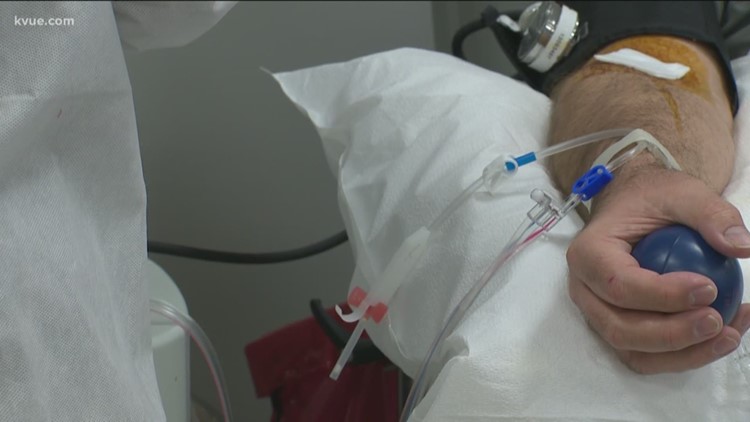 To celebrate National Blood Donor Month, WRB is offering a $25 HEB gift card to those who donate platelets twice in January.
AUSTIN, Texas – Each January is recognized as National Blood Donor Month. This month, we are blood (WRB), the sole provider and protector of blood to more than 40 hospitals and medical facilities in central Texas, has an urgent need for blood and platelet donations for local patients.
"At the beginning of the year we are seeing a significant drop in donations, which is traditionally after the holiday season when people get into the regular routine of the New Year. That's why we have National Blood Donor Month in January to highlight this critical need when we see this drop in donations. So now is a great time to donate blood and help save the life of a local patient," said Nick Canedo, VP of Community Engagement at We Are Blood.
To celebrate National Blood Donor Month, WRB is offering a $25 HEB gift card to those who donate platelets twice in January. If you donate at a WRB donor center or mobile donation, whether whole blood or platelets, you will also receive a voucher for a free small sub at Thunderclouds Subs.
At the moment, WRB specifically needs O-type whole blood donors and all kinds of platelet donors to avoid shortages that endanger patients.
"There is a particular need for O-type blood donors, ie O-positive blood groups and O-negative blood groups, as well as platelet donors of any blood group. These types of donations are especially needed for trauma patients, cancer patients, and surgical patients – the type of patients who need daily blood transfusions in our community," Canedo said.
WRB saw a 55% increase in platelet requirements from 2017 to 2022. During the same period, the demand for red blood cells, traditionally obtained from whole blood donations, increased by 24%.
"If you donate blood regularly, the actual donation process can take as little as 15 minutes, but we only collect a very small amount of platelets. So we have a special donation process to collect more platelets from one person during a single session" But this process can sometimes take up to two hours. But it means you might collect one, two or even three units of platelets, depending by their physiology, which means a lot of patients who can get life-saving help," Canedo said.
Some helpful facts about donating blood:
Type O negative blood is the universal donor, but only 7% of the population carries this blood type, meaning it is often in high demand but scarce.
Type O positive blood can be received by any positive type recipient or 80% of the population.
Platelets are a small but special part of your blood that help prevent further bleeding if you are injured. Every day, platelet transfusions are needed by cancer patients, pediatric transplant patients and more.
In addition to donations made at We Are Blood's four donor centers, the organization hosts approximately 80-100 mobile drives per month to meet needs.
Get involved during National Blood Donor Month and throughout the year by donating at one of four donor centers in North Lamar, Round Rock, Cedar Park and South Austin or numerous mobile drives.
https://www.kvue.com/article/news/health/national-blood-donor-month-central-texas/269-86a57a01-2509-4ace-8c23-1c5473cff29f National Blood Donor Month highlights the need for blood donors in central Texas