NBA player Jonathan Isaac cites faith as the reason he stood at league-wide BLM protests: "The love of Jesus Christ will ultimately heal this world."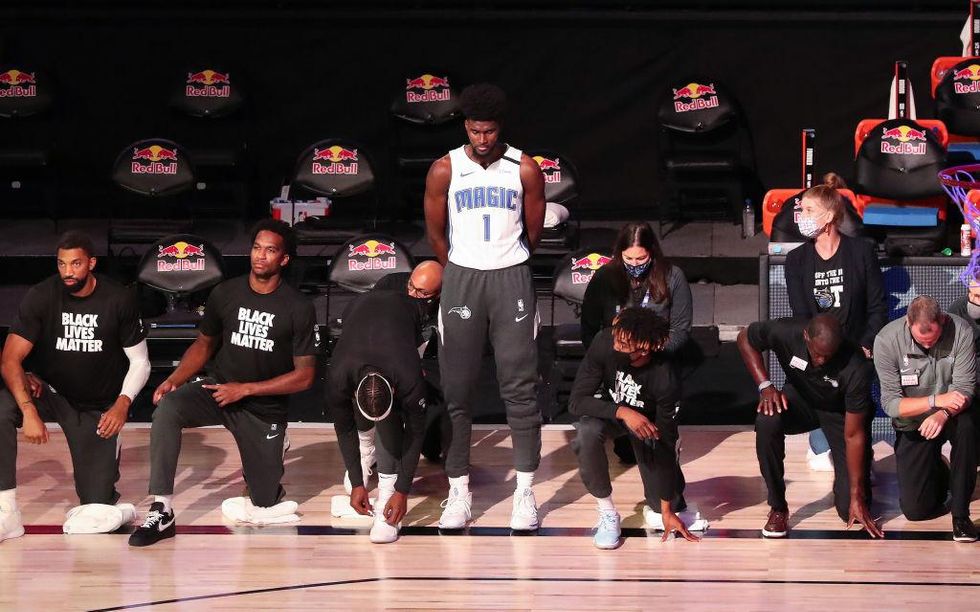 Orlando Magic forward Jonathan Isaac drew a lot of attention and scrutiny in 2020 when he decided to stand for the national anthem before games – even when every other member of his team knelt wearing Black Lives Matter t-shirts.
For Isaac, an outspoken Christian, to kneel would mean supporting a movement that ultimately could not heal the nation's growing racial divide or other basic human problems. The only thing that can do that is the love of Jesus Christ as shown in his death and resurrection.
That's the message Isaac shared again this week ahead of the release of his new book, Why I Stand, published by Daily Wire Books.
In several media appearances this week, Isaac has sought to encourage others to find answers to their pain and the strength to stand by the gospel message.
Speaking at the ReAwaken America Tour on Saturday, Isaac recalled how his faith motivated him to take a different approach in the face of immense pressure to kneel in support of Black Lives Matter.
"Around the time George Floyd had tragically died … I was trying my best to get it right," Isaac said said to the crowd at the conference in Myrtle Beach, South Carolina. "I didn't consider it African American. I didn't consider it conservative. I didn't consider it liberal. I have tried my best to attack the message from a Christian perspective. I tried to see it as Christ would see it."
"What I didn't want to do at that moment was join a fight by kneeling for the national anthem. Obviously the battle between black and white, the battle between right and left and all that was going on. I wanted to look at it the way Christ would," he continued.
He continued, "About this time my pastor had preached a message. The message was about the time when Jesus was about to be taken prisoner by the Roman guards and Peter rushed forward and cut off the man's ear and Jesus stopped him and he said, 'They that live by the sword will live by the sword to die.' And finally, that Jesus had a bigger plan. So I decided to get up. It wasn't just about the flag. It was just in that moment that I said, 'I believe that the love of Jesus Christ will ultimately heal this world because it healed me.'"
The NBA player similar said Fox News Host Will Cain this week that "the love of Jesus Christ and the gospel" is the "greatest message and antidote" to the problems facing the world.
Then in an interview with the Daily Wire Ahead of the publication of his book, Isaac stated that "to kneel and wear a Black Lives Matter t-shirt does not come with support for Black Lives."
Isaac, who has also angered many on the left for his refusal to get the COVID-19 vaccine, also articulated how his faith in Jesus freed him to stand firm in the face of cultural pressures.
A summary by Why I Stand on Amazon describes the book as the tale of Isaac's "discovery that no matter how much confidence you have today, God's strength will grow in your weakness" and "that courage comes from trusting that God is greater than his fears."
In an opinion In response to Isaac's recent public statements, Orlando Magic said, "Jonathan is a thoughtful young man of tremendous faith who has done a great job in the community and uses his platform to express his voice."
https://www.theblaze.com/news/jonathan-isaac-faith-jesus-why-i-stand NBA player Jonathan Isaac cites faith as the reason he stood at league-wide BLM protests: "The love of Jesus Christ will ultimately heal this world."