Nearly 1,500 Russians Killed in Last Two Days of War: Ukraine
Russian casualties piled up more than usual in the last two days as calendar year 2022 drew to a close. Ukraine's Defense Ministry said on Sunday that the number of Russian soldiers killed the previous day was 760, much higher than the typical daily average of fewer than 600.
The Defense Ministry on Saturday listed 710 Russians killed, bringing the two-day total to 1,470 Russian casualties. Russia has lost an estimated 106,720 soldiers since the war began in late February 2022.
Ukrainian President Volodymyr Zelenskyy said in his address to the nation on Sunday evening that Russia was "scared" and that he felt "scared".
"They are afraid. They can feel it. And they are right to be afraid. Because they are losing. Drones, missiles, everything else will not help them. Because we are together. And they are only together with fear," Zelenskyj said .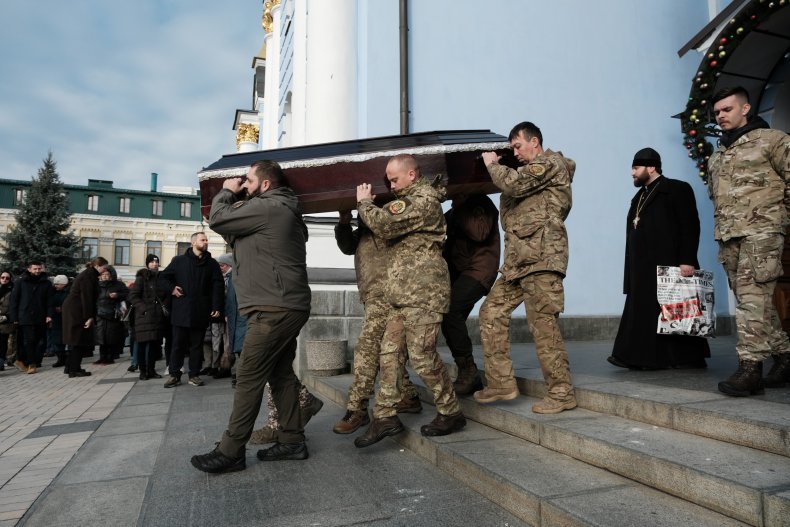 Zelenskyy added that Ukraine shot down 45 Shahed drones on the first day of the new year and called the Russians "pathetic".
"Russian terrorists were pathetic and they didn't appear this year. Our defenders were great and on January 1 they showed themselves very well," said Zelenskyy.
Ukrainian defense officials on Sunday also said Russia suffered heavy equipment losses on the 312th day of the war, including nine armored fighting vehicles and 13 automotive equipment and tanks.
Just a week ago, Zelenskyy said Russia had lost a lot in this war, but Russian President Vladimir Putin would keep pushing forward.
"Russia has lost everything possible this year," said Zelenskyj the day after Christmas. "But [Putin] tries to recoup its losses through the ruse of its propagandists after rocket attacks on our country, on our energy sector.
"There are still a few days left this year. We must be aware that our enemy will try to make this time dark and difficult for us," said Zelenskyy. "I know the darkness will not prevent us from leading the occupiers to their new defeats, but we must be prepared for any scenario."
His Christmas message was a bit more sobering, including saying there is a loss of hope.
"Our houses and streets cannot be so bright. And Christmas bells can not ring so loud and inspirational. By air raid sirens or even worse – shots and explosions," said Zelenskyy. "And all of this together can pose a greater threat. It's a disappointment. Of the higher powers and their power, of goodness and justice in the world. Loss of hope. Loss of love. Loss of myself…"
news week has reached out to the Russian Defense Ministry for comment.
https://www.newsweek.com/nearly-1500-russians-killed-last-two-days-war-ukraine-1770651 Nearly 1,500 Russians Killed in Last Two Days of War: Ukraine