Neighbor selling mis-shipped item to intended recipient stuns the internet
Internet commentators couldn't believe their eyes after a landscaper revealed where a shipment bound for his employer actually ended up and how he found it out.
In a viral Reddit post published on r/mildlyinfuriating, Redditor u/BigMacDaddy99 (aka Original Poster or OP) shared a photo of a note addressed to his boss and bemoaned its author's apparent lack of foresight.
The post, titled "Neighbor accepted a package our business bought, used the content, and now wants us to pay for the leftovers," received more than 118,000 upvotes and 7,000 comments in the last day.
The note, scrawled on what can only be described as kitchen list paper, begins: "Hi! I'm Sam, I live down the street.
"A few weeks ago, we happened to have some landscaping material delivered to us," it said. "We have one roll left if you're interested in buying it. We're selling them, but if you want to trade something for them, we could work something out."
While the mail service and other delivery businesses have served as staples of American society for centuries, the past half decade has seen unprecedented growth.
In 2018, shipping company Packola reported that 13.5 billion packages were delivered within the United States.
In 2020, that number rose to over 20 billion, according to Statista, with the COVID-19 pandemic playing a role in the increase.
As online retailers increase their impact on consumers worldwide, Packola predicts that global parcel volume will reach 250 billion by 2026.
Despite the ease and convenience of ordering a product online and receiving it within days, the risk of package theft has also reached a new level.
And according to Security.org's annual Package Theft Report, 49 million Americans have had at least one package stolen in the past 12 months, with the median value of all reported stolen goods being $50.
"Porch pirates," as Security.org calls them, are likely to strike around the holiday season and are rarely arrested, especially if affected households aren't equipped with doorbell cameras.
However, the concept of parcel theft becomes more complicated when delivery issues arise and items intended for specific recipients are left in the wrong place.
The note that received the original poster clearly states that rolls of landscaping fabric were mis-shipped, a claim that was corroborated by the original poster, although there was no relation to the recipient.
"[I have] no idea who this person is," OP said news week. "I have given the note to my boss to process … but after some research there doesn't seem to be much appeal for the package being delivered to the wrong address."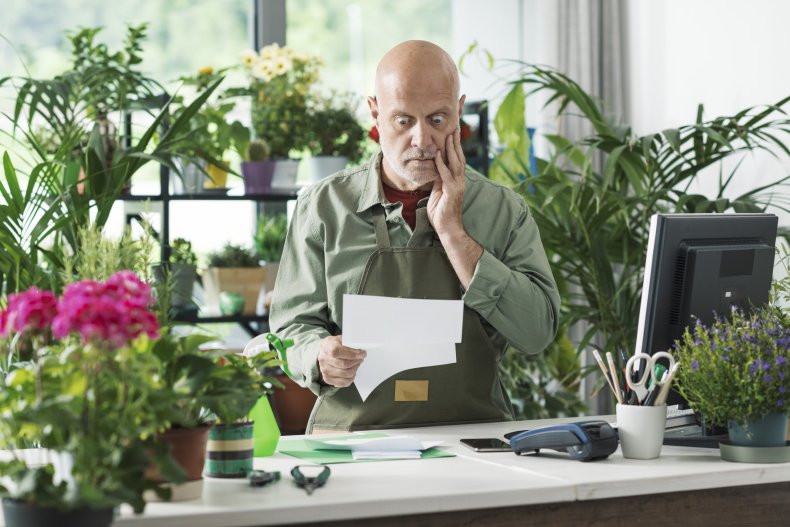 However, throughout the comments section of the viral Reddit post, Redditors expressed anger at the recipient's flippant attitude towards using materials not intended for them and the mentality required to resell the material to the landscaping company that made it actually ordered.
"I'm shocked every day at how stupid so many people are," commented Redditor u/Chakkaaa, receiving almost 9,000 upvotes. "Yeesh lol how do so many of these people even survive the day[?]"
"OP say the mark as if [he] didn't know SINCE HE ORDERED IT!" exclaimed Redditor u/Odd_Routine4164, also getting almost 9,000 upvotes.
In the top comment on the post, which received almost 27,000 upvotes, Redditor u/Drakeon8165 encouraged the original poster to take legal action despite the potential difficulties.
"Ooh look," they wrote. "A signed confession!"
"They literally gave you a signed confession," added Redditor u/REMdot-yt, receiving more than 26,000 upvotes. "You know what you have to do."
"Judge, I'm voting to try myself on all charges because I'm an idiot," Redditor u/RoswellFan57 chimed in sarcastically.
Have you faced a similar dilemma at work? Let us know at life@newsweek.com. We can ask experts for advice, and your story could be featured on Newsweek.
https://www.newsweek.com/neighbor-selling-misdelivered-items-intended-recipient-stuns-internet-1751381 Neighbor selling mis-shipped item to intended recipient stuns the internet