New Gaza War Against Israel Highlights a False "Imagination"
TEL AVIV, Israel _ Israelis marked the 50thTh anniversary of the 1973 Yom Kippur War in recent weeks with great concern over the collapse of the unfortunate so-called "notion" that the Arabs would not dare to attack, as Egypt and Syria did. Almost half a century to the day after that mistake marks the demise of an equally stupid idea: that Gaza can be blocked and contained, cut off from Israel by a security fence, while its population is hemmed in and left to the rule of terrorist groups.
That idea shattered my head on Saturday, October 7, when I was awakened by rocket fire over central Tel Aviv.
The Gaza design also implied two consequences: that Palestinians in the West Bank could be provoked with impunity by Israel's ruthless government, and that Saudi Arabia would eventually make peace with Israel without addressing the Palestinian issue – making the Palestinians an irrelevant player in the Gaza conflict Middle remain east equation.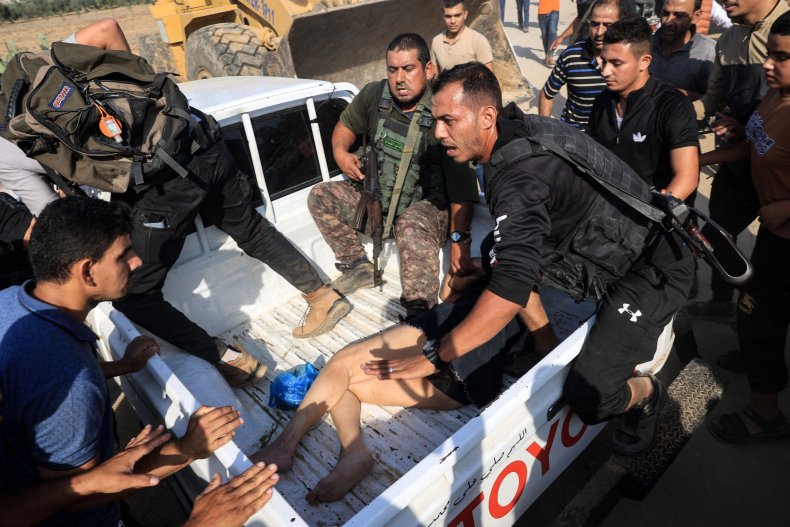 It turned out that on the day of their election, hundreds of armed Hamas fighters simply broke through the fence between Gaza and Israel and were able to move freely in surrounding communities, killing and kidnapping civilians and initially encountering little military resistance. Such is the shock in Israel that there is a chance that this event will end the 16 years of strategic paralysis that began when Hamas kicked the Palestinian Authority out of Gaza in 2007. And suddenly the Palestinians are relevant again.
At this point, it appears that Israel has suffered more than 100 civilians killed, more than 1,000 wounded, and an unknown but significant number of kidnappings. The latter leads to a likely longer drama with looming executions and negotiations over a prisoner exchange, for which Israel has had to pay a very high price in the past.
It is a spectacular failure on several fronts: tactically, it is clear that there was no adequate plan to defend the border towns and kibbutzim on the Israeli side of the border; From an intelligence perspective, it is clear that Israel did not know – like hundreds of activists in Gaza – that the attack was imminent. This will severely shake the vaunted Shin Bet security service.
And strategically, the entire edifice of Gaza politics has resulted in a real disaster.
Was it accelerated by the toxic political divisions in Israel? Is that why Hamas decided to attack? And was Israel's apparent lack of preparation somehow caused or exacerbated by internal division? These questions may not be answered any time soon, but it is clear that Israel is currently run by a spectacularly incompetent far-right government, led by a criminal defendant to boot.
Tragically, this ragtag group must now decide how to respond unless a government of national unity is quickly formed. The challenge is this: the attacks have created a psychology of transformation and a real feeling that there can be no return to the status quo ante; But the actual options on the ground remain just as unpleasant as before.
For Israel's response to be truly different from its previous policy, it would mean occupying the Gaza Strip and removing Hamas from power – presumably to reinstate the Palestinian Authority. This would involve street fighting by Israeli soldiers against a force of tens of thousands armed to the teeth, led by gangsters and fanatics who are absolutely ruthless in putting civilians in harm's way. Israel must expect significant losses on all sides, which would probably dwarf what happened on Saturday. There is also a risk of execution of the hostages held in Gaza.
Israel also has the opportunity to repeat its previous strategy of bombing Gaza, this time demanding the return of the hostages rather than an end to rocket fire (although that too is sure to come). This could include targeted killings of Hamas leaders – but here too, the hostages are a complicating factor.
Any operation that lasts long risks expansion in three directions: Hezbollah could join in, firing rockets into Israel from Lebanon and dragging the country into war; the Palestinians in the West Bank could start a new intifada; And there is a possibility that extremists among Israel's Arab citizens will also join in and set fire to the streets of Israel, which is in some ways Israel's worst-case scenario.
Any of these scenarios could fundamentally change Israeli politics, although of course right now everyone will argue that politics doesn't matter.
On the one hand, the attack is a chance for a much-needed reset for Israeli Prime Minister Benjamin Netanyahu, whose government has managed to make itself extremely unpopular. It's not just that proposals to abolish judicial independence and abolish many of the freedoms Israelis take for granted have hurt the economy – but also that they have promised their Haredi allies to pass a law that The government will officially exempt Haredi youth from the military, which will anger the vast majority of Israelis. Applying the normal calculus of Israeli politics, war could be exactly what Netanyahu needs to reshuffle the cards and somehow survive this episode too. In any case, security crises usually help the right.
But that can be different. It is hard to imagine how Netanyahu can escape the judgment that his government – ​​full of ex-cons, fanatics and petty apparatchiks – has fallen asleep during its vigilance. It devoted all its energy to attempting to establish authoritarian rule at enormous cost to social cohesion and the economy. It is not inconceivable that the magnitude of the failure will lead to a certain return to respect for expertise and a certain reluctance to elect incompetents, not only in Israel but also in other countries. But that's for the next election.
One possible outcome currently is a reshuffle that will result in a centrist "government of national unity" that replaces Netanyahu's far-right allies with moderates. The Leader of the Opposition has already suggested it and such is the fear in the country that this has not been seen as a cynical ploy, as it would normally have been.
In the meantime, it should surprise no one if Netanyahu sticks with his current makeup. The judicial overhaul could be crucial in keeping him out of prison. Instead, he could choose to exploit intelligence failures and replace security department heads. They are all accomplished professionals and therefore almost by definition opponents of his government's policies, particularly his authoritarian reforms. He would try to replace them with loyalists, doing more damage to Israel but also amassing more power for himself. This is not the Israel that its friends abroad admire, but anyone who would be surprised is deceived and outdated.
Ultimately, however, the situation in Gaza is simply unsustainable: two million people without natural resources, intermittent electricity supplies, no free trade with the world and no way out by land, air or sea. Make no mistake: Hamas is a criminal organization that only seeks war with Israel and does not care about the people under its boot. But Israel's policy of eliminating Hamas through pressure on the population would never produce good results. It is undoubtedly time for a new "concept".
Dan Perry is managing partner of New York-based communications company Thunder11. He is a former Middle East editor based in Cairo and Europe/Africa editor based in London at the Associated Press. Follow him at danperry.substack.com.
The views expressed in this article are the author's own.