New video appears to show casualties hours before attack
New surveillance video appears to show two University of Idaho students in the hours before they were killed.
Kaylee Goncalves, Madison Mogen, Xana Kernodle and Kernodle's boyfriend Ethan Chapin were found dead in an off-campus tenement in Moscow on November 13. More than a month later, the murders remain a mystery and police are yet to identify a suspect or make an arrest.
As the tiny college town remains on edge, the case has fueled an army of online investigators who have decided to discuss the case's details on forums like Facebook and Reddit.
A newly released surveillance video purporting to show best friends Goncalves and Mogen in the early hours of the '13 Idaho Murders – Case Discussion' Facebook group.
Cameron and Smith told the outlet that the video was provided to them by a Moscow resident who previously sent it to police and believes the release could provide greater context about the incident.
According to the outlet, which only released stills and audio for the video to protect the source's privacy, the footage shows a woman asking, "Maddie, what did you say to Adam?"
Her voice appears to match Goncalves', according to Fox News Digital.
"For example, I told Adam everything," the other woman replied. The identity of the person in question is not known and there is currently no evidence that he has been linked to the murders.
Investigators said Goncalves and Mogen went to a local bar around 1:56 am on November 13, were stopped at a food truck and then driven home with a private party.
The new video shows the women, who appear to be wearing the same dresses that Goncalves and Mogen saw outside the food truck that night.
The man walking with them in the clip also wears similar clothing to a man seen by the front truck.
Police said the man seen at the food truck and the driver who took Goncalves and Mogen home are not believed to be involved in the crime.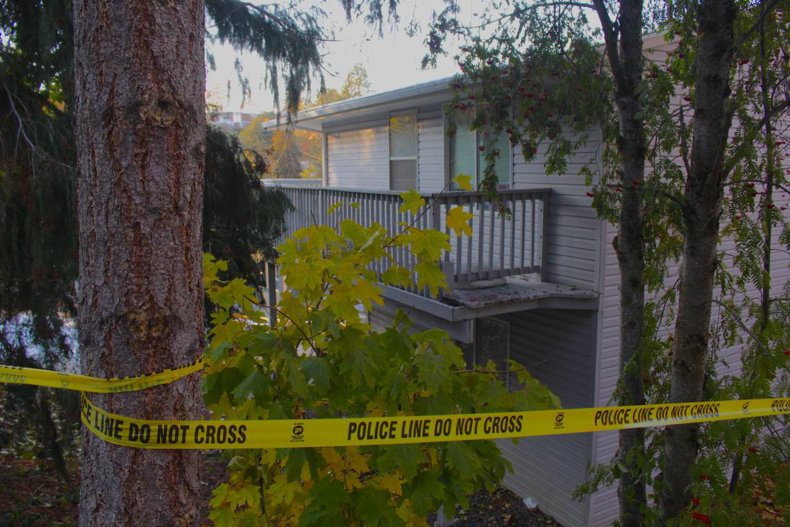 Cameron and Smith said the new video shows the man dated Goncalves and Mogen before he was featured in the food truck video.
"People draw the conclusion that he's creepy [few] minutes, and I want to give a bigger picture," Cameron said. "He wasn't just staring at them… He was with them before."
The ongoing mystery surrounding the case has led many to release speculation and rumors about some individuals, prompting police to warn earlier this month that it could result in them being charged with harassment.
news week has asked the Moscow police for comment.
https://www.newsweek.com/idaho-murders-new-video-victims-hours-before-attacks-1767981 New video appears to show casualties hours before attack