News channel about flooding during severe weather program
Illinois viewers were tuned in to a newscast late Sunday night as a local station aired a segment about severe weather as torrential downpours inundated the studio.
Strong thunderstorms hit central Illinois with hail the size of chicken eggs, lightning and torrential rain. The National Weather Service (NWS) in Lincoln, Illinois shared a number of tweets That warned area residents of possible flash flooding from torrential rains and the threat of "a tornado or two." The NWS advised residents to "be ready to take shelter immediately."
WCIA, a Champaign-based broadcaster serving the central Illinois area, shared storm footage very literally as studio employees waded through water up to their ankles.
"There is literally a lake. There's a lake that's in studio right now because of all the heavy rain that's been coming in here," meteorologist Kevin Lighty said in the air during the late Sunday evening broadcast.
Lighty interrupted the broadcast as staff members removed furniture and equipment out of flood reach.
"I'm sorry people. Oh God. Oh god, yeah, OK," he said. "Well, our water still comes in here and it's worse in the back."
Lighty went on to explain that there was "several inches" of water in the studio. Viewers then heard Lighty ask someone off-screen, "Is it in the editorial office?"
Lighty came back and shared that the flooding was spread throughout the studio, including the newsroom and control room.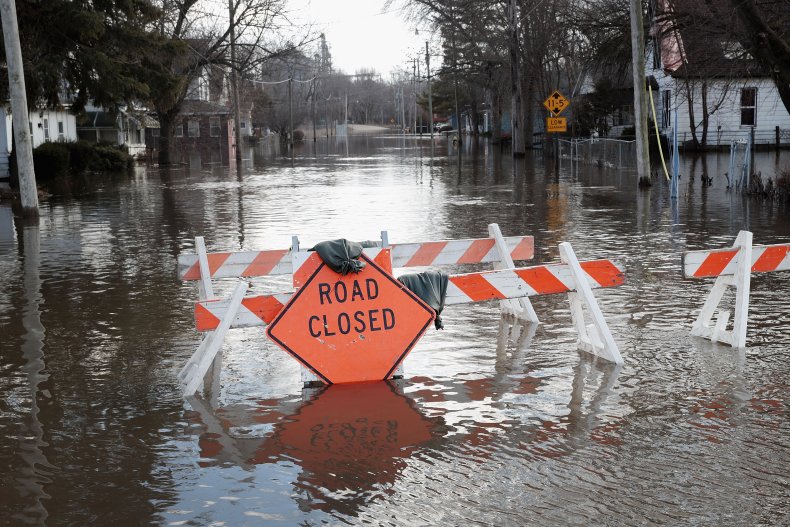 "I can't believe we're still able to do what we're doing right now," he said.
Lighty said the online stream footage has been disrupted by the flooding, but television footage is still available. The segment shared clips of employees trudging through water in the editorial office and other areas of the studio.
"Oh god, what a mess we're in here," Lighty said. "We are still broadcasting with you here. We want to offer you the best possible coverage here."
Monday night, Lighty tweeted photos of some of the damage to the editorial board.
"I'm doing some more assessments from the @WCIA3 studio where we found a clear waterline about a foot on our green screen," Lighty tweeted
Easy too tweeted a video of his colleagues working on Monday, despite the roar of fans drying the studio.
"Got to give this to my colleagues in the @WCIA3 editorial team who have been working all day with these fans who keep blowing post flood," Lighty tweeted. "The news doesn't stop, neither do we."
news week has reached out to the WCIA for comment.
https://www.newsweek.com/water-floods-news-station-during-broadcast-about-severe-weather-1744561 News channel about flooding during severe weather program