NFL champion and nine-time Pro Bowler Maxie Baughan has died at the age of 85
Maxie Baughan, a former standout linebacker who played for the Philadelphia Eagles, Los Angeles Rams and Washington Redskins during his NFL career, died Saturday of natural causes. He was 85.
The Eagles said Baughan died in Ithaca, New York surrounded by family members.
"On behalf of the Philadelphia Eagles family, I am saddened to learn of the passing of Maxie Baughan, one of the greats of our team," Eagles CEO Jeffrey Lurie said in a statement posted on the team's website.
FOR MORE SPORTS COVERAGE, CLICK HERE AT FOXNEWS.COM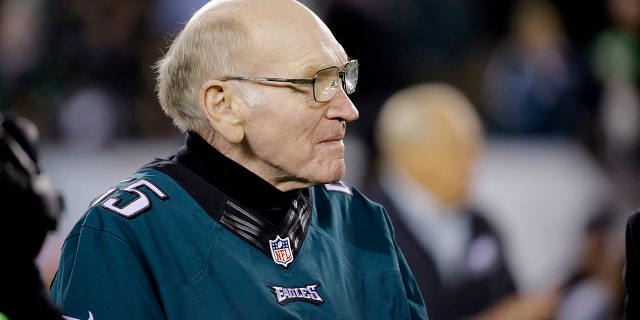 "A rookie member of the 1960 NFL championship team, he earned All-Pro and Pro Bowl honors throughout his career while playing a tough, hard-nosed style of football. Maxie's induction into the Eagles Hall of Fame in 2015 cemented his legacy and recognized his contributions to the team. Our hearts go out to his wife Dianne and all of Maxie's family and friends who mourn his passing.
Baughan was a Georgia Tech standout before being drafted by the Eagles in the second round of the 1960 NFL Draft. He was also drafted by the AFL's Oakland Raiders but chose to play for the Eagles.
He was a nine-time Pro Bowler and All-Pro selection.
He helped the Eagles to an NFL championship in 1960. He played six seasons for the Eagles and five more for the Rams before joining the Redskins in 1974 for his final season.
MYLES JACK INFORMS EAGLES HE'S RETIRING AFTER 7 NFL SEASONS: REPORT
"Maxie Baughan was a fierce and highly intelligent competitor who established himself as the top center in the country in 1959," said Archie Manning, chairman of the National Football Foundation, in a press release. "His passion for the game continued throughout his life and he has mentored countless great players over the years, coaching in both college and the NFL. He became an integral part of our game and of us." [are] deeply saddened to learn of his death. Our thoughts and prayers are with his family and friends.
Baughan was inducted into the Georgia Tech Hall of Fame in 1965 and the Eagles' Hall of Fame in 2015.
Last month, he was named one of 12 semifinalists for the Pro Football Hall of Fame's class of 2024 in the senior category.
CLICK HERE TO GET THE FOX NEWS APP
"Maxie is one of the most iconic characters in the history of our program and a shining example of what a tech man is," current Georgia Tech coach Brent Key said in a statement released by the school. "We are heartbroken by his death."
The Associated Press contributed to this report.