Nissan and Mitsubishi unveil new electric "kei cars" only for Japan
Nissan and Mitsubishi simultaneously unveiled boxy small kei electric vehicles (EV) for Japan this week. The five-door Sakura and five-door eK X go on sale in the country this summer and measure just 133.6 inches tall, about two feet shorter than the smallest Mini Cooper.
US automakers don't sell the tiny kei cars here due to our current regulations and buying habits, but they make up about 40 percent of the market in Japan. The ultramini category was created in the 1940s with maximum regulations on size, displacement and power so owners would pay less for taxes and insurance.
The dual release of these vehicles is credited to the Renault-Nissan-Mitsubishi alliance formed by former Nissan CEO Carlos Ghosn.
Both the Nissan Sakura and Mitsubishi eK X come with a 20-kilowatt-hour battery and an electric motor connected to the front wheels that produces a tiny 63 horsepower and a respectable 143 pound-feet of torque. Three driving modes to drive are Eco, Standard and Sport.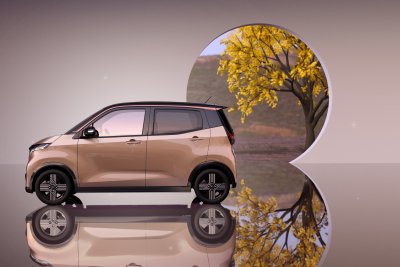 They also feature one-pedal driving, which means that when the driver takes their foot off the accelerator, the vehicle begins to slow down and regenerate energy. It takes about eight hours to charge from a regular Japanese outlet and 40 minutes from a fast charger to reach 80 percent.
The Sakura uses lessons learned from Nissan's Leaf EV by reducing battery space but offering an electric range of 180 km (111 miles) before needing to be charged. This range is based on the Japanese test cycle.
The new electric vehicle is equipped with all the safety technologies that Nissan is known for in its modern domestic cars. This includes the practical driver assistance system ProPilot with adaptive cruise control, steering assistant and a stop-and-go function that resets the car to a set speed as soon as traffic stops. It also has the ProPilot Park system (a first for an Ultramini) that controls steering, braking and shifting when parked parallel or perpendicular.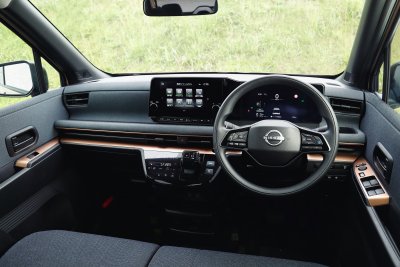 On the Mitsubishi side, the eK X gets Mi-Pilot Parking with the same features and Mi-Pilot, an advanced driver assistance system.
Buyers can choose from 15 body colors for the Sakura, including four two-tone options that Nissan says evoke the different seasons.
Standing just 5ft 5, the four-seat Sakura features sleek projector headlights, aluminum wheels and a rear right charge port that glows in the dark for safe charging at night. Upgraded models get LED rear combination lights that match the tailgate pattern.
The eK gets a par with Mitsubishi's new front end found on the Eclipse Cross SUV and others.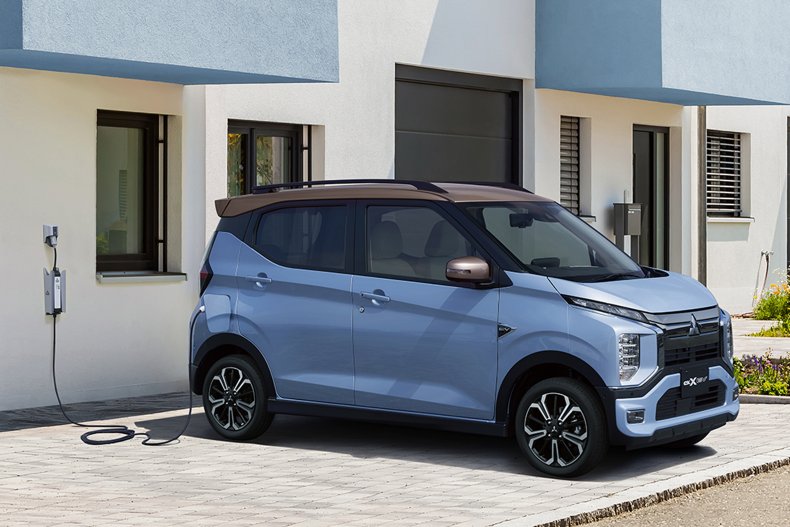 Inside, buyers get a 7-inch driver display and a 9-inch touchscreen with navigation as standard. This system plans routes around electric vehicle charging stations so drivers always know how far they can go. Wireless Apple CarPlay is also standard. Mitsubishi has both Android Auto and Apple CarPlay and the same 7- and 9-inch screens.
Cloth seats get copper trim and Nissan says the Sakura has "ample storage" for everyday needs, including room for a wallet, phone and other items. It gets just 3.7 cubic feet of cargo space behind the rear seats. The Mitsubishi also gets cloth seats, with a slightly different look.
The Nissan Sakura is available in three trims, with the base S model starting at $18,261 (2,333,100 yen) before in-country EV tax credits, which total about $4,300; The top G model costs $23,007, again converted from yen, as this vehicle is only sold in Japan. Mitsubishi has not yet announced a price.
In a first for Nissan, it unveiled the car in person in Japan, digitally online on YouTube and simultaneously in the Metaverse. Fans can watch the live presentation, which can still be seen on Nissan's YouTube channel.
https://www.newsweek.com/nissan-mitsubishi-reveal-new-electric-kei-cars-japan-only-1708719 Nissan and Mitsubishi unveil new electric "kei cars" only for Japan