Novo Nordisk becomes Europe's most valuable company
LONDON (Reuters) – Danish drugmaker Novo Nordisk overtook LVMH as Europe's most valuable listed company on Friday, ending the French luxury group's two-and-a-half-year reign at the top.
LVMH, the world's largest luxury retailer, is suffering from growing concerns about the prospects for the Chinese economy.
Novo, meanwhile, is benefiting from a surge in demand for its high-potency diabetes and weight-loss drugs Ozempic and Wegovy, which has propelled its earnings and shares to record highs.
Its shares are up about 17% since it announced on Aug. 8 that a major study showed Wegovy also had clear cardiovascular benefits, boosting the company's hopes of moving beyond its lifestyle-drug image.
As of Friday's close, Novo Nordisk had a market capitalization of about $424.7 billion, including unlisted shares, according to data from Refinitiv and the company's share count disclosures.
France-listed LVMH had a market cap of $420.1 billion and was Europe's largest publicly traded company since February 2021, when it ousted consumer goods group Nestle from the top spot.
Novo's share price has roughly tripled over the past three years, while LVMH, home of fashion brands Louis Vuitton and Dior, has doubled.
"Novo's convergence with LVMH as Europe's largest market capitalization stock reflects Novo's recent product success, while recent trends at LVMH have been more mixed," said Marcel Stotzel, co-portfolio manager of Fidelity European Fund and Fidelity European Trust.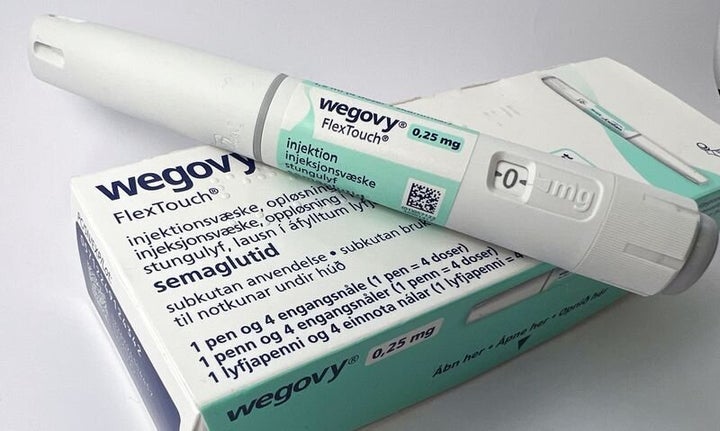 Stotzel said both stocks remain key positions in his funds.
Novo shares are near record highs, underscoring investor appreciation for a strategy that has given the company a first-mover advantage in a growing obesity drug market.
The weight loss drug market is expected to reach $100 billion in annual sales within a decade. According to Barclays, sales are currently around $6 billion.
"Market share should be fairly evenly split between Novo Nordisk and Eli Lilly, the two main companies behind the treatment of obesity," said Axelle Pinon, member of Carmignac's investment committee.
Eli Lilly and co. are expected to receive US weight-loss approval for their similar drug, Mounjaro, later this year.
Novo said on Aug. 8 that study data showed Wegovy reduced the risk of a serious cardiovascular event like a stroke by 20% in overweight or obese people with a history of heart disease, more than expected.
This finding could help persuade insurers and health authorities to cover Wegovy, which is $1,300 a month in the US, for a wider range of patients.
"These results reduce the risk for the future acceptance of these drugs and justify such a market move," said Pinon of Carmignac.
The surge in Novo's share price is likely to increase its weighting in the regional STOXX 600 index, according to analysts, which could attract more inflows from passive investors.
Concerns about China's flagging economy weighed on sentiment towards LVMH, which also owns Hennessy cognac and US jeweler Tiffany.
European luxury stocks soared in early 2023 as investors hoped for a speedy economic recovery after China lifted COVID-19 restrictions.
But recent data and a housing crisis have worsened the outlook for the world's second-largest economy, weighing on a luxury sector heavily dependent on Chinese consumers.
"There has been a string of weaker-than-expected data and the Chinese authorities' unwillingness to implement major stimulus measures is hurting the prospects of these luxury retailers, with much of their sales growth coming from China," City Index market analyst Fiona Cincotta said.
Shares of Novo Nordisk ended Friday up 2.14%, while shares of LVMH fell 0.8%. LVMH shares are down 14.2% from their all-time high in April, underperforming the broader European STOXX 600, which fell about 2.2% over the same period.
Competitor Compagnie Financiere Richemont is down 17.9% since then, and Hermes is down about 6.4% since then.
(Additional reporting by Samuel Indyk and Dhara Ranasinghe; Editing by Amanda Cooper and Catherine Evans)