Number of missing people after devastating wildfires on Maui drops to 66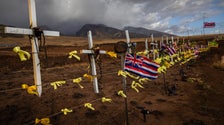 HONOLULU (AP) — The number of people still missing from the wildfires that destroyed the historic community of Lahaina a month ago has fallen to 66, Hawaii Gov. Josh Green said Friday, as the number of confirmed deaths continues to fall is at 115.
The number of missing people is now significantly lower than a week earlier, when authorities said 385 remained missing.
The deadliest wildfire in the US in more than a century swept through Lahaina On August 8, dozens of people fled to the sea to escape the flames, destroying more than 2,000 buildings and causing an estimated $5.5 billion in damage.
So far, Maui police have released the names of 55 people who died. Of these, 22 were in their 70s and another 13 were in their 60s. There was one victim on the list who was younger than 10 years old.
The governor also said authorities will begin scheduling supervised visits in the coming weeks for residents to return to and view their homes.