Oakland prostitutes solicit sex work near Catholic school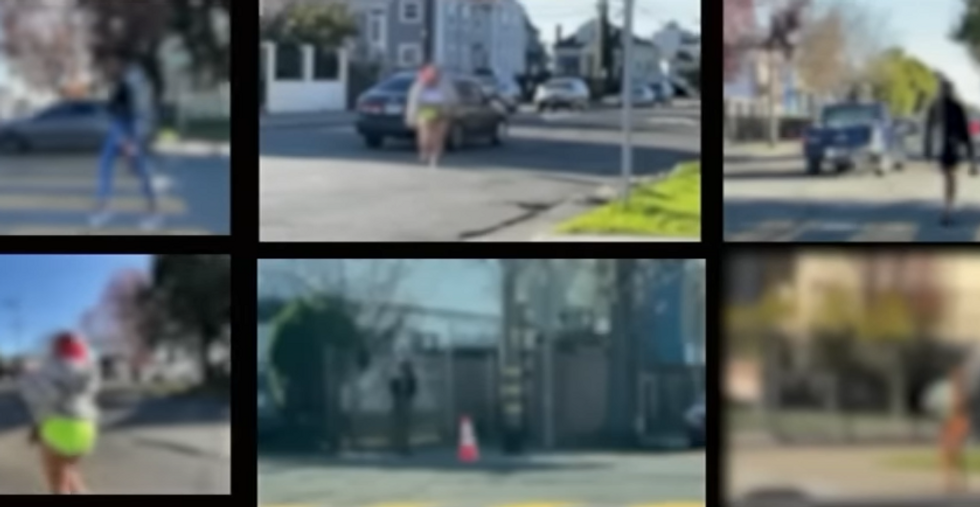 KGO-TV reported: "The I-Team has recorded videos along E. 15th Street in front of the school gate on four separate days over the past few weeks showing young women barely clothed walking on the school sidewalk, on street corners or directly walk across from school. All videos were taken while children were being dropped off or walking to school."
Concerned mother Rosa Vargas told KGO-TV she sees prostitutes near the Catholic school "every day, any time of the day".
Vargas said the sex workers were asking for sex so close to the elementary school that they recently blocked "the entrance to the school's parking garage."
"My daughter asked if I liked what the girl was wearing," Vargas said. "I told her not to turn around, not to look. It's not OK."
Of pimps near the school, Vargas said, "They've followed me a few times."
Oakland City Councilman Noel Gallo noted that he receives complaints about prostitutes every week.
Gallo explained, "I get the call that says, 'Mr. Gallo, I can't get into my house because the pimp is blocking my driveway.' It's constant."
Gallo said he saw up to 20 scantily clad women walking up and down the street, seemingly engaged in prostitution. He revealed that some of the girls are as young as 15.
City officials believe some of the women are victims of human trafficking.
Some believe recent construction along a busy highway has prompted sex workers to migrate to residential areas.
St. Anthony's has requested more police patrols in the area.
However, St Anthony's vicar, Ghebriel Woldai, said: 'That is not enough. They promised us that they would be more present here."
Woldai said the community has requested more patrols from the Oakland Police Department for years, but to no avail.
Rodney Pierre-Antoine – who oversees seven Catholic primary schools, including St Anthony's – said police hands were "a bit handcuffed".
Pierre-Antoine refers to Senate Bill 357, known as the Safer Streets for All Act.
SB357 Conditions:
Applicable law prohibits soliciting or engaging in an act of prostitution as indicated. Applicable law also prohibits loitering in a public place with intent to commit prostitution, as defined, or directing, supervising, recruiting, or assisting any person loitering with intent to commit prostitution, or collecting or receiving all or part of the proceeds of a prostitution act. Under applicable law, a breach of any of these provisions is a misdemeanor. This bill would repeal the provisions regarding loitering with the intention of committing prostitution and make other relevant changes.
Fatima Shabazz of the DecrimSexWork CA Coalition – a "coalition of current and former sex workers, organizers and allies" – called of the bill: "SB 357 repeals a Jim Crow statute criminalizing black and transgender people in public places."
California Gov. Gavin Newsom (D) signed SB 357 in July and became effective January 1.
Police officers told KGO-TV that the new law prohibits them from rescuing women they believe are victims of human trafficking.
California Senator Scott Wiener – a Democrat who introduced SB 357 – is defending the bill.
Wiener argued, "It allowed police officers to arrest a person not based on what they were doing, just based on a person's appearance. So an officer could arrest someone for wearing tight clothing, high heels and extra lipstick."
Wiener's office called"This criminal provision – arrests in which an officer's subjective perception is based on whether an individual is 'pretending' or 'appearing' as intending to engage in sex work – results in the disproportionate criminalization of trans, black and brown women , and perpetuates violence against sex workers."
Wiener admitted: "This footage is very disturbing. We don't want schools doing sex work and advertising, it's not acceptable for the children and the neighbors."
Wiener said cops who said they were handcuffed by the new law were "totally wrong" and used a "copout." He claimed the problem predates the new law.
He advised the police to arrest the pimps and clients.
Oakland officials promise to step up police patrols and install new cameras after the revealing report was released.
Like Blaze News? Bypass censorship, sign up for our newsletters and get stories like this straight to your inbox. Registration!
A video showing suspected sex workers soliciting outside a California school is sparking a call to actionwww.youtube.com
https://www.theblaze.com/news/prostitutes-sex-workers-catholic-school-oakland Oakland prostitutes solicit sex work near Catholic school