Oakland school shooting leaves at least six injured: police
At least six people were injured in a shooting at a school in Northern California, according to Casey Johnson, the Oakland Police Captain.
Oakland Police said they began investigating reports of shootings in the 8200 block of Fontaine Street around 1:45 p.m., where several schools and school-age children are located. The building where the shooting took place is shared by BayTech Charter School, Rudsdale Newcomer High School and the Sojourner Truth Independent Study.
Councilman Treva Reid told the Associated Press authorities told her the shooting could be linked to "group and gang violence."
Taking to Twitter, Oakland Mayor Libby Schaaf said the shooting took place at the Sojourner Truth School, but that all of the victims involved were adults.
"Today's gun violence at Sojourner Truth School shocks the soul – our schools are sanctuaries for our children," Schaaf wrote, adding, "School is now free + all children are reunited with their families."
Three patients with gunshot wounds remain in critical condition at Highland Hospital, according to a hospital spokesman. The other three victims were transported to Eden Medical Center.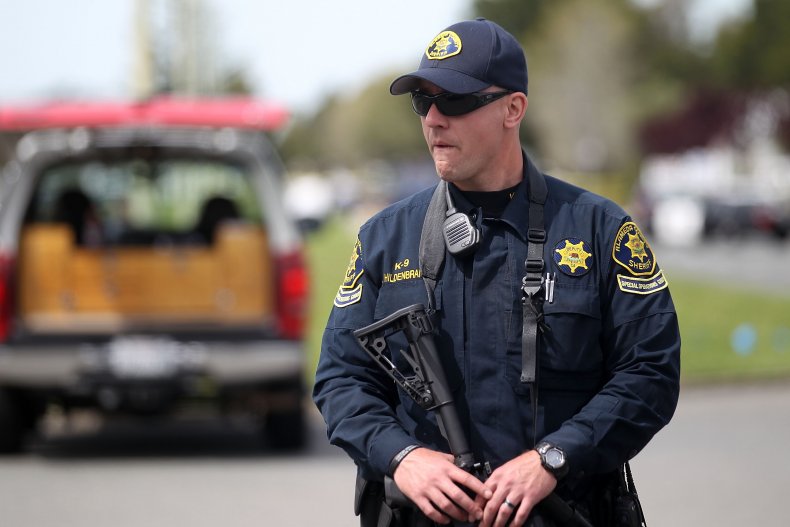 On Wednesday afternoon, the Oakland Unified School District said no students were at the scene of the shooting.
"Today there was an incident at the King Estate campus on Fontaine Street, home to the co-located Rudsdale Continuation and Newcomer high schools, BayTech Charter School and the headquarters of the Sojourner Truth Independent Study, which has no on-site students." The district announced this in a statement.
"The campus is near the Oakland Academy of Knowledge (OAK), but it's important to note that the incident did NOT take place at OAK, nor was it related to that elementary school," he added. "We currently have no information beyond what the Oakland Police Department is reporting."
Alameda County Sheriff's Office spokesman Lt. Ray Kelly said the number of casualties "could go up or down" even though the incident is no longer active.
Speaking to ABC7 News, Kelly said, "If I were a betting person, I would say this was probably a targeted event."
The shooting comes just a day after Oakland Police Chief LeRonne Armstrong planned to increase the presence of officers in areas of concentrated gun violence. Nine people have been shot and killed in the city over the past nine days, and a total of 93 people have been murdered this year.
In conversation with the Chronicle of San FranciscoAntonio Ramirez, a consultant at Bay Tech, said the reaction to Wednesday's shooting was "mixed."
"I think that just speaks to where our kids are coming from," Ramirez said. "Many of them come from areas where shooting is part of everyday life. Some were shocked. And for some, it was just a normal day."
news week has reached out to BayTech, Rudsdale and Sojourner Truth for comment.
https://www.newsweek.com/oakland-school-shooting-leaves-least-six-people-injured-police-1747329 Oakland school shooting leaves at least six injured: police