Officials find a 70-year-old man missing in Round Rock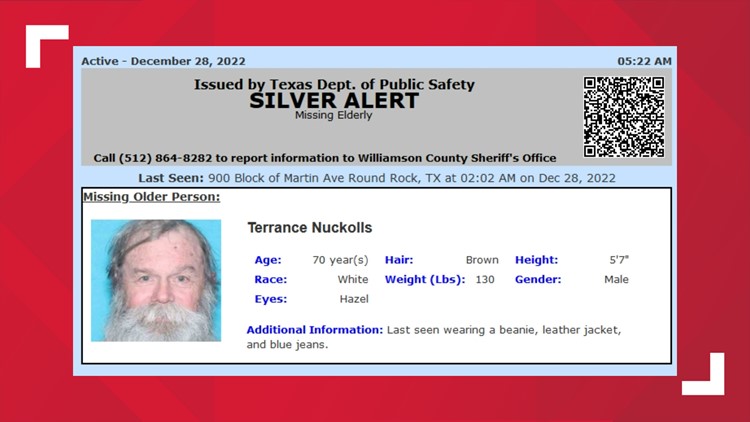 Terrance Nuckolls was last seen walking down Martin Avenue early Wednesday morning.
ROUND ROCK, Texas — Williamson County officials said the public's help is no longer needed in the search for a missing 70-year-old man who was last seen in Round Rock early Wednesday morning.
That Williamson County Sheriff's Office Terrance Allen Nuckolls was last seen walking at the 900 block of Martin Avenue just after 2 a.m. Wednesday. Nuckolls is 5 feet 7 inches tall and weighs 130 pounds. He has brown hair, hazel eyes, and a white beard, and was last seen in blue jeans, a leather jacket, and a cap.
Nuckolls was diagnosed with cognitive impairment and law enforcement believed his disappearance posed a credible threat to his health and safety.
Williamson County officials on Wednesday afternoon said"The public's help in finding Terrance Nuckolls is no longer needed."
https://www.kvue.com/article/news/local/round-rock-missing-70-year-old-man/269-14f1bc8c-a679-4823-9a65-883b2dc495f5 Officials find a 70-year-old man missing in Round Rock