Orange County fire borne by dry winds begins to engulf homes
At least a dozen homes in an affluent community near the Southern California coast have gone up in flames after a bushfire raged out of control in high winds.
videos divided to social media On Wednesday, several apartment buildings appeared to have caught fire in the town of Laguna Niguel after being engulfed in a fast-moving inferno dubbed the "coastal fire." The Orange County Fire Department said the fire started in the afternoon near a water treatment facility between Laguna Niguel and the coastal community of Laguna Beach, according to KABC.
Video shot in the area on Wednesday afternoon showed white and gray smoke billowing from several homes. A state of emergency has been declared in Laguna Niguel, east of Laguna Beach and about 50 miles south of Los Angeles, with a population of around 65,000.
The Orange County Sheriff's Office issued mandatory evacuation orders for the following locations in the Laguna Niguel Pacific Island area: Coronado Pointe Drive, Vista Court, and Via Las Rosa.
An emergency shelter for evacuees has been set up at Laguna Niguel's Crown Valley Community Center. Mayor Elaine Gennawey called that 25 adults, two children and five pets had arrived at the center within hours of the fire starting.
The fire consumed at least 12 homes and affected around 200 acres of land, according to Reuters. Orange County Fire Authority Chief Brian Fennessy told KABC that the homes affected by the fire were likely destroyed beyond repair.
"It's just about defending the houses that haven't burned down yet," Fennessy told the station from the scene of the fire. "The firefighters behind me are fighting really aggressively."
During an update around 7:30 p.m. local time, Fennessy said he expected a "minimum" of about 20 homes to have been destroyed or damaged, while he was reluctant to give an exact number.
Voluntary evacuation warnings have been issued for residents of the Balboa Nyes (Portafina) neighborhood of Laguna Beach. in one Video Laguna Beach Fire Chief Mike Garcia told Twitter from the City of Laguna Beach just before 7 p.m. local time that the wind-driven fire had moved east toward Laguna Niguel and was posing little threat to Laguna Beach.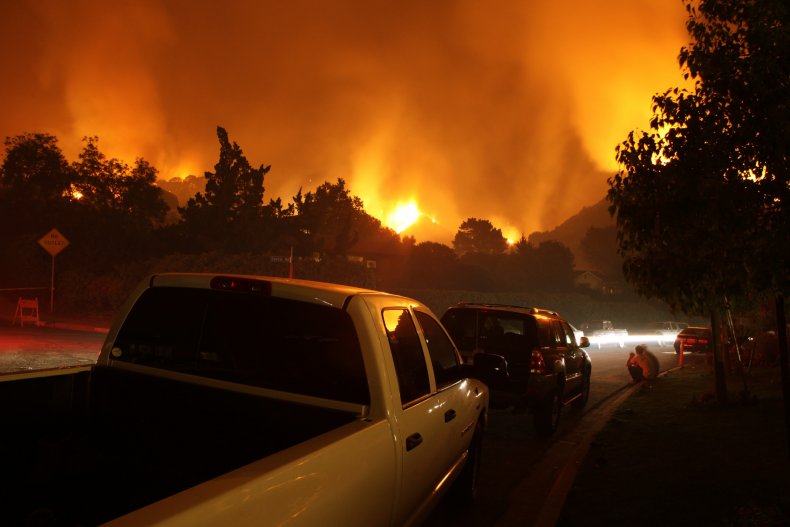 "It has grown into quite a large fire, in several homes in the town of Laguna Niguel," Garcia said. "I want to share with our community that the city of Laguna Beach is safe. We don't expect any changes, but we want all of our residents to remain vigilant."
Officials say no casualties have been reported so far.
news week contacted the Orange County Fire Authority for comment.
https://www.newsweek.com/watch-orange-county-fire-carried-dry-winds-begins-engulf-homes-1705848 Orange County fire borne by dry winds begins to engulf homes