Outrage as Lodger tells landlord 'You're getting fat' after seeing her diet
Netizens have rallied around a woman fat-shamed in her own home.
In a Mumsnet post, a 41-year-old mother who used the Handle Orcubed wrote that her lodger had accused her of "eating too much" and said she would get fat if she continued.
According to the National Institutes of Health, a woman should have between 1,600 and 2,200 calories per day, depending on lifestyle and exercise level. An adult male should consume between 2,000 and 2,600 calories.
Fruits and vegetables are essential for a healthy diet. A 2019 study published in the Centers for Disease Control and Prevention Morbidity and Mortality Weekly Report found that only one in 10 American adults eats the recommended daily amount.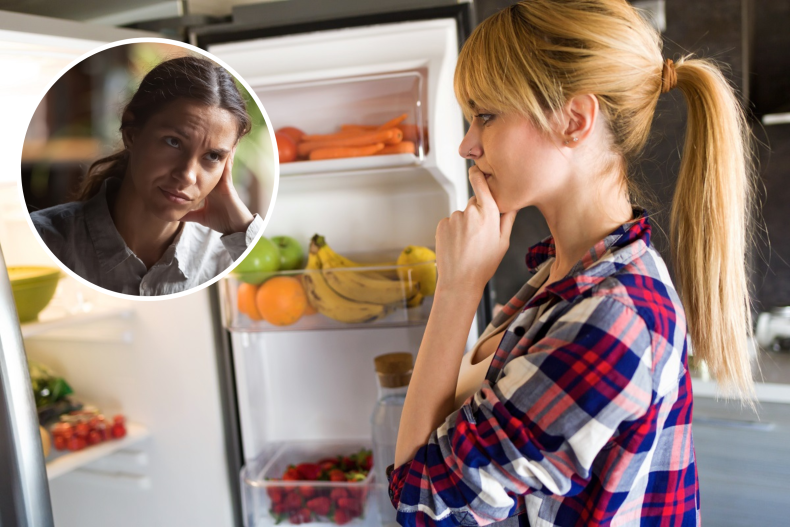 Orcubed explained in her March 24 post that her family was hosting the lodger for a few weeks. Her house guest worked from home – "usually we don't really see each other."
She wrote: "I was in the kitchen getting some coffee and I opened the cupboard to get a snack (a dark chocolate rice cake, if that's relevant) and she said, 'You're eating much. Always eat, eat, eat. You'll get fat if you eat like this all the time.'"
The comment left Orcubed "a bit annoyed" and prompted her to list everything she'd eaten in the past few days. She wrote: "Apart from the fact that she was rude, I don't think I eat that much? Basically 3 meals and a snack. Would you consider that a lot of food?"
Most Mumsnet users agreed that Orcubed's food diary looked healthy – and even if it didn't, their lodger had no right to judge.
Gisela Bouvier, a Florida-based nutritionist, agrees that commenting on what other people eat is unacceptable.
Bouvier tells news week: "Typically, someone looks at just one meal or moment of eating in someone else's day. In other words, he doesn't see the full picture of what someone is consuming.
"A single meal is not an accurate reflection of your overall intake and health. We also don't know other people's budgets, accessibility, stressors, food traditions and cultures, and their meals may be affected by some of these factors."
Even in the unhealthiest of situations, Bouvier advised against commenting. A remark may be well intentioned, but if taken personally or misperceived it can have serious repercussions on an individual.
Bouvier added: "I don't think it's ever acceptable to make comments about someone's food. Even if it's coming from a worrying place, it's best to recommend that someone speak to a registered dietitian if they need assistance with their diet."
On Mumsnet, some of the 500 comments on Orcubed's post even suggested that her lodger had overstayed her welcome.
One person wrote: "What is unacceptable is monitoring other people's decisions. I would make it very clear to your lodger that it is not appropriate to comment on other people's food choices and you don't want to hear it again. Then carry on just as you are."
Another user wrote: "I don't feel like reading what you eat, nor is it relevant. Kick them out. You don't need people denying you in your own house."
news week could not verify the details of the case.
IIs there a health issue that worries you? Let us know at health@newsweek.com. We can ask experts for advice and your story could be featured there news week.
https://www.newsweek.com/lodger-fat-shames-landlord-eating-1791380 Outrage as Lodger tells landlord 'You're getting fat' after seeing her diet