Pakistan court stays sentencing and sentencing of former Prime Minister Imran Khan
A Pakistani appeals court on Tuesday stayed Imran Khan's corruption conviction and three-year prison sentence in a legal victory for the hugely popular, embattled former prime minister, his lawyers and court officials said.
Although he faces a retrial in due course, the verdict will allow the 70-year-old Khan to stand in the forthcoming general election. Khan has denied the allegations, insisting he did not break any rules.
Islamabad's Supreme Court also granted Khan bail, but it was not immediately clear if he would be released as he has faced a host of other charges being filed since his ouster by a no-confidence vote in Parliament in April 2022.
Imprisoned former Pakistani Prime Minister Imran Khan plans to contest the transplant case
Khan's attorney Shoaib Shaheen said the Islamabad Supreme Court issued a brief oral order and a written decision will be issued later. Khan was convicted earlier this month by a court that found him guilty of concealing assets after he sold state gifts he received during his tenure.
"Imran Khan is again eligible to lead his Pakistani Tehreek-e-Insaf party following today's court decision," Babar Awan, another of Khan's senior lawyers, told reporters after the decision was announced.
Earlier this month, Pakistan's electoral commission barred Khan from running for five years. Under Pakistani law, no convicted person has the right to lead a political party, vote in elections or hold public office.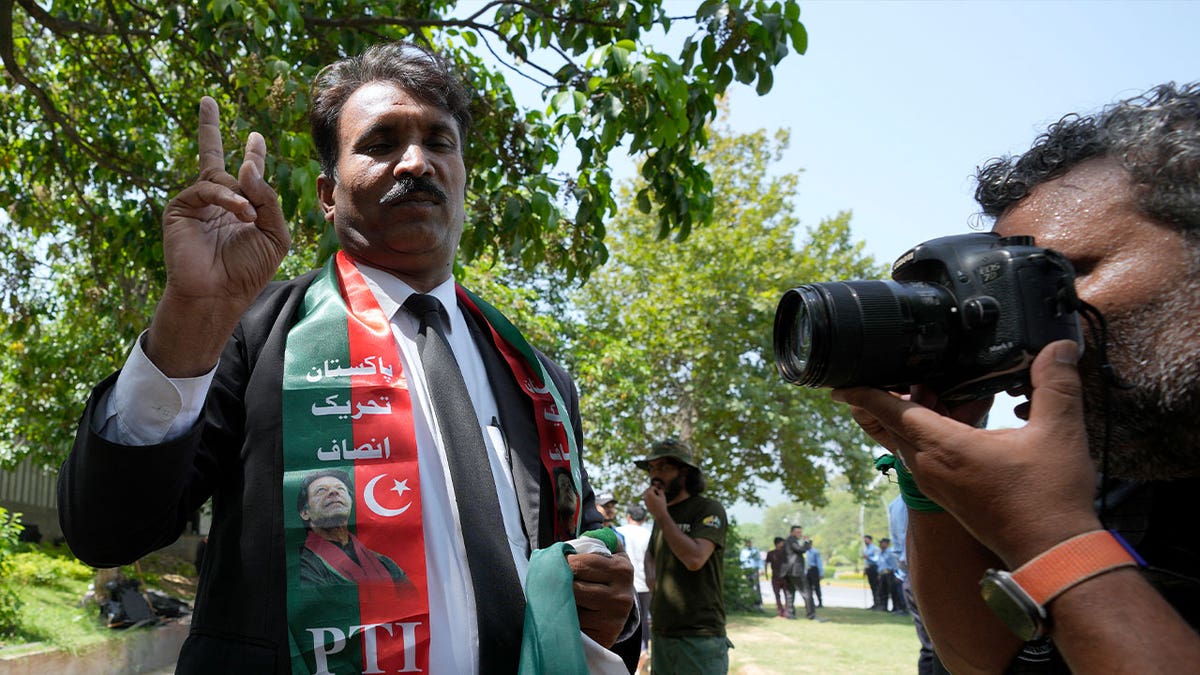 Khan's spokesman Zulfiqar Bukhari issued a statement welcoming the court's decision and hoping the former prime minister would be released from Attock prison in eastern Punjab province, where he has been held since his arrest earlier this month.
He said the legal battle over Khan's acquittal will continue. Bukhari said he is now praying that "no mishaps will happen and Imran Khan will not be arrested again" as he leaves prison or on his way to his home in the eastern city of Lahore, the Punjab capital.
Former Pakistani Prime Minister Imran Khan blames the former military chief after initially implying that we hastened his demise
Since his ouster, Khan has claimed his ouster was a conspiracy by the United States, his successor Shehbaz Sharif and the Pakistani military – allegations they all deny. Sharif resigned this month after the parliament's term ended.
Sharif took to X, the platform formerly known as Twitter, to criticize the court ruling and said everyone was expecting it. He said that if "thieves and state terrorists are supported, where will the common man in the country get justice?"
Meanwhile, Pakistan faces mounting economic and political unrest.
CLICK HERE TO GET THE FOX NEWS APP
Inflation stood at 13.4% when Sharif came to power in April 2022, but in April 2023 the country recorded a record monthly inflation rate of 37%, indicating that Sharif had failed to restart the economy. Currently, many Pakistanis are facing price hikes. They also received hefty energy bills this month, sparking a wave of anger among people who say the bills swallowed up their entire paycheck.
The upcoming vote has been complicated by the Elections Commission's announcement that the elections will have to be postponed by at least three to four months as more time is needed for the redistricting of constituencies to reflect the recent census.
According to the constitution, a vote is to take place in October or November. Until then, the acting prime minister, Anwaar-ul-Haq Kakar, will run the day-to-day business. Kakar has stated that he will ensure that voting is free, fair and transparent.