Parent rights group warns Southern Poverty Law Center's label 'hate group' will lead to more violence
A parent rights group, which is on the Southern Poverty Law Center's hate and extremism list, thanked the "far left" organization for paying more attention to its advocacy of parental rights in education.
"We think it's a show of courage," Suzanne Gallagher, national executive director of Parents' Rights in Education, told Fox News. "It just means we're doing our job."
PARENTAL RIGHTS GROUP THANKS SPLC FOR HATE GROUP LABELING:
SEE MORE FOX NEWS DIGITAL ORIGINALS HERE
"They're the ones pointing at us," Gallagher said. "Actually, we don't pay that much attention to them."
The Southern Poverty Law Center (SPLC), a notoriously left-leaning civil rights group, in its Year of Hate and Extremism 2022 report released Tuesday, listed some parental rights organizations as anti-government hate groups such as neo-Nazis and the Ku Klux Klan. After counting 733 "hate groups" in 2021, the 2022 report's number rose to 1,225 "hate and anti-government extremist groups," many of which focused on parental rights in education.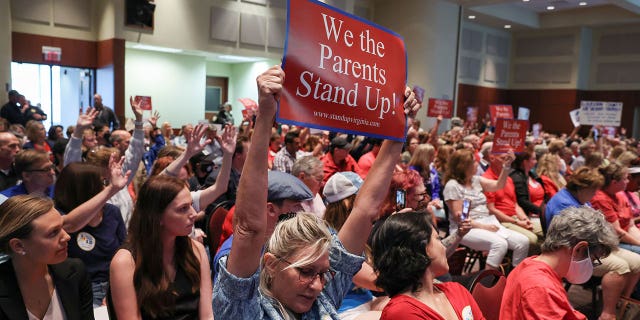 School Choices Give Parents the Power to Break Teachers Union's Stranglehold on Students: Corey Deangelis
"I almost want to say thank you to SPLC," she said. "We do not view these threats as something that will stop or hinder us. What it actually does is get the attention of our allies."
Schools 'have been victims of increased and coordinated far-right attacks' The SPLC report read. After being "spurred on by the right-wing backlash against COVID-19-related public safety measures," parental rights groups appear to have "morphed into an anti-student inclusion movement, targeting any inclusive curriculum that encourages discussions." about race, discrimination and LGBTQ identities." according to the report.
However, Gallagher disagreed with SPLC's assessment. "Your claim to inclusion is wrong," she said. "Children are marginalized in the school system."
Parental rights in education is an issue that "affects all political parties and groups that bring them together," she continued. "We saw it. I spoke to these people. They just want to protect their children and defend their rights as parents."
Since the COVID-19 pandemic, more and more parents across the country are committed to getting involved in their children's education. Debates over controversial curricula such as critical race theory, as well as the presence of certain books in public libraries, have become hot spots across the country.
COVID-19 urged parents to homeschool their children, but politicization in the classroom kept them stuck there, Texas mother says
Gallagher said there were legitimate concerns about an escalation in violence against her organization after she was placed on the SPLC list. In 2012, the Family Research Council, a Christian nonprofit, was targeted and attacked for its inclusion on the Southern Poverty Law Center's "hate map."
"The SPLC's listing of our group provokes violence," Gallagher said. "Are they listing groups just because they want us to be a target? Because that is actually the result."
"But we don't care because we're on the right side in this matter," she continued.
SHOULD STUDENTS BE ALLOWED TO START GENDER TRANSITION WITHOUT PARENTS' CONSENT? TWO VIRGINIA MOTHERS COLLAR
Another parental rights group addressed in the report, Moms for Liberty, has been labeled an "extremist" organization, which the SPLC says has similar calls to those opposed to desegregating schools.
"The abuse of parents who want to be part of their child's education as 'hate groups' or 'fanatics' only makes it clearer what this fight is about: Who gets to decide what our children are taught in school – parents or government employees?" Tiffany Justice and Tina Descovich, co-founders of Moms for Liberty, previously told Fox News. "We believe that the rights of parents do not end at the classroom door and that no amount of hatred from such groups can prevent that."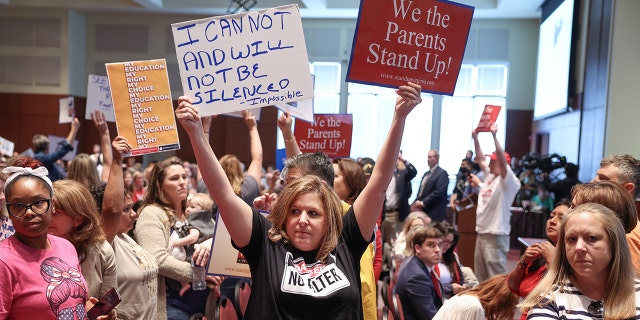 CLICK HERE TO GET THE FOX NEWS APP
Gallagher said her organization was unaffected by the SPLC's abuse. The chief executive told Fox News she expects her number to increase dramatically following the report.
"We're going to keep doing what we're doing," she said. "And we will continue to provide for any parents who ask about it [with] Organizational tools, training and support so they can stand up to those who steal their rights."
To watch Gallagher's full interview, click here.
Lindsay Kornick contributed to this report.