Parents from DeSoto, Texas allege CPS wrongfully took a newborn away from home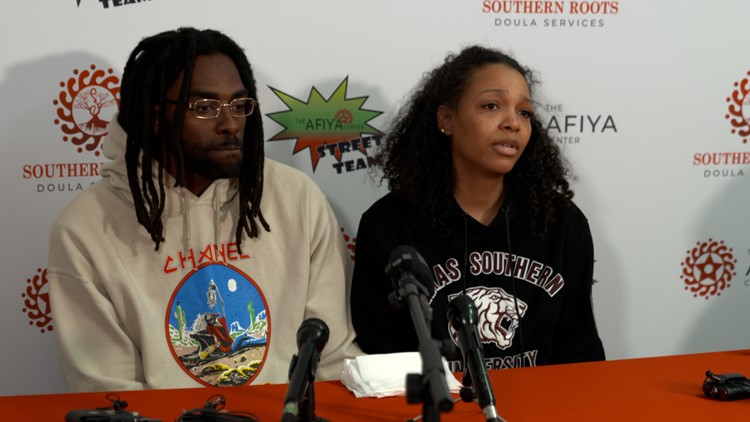 "We were treated like criminals. And that's far from the truth," Rodney Jackson said. "It's a nightmare I wouldn't wish on anyone."
DALLAS – A husband and wife in DeSoto are demanding child protection services (CPS) are returning their newborn daughter after their few-day-old child was taken from them in a dispute over the proper treatment for jaundice.
The couple allege CPS used the false "mother's" criminal history to justify the removal of the child.
Mila Jackson was born on Tuesday March 21st in the home of Rodney and Temecia Jackson. A licensed midwife assisted in the birth of the baby. At six pounds nine ounces they said the child was healthy and the home birth was successful.
Three days later, the Jacksons said they took the child to a pediatrician for a standard checkup and received a clean bill of health from the nurse.
But later that day, Temecia Jackson said she had started receiving messages from Baylor Scott & White Dr. to get Anand Bhatt. The doctor said Mila had jaundice with dangerously high levels of bilirubin — a yellowish substance made during the body's normal process of breaking down old red blood cells. Mila's bilirubin was 21.7.
dr Bhatt wrote that "if the bilirubin level is over 20, a baby is at risk of brain damage because the bilirubin can cross the blood-brain barrier."
dr Bhatt suggested the parents take Mila to the hospital for phototherapy, a standard treatment for jaundice.
According to the Mayo Clinic, infant jaundice usually occurs because a baby's liver isn't mature enough to get rid of bilirubin in the bloodstream. In some babies, an underlying medical condition can cause infant jaundice.
The Jacksons said they told the doctor they would treat Mila's jaundice at home with the help of their midwife.
"A few hours later in the night he texts my phone very aggressively, takes her to the hospital, or he calls CPS," Temecia Jackson said of messages she received from the doctor.
In his letter to CPS, Dr. Bhatt: "I filed a case report with CPS after making 10 attempts to appeal to the family through phone calls, text messages and leaving voicemails because they would not answer the phone."
"Parents are very loving and take great care of their baby," the doctor wrote. "Their distrust of medical care and guidance led them to make the decision that the baby refuse simple treatment that can prevent brain damage."
"I have authorized the support of CPS to provide this baby with the medical attention that was needed and required," the letter reads.
And CPS agreed, writing, "With parents unwilling to discuss the danger and possible consequences of this condition, the Department must step in."
DeSoto cops, armed with a court order, helped CPS remove Mila from the home on March 28.
"And trespassed into my home to take my baby," Temecia Jackson said while speaking at a news conference Thursday, April 6 Afiya center at Dallas.
But the Jacksons and their legal team also point to an apparent problem with the affidavit filed with the court that allowed CPS to take Mila. The affidavit used to justify CPS taking custody of the child lists the fake mother: a woman by an entirely different name, a woman with a criminal history of child neglect.
Temecia Jackson, who has no criminal record, is not even listed as the child's mother.
"I immediately felt like they stole my baby when I had a home birth and they were trying to say my baby belonged to this other woman," Temecia Jackson said.
"We were treated like criminals. And that's far from the truth," Rodney Jackson said. "It's a nightmare I wouldn't wish on anyone."
"We demand that Mila be brought back home today. Today. Because yesterday it was too late," said licensed midwife Cheryl Edinbyrd, who helped deliver Mila.
A CPS spokesman, unable to explain why another woman with a criminal history is listed in the court documents, said he could not comment on the case.
Baylor Scott & White sent the WFAA a written statement: "In the interests of patient privacy, it is inappropriate to comment on this matter. We comply with the reporting requirements set out in the Texas Family Code and all other applicable laws."
Mila is now being cared for by a foster family. The Jacksons, who were allowed to visit their daughter at a CPS office on Wednesday, say they have been given a court date for April 20.