Parents' plan to offer plane passengers cash to swap seats slammed: 'bribery'
A parent's plan to put cash on a plane to pay passengers to swap seats so they can sit with their children has been branded online as a "bribe".
The parent in question shared the scheme with Mumsnet under the username Blewitagain and revealed he was traveling with two children. After being transferred to a new flight, they discovered that the reassigned seating arrangements did not match.
They had managed to secure two next to each other but that meant one person would be alone so they were seeking opinions on the idea of ​​paying people to move.
They wrote: "I'm going on holiday and have realized that I haven't pre-booked seats on our flights. I am traveling with two children. It was not on purpose. I can get two seats that would leave the oldest seat alone.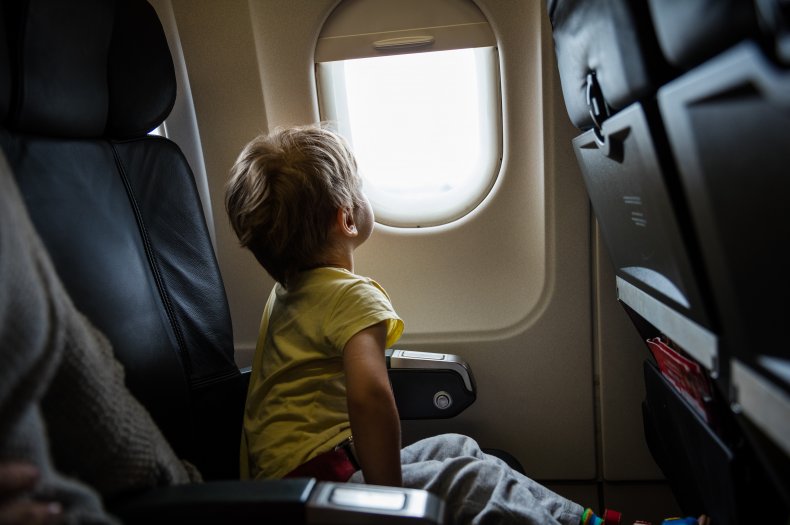 "Would it be weird to take cash to compensate someone willing to change seats? No one might be ready to move, but I hope so.
"I traveled once in an emergency at the last minute and nobody was willing to move the seats."
The post shared on Tuesday garnered more than 230 replies and can be read here. Many people weighed in with their opinions on the program.
In response to the feedback, the traveler revealed that his youngest is seven and said: "My oldest is 12 and looks older so passengers probably won't be very sympathetic. But he would definitely prefer to be with us."
After some people pointed out that pre-reservation of seats is commonplace, the parent tried to explain, saying: "It's Easyjet and it wasn't until I checked in online that I realized I had no pre-reservations. Looks like the flight is almost full…
"Maybe disorganized but looking back I originally chose seating but the holiday has been postponed several times…
"Holiday postponed twice and flight now also canceled and postponed to a later one."
They claimed they wanted to bring around £45 ($56), roughly the cost of the original seat assignments.
Numerous people thought 12 was old enough to sit alone, as Sirzy said: "If I paid to book seats in advance, then there's a reason. I wouldn't take a bribe to move."
Motogirl wrote: "Yes it would be weird and wrong. Your kids are not babies, your 12 year old can even travel alone."
Lunar1 said: "I wouldn't move, I have my own reasons for the places I book, but there's no harm in asking as long as nobody is made to feel guilty."
Roxisolerenshaw wrote: "I pay to select my seats and I would feel really uncomfortable if someone asked me to move."
XelaM replied: "As someone suggested, put all your children together and you sit alone. Your 12-year-old can sit with siblings if he doesn't want to sit alone."
Blinky21 said, "I think people will be really uncomfortable when you start offering them money in front of others."
While Girlmom21 added, "I would be uncomfortable saying no to someone trying to pay me to move and I would feel pressured to do so even if I had reserved my own spot."
In response to the backlash, the parent said: "I want to pressure somebody. I just remembered everyone telling me they paid x when I was traveling at the last minute in an emergency. I had very small children at the time, it was terrible. I certainly wouldn't "nudge", I was trying to figure out what might work. "
Though some people weren't against the idea. HeddaGarbled said, "I think it's a brilliant idea. I'd be very interested to know if it works or not."
Incognitodorrito commented, "It's a great idea OP. Many think they are entitled to free seats because they have children. If I paid for my seat assignments, I wouldn't give them up for free."
And Blarting wrote, "If I wanted to move I would, I wouldn't move because you offered me money."
The following chart from Statista shows the popularity of low-cost airlines.
EasyJet's website defines a child as a person over the age of 2 and under the age of 16.
In their section on flying with children, they advised pre-selecting seats for a fee to ensure families are together.
"We understand that flying with children can be challenging at times, so we've tried to make it as easy as possible for you," they said.
While the website didn't specify a seating arrangement, the site said: "Unaccompanied children under the age of 15 are not permitted to travel alone and are not permitted to board the aircraft as easyJet does not offer an escort service or special requirements for unaccompanied children."
https://www.newsweek.com/parent-plan-pay-plane-passengers-swap-seats-bribe-1709939 Parents' plan to offer plane passengers cash to swap seats slammed: 'bribery'