Passengers on a plane bound for San Francisco are stuck in Russia because of an engine problem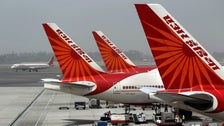 NEW DELHI (AP) – An Air India plane flying from New Delhi to San Francisco landed in Russia after experiencing an engine problem, officials said on Wednesday.
The plane, a Boeing 777 carrying 216 passengers and 16 crew members, landed safely at Russia's Magadan Airport in the country's far east on Tuesday, Air India said in a statement.
The flight "had a technical problem with one of its engines," the statement said. The aircraft will undergo security checks and passengers will be assisted on the ground.
Vedant Patel, a US State Department spokesman, said American citizens were likely involved in the flight, but could not immediately confirm how many. He said he assumed Air India would send a replacement plane to Russia so passengers could continue their journey to the US
"We continue to monitor the situation," Patel said.
Girvaan Kaahma, 16, was on the flight with his uncle and brother.
He said they are forbidden from leaving the hostel they are staying in in Magadan and cannot buy items from the vending machine due to sanctions over Russia's war in Ukraine.
Kaahma said the airline told passengers they were expected to leave Russia for the United States on Thursday.
Associated Press writer Jerome Minerva from the US and Krutika Pathi from New Delhi contributed.