Pet owner shares episodes of 'Catnado' in hilarious video
A cat owner has shared the hilarious results of a self-proclaimed "catnado" hitting her apartment.
Owner Regan took to TikTok to show the world the havoc her beloved cat Frankie can wreak in a video that has racked up a million views.
Regan first shared the video in March 2020, but used the app again this month to celebrate the event's one-year anniversary with a repost. Both videos received 500,000 views each.
Cat Frankie proved how alike pets and children can be, with an apparent inability to turn his back on you for more than a second.
"In today's adventure 'What the hell has Frankie done?'" Regan shared as she panned from a normal looking apartment to show the first signs of destruction. "Oh look, toilet paper," she said.
But it didn't start and end with toilet paper. Regan opened the bathroom door to reveal the cat-infested room destroyed by Frankie. "Oh look, my bathroom," she exclaimed.
Drawers were completely overturned, items littered the floor, and some even fell into Frankie's own litter box.
"Frankie! Holy shit," Regan said in the video, showing a corner of the room covered in torn toilet paper on the floor. However, the perpetrator was seemingly unfazed and ran past when his owner bluntly asked, "What the heck?"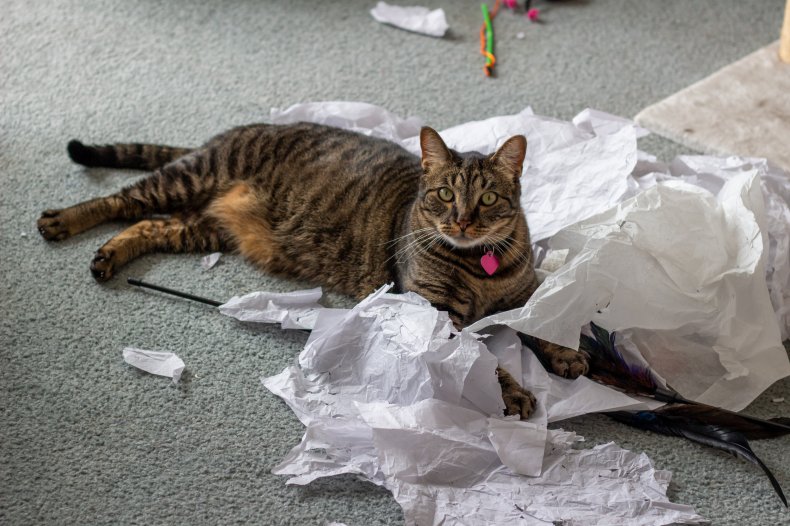 According to Regan, Frankie was by no means locked in the bathroom and could roam (or destroy) the entire apartment if he wanted to.
Cornell University reports that some forms of destructive behavior in cats are innate and part of their nature, such as scratching objects. However, Pet MD classifies further behavior, including destroying objects, especially to get the owner's attention, as "secondary destructive behavior".
Pet MD also reports that not getting enough daily activity or exercise is a leading cause of some destructive behaviors.
Viewers of the viral TikTok video said they experienced similar behavior from their cats, who were lonely without playmates. Regan confirmed that Frankie is not an only child and is stimulated around the apartment thanks to his two feline siblings.
"Try unplugging it and plugging it back in," one viewer joked. "Frankie woke up and chose parkour…in the bathroom," added another. One user wrote, "I'm sorry he trashed your bathroom…but it's hilarious."
Despite that, according to Regan, Frankie is apparently a "honey when he wants to be" but has since vandalized the bathroom another time, seemingly thanks to an unsecured shelf.
news week has reached out to Regan for comment.
https://www.newsweek.com/tiktok-cat-tornado-destroyed-bathroom-toilet-paper-video-1700686 Pet owner shares episodes of 'Catnado' in hilarious video