Peter Doocy leaves WH's new press secretary stumped with a single question he has to ask three times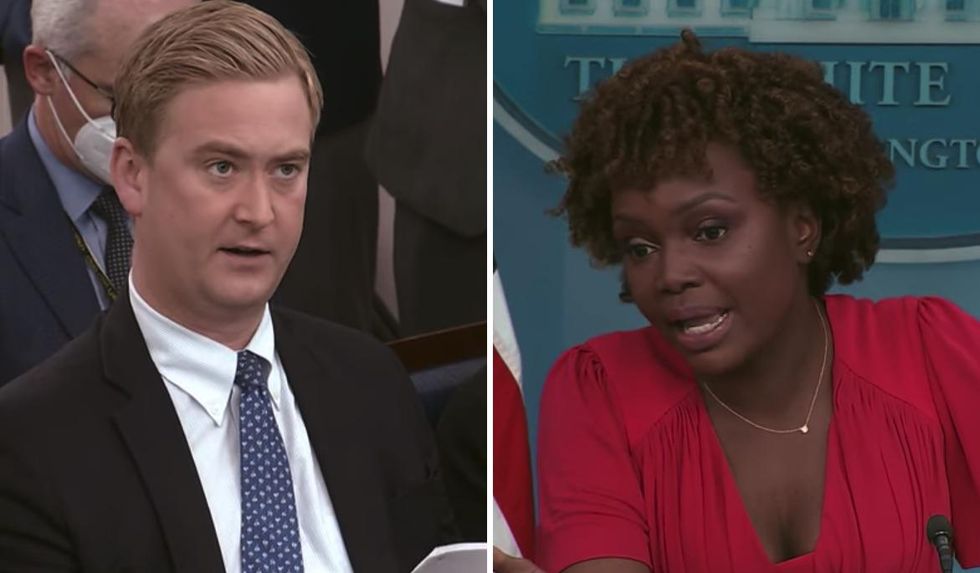 Fox News correspondent Peter Doocy had White House press secretary Karine Jean-Pierre stumble behind the lectern on her first official day after Jen Psaki's departure.
The topic? Inflation and that of President Joe Biden claim that raising corporate taxes will help the ongoing economic crisis.
What happened?
reference to a tweet that Biden published Last week, Doocy threw a softball question at Jean-Pierre: "How does raising taxes on corporations lower inflation?"
But the new press secretary appeared unaware that such a tweet from Biden existed, and questioned whether Doocy was actually referring to a specific tweet.
When Doocy told her that Biden's official Twitter account made such a connection between corporate taxes and inflation last week, Jean-Pierre stumbled through recycling Democratic talking points about taxes and corporations paying their "fair share."
You see, you know, we've talked about this — we've talked about this for the past year, making sure the richest among us pay their fair share. And that's important to do. And that's what the President has been working on, you know, every day when we talk about inflation and cutting costs. And so it's very important that, you know, while we're seeing the costs going up when we're talking about how to build an America that's safe, that's the same for everyone and not anybody disappearing behind it, that's too an important part of it.

05/16/22: press conference by spokeswoman Karine Jean-Pierre

youtube

Since Jean-Pierre didn't answer the question, Doocy asked again, "But how does raising corporate taxes lower the cost of gas, the cost of a used car, and the cost of groceries for ordinary Americans?"
This time, Jean-Pierre invoked climate change and the right to collective bargaining while throwing in several mentions of "fairer tax legislation," but she still didn't answer the question.
"Look, it's – you know, don't – if – without having fairer tax legislation, what I'm talking about, then everyone – everyone – like production workers, police officers – you know, it's not fair for them to have to pay higher taxes than they do People who – who – who are – who pay little or no tax at all," Jean-Pierre added.
Doocy then asked his question a third time, adding criticism from Jeff Bezos. But Jean-Pierre again refused to answer the question, instead attacking Bezos and spewing debunked talking points about deficit reduction.
"It's not a big mystery why one of the richest people in the world – right? – resisting an economic agenda destined for the middle class that cuts some of the biggest expenses families face and fights inflation for the long haul – right? — and that's what we're talking about, so here we are talking about bringing down inflation — and contributing to the historic deficit reduction that the President is achieving by asking the wealthiest taxpayers and corporations to pay their fair share about," she said.
Anything else?
Larry Summers, who has been extremely critical of the Biden administration amid the inflation crisis, said Monday that he actually agrees with Biden that raising corporate taxes would have a positive impact on inflation.
"I think @Jeff Bezos is wrong in his recent attack on most @Joe Biden Admin," Summers explained. "It's perfectly reasonable to believe the way I do and @POTUS claims that we should raise taxes to reduce demand to curb inflation and that the increases should be as progressive as possible."
He added: "I say this despite having argued vigorously that overly expansionary @FederalReserve and government macro policies have contributed to inflation.
https://www.theblaze.com/news/peter-doocy-stumps-jean-pierre-inflation Peter Doocy leaves WH's new press secretary stumped with a single question he has to ask three times