Pledges from Putin, Xi 'primarily unilateral': ISW
Chinese President Xi Jinping's commitments to Russia on the second day of his visit to Moscow were "relatively moderate" compared to those announced by Russian President Vladimir Putin, according to the Institute for the Study of War (ISW).
Xi arrived in Moscow on Monday to discuss China's peace plan to end the war in Ukraine. Beijing has slowly expanded its ties with Moscow, while other world powers such as the US have taken a stand against Putin over his invasion of Ukraine, including by not participating in economic sanctions imposed by the US and its allies.
During Tuesday's meeting, both Putin and Xi signed the "Joint Declaration of the Russian Federation and the People's Republic of China on Deepening Comprehensive Partnership and Strategic Cooperation for the New Era." The Chinese embassy said in a statement accompanying the deal that both world leaders are focused on "solving the Ukraine crisis through dialogue."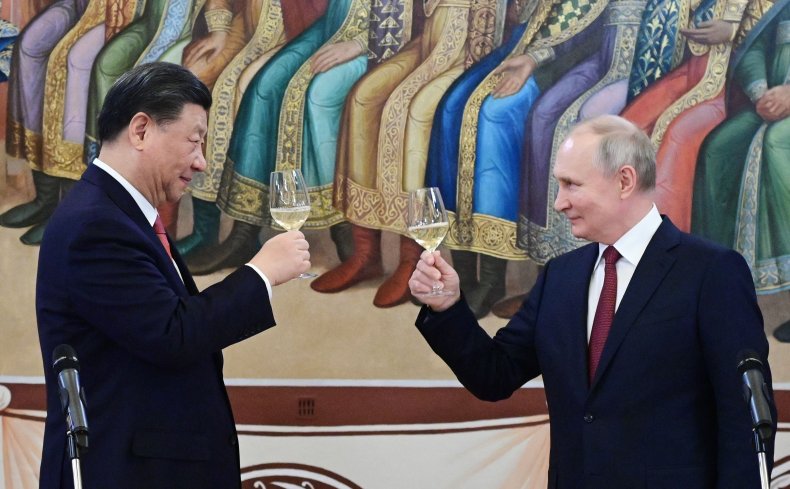 In its most recent assessment, the ISW said that the "Joint Statement outlines a variety of bilateral intentions and reaffirms, among other diplomatic promises, Russia and China's commitment to each other's state sovereignty and territorial integrity."
"However, Xi's and Putin's pledges were clearly one-sided, suggesting that Xi agrees to a more cautious version of Russo-Chinese relations than Putin is likely to wish," the think-tank continued.
Xi's promises on Tuesday included reaffirming China's commitment to Russia in its position on the United Nations Security Council and repeating Beijing's hopes for a "political settlement" in the Ukraine war.
"Putin, on the other hand, announced a series of measures signaling Russia's continued…dependence on China in the energy and economic sectors, which appear very one-sided compared to Xi's relatively dovish commitments," the ISW wrote.
China's leader has also signaled no intention of providing additional support to Russia in its invasion of Ukraine. US officials have previously claimed Beijing is considering supplying arms to Moscow, although they gave no details.
"Putin has likely failed to secure exactly the kind of partnership he needs and desires, and Xi is likely to leave Moscow with unilateral assurances that Putin intended," Tuesday's assessment said.
"Putin noted that Russia and China had a 'very substantive and frank exchange of views' on prospects for further development of Russo-Chinese relations. Such rhetoric notably lacks the language normally used in diplomatic pronouncements to indicate that the two parties have reached final and substantive agreements."
China backed Putin on Monday after the International Criminal Court issued an arrest warrant for the Russian president, charging him with "individual criminal responsibility" for the wrongful transfer of Ukrainian children to Russia, a move Ukrainian and Russian officials have acknowledged publicly.
Chinese Foreign Ministry spokesman Wang Wenbin said the court should "take an objective and fair position" and "respect a head of state's judicial immunity under international law."
Ahead of Xi's arrival in Moscow, Putin described the Chinese leader as a "good old friend" in an article for the Communist Party's flagship newspaper. people's newspaperand said the Sino-Russian partnership now exists "without restrictions or taboos."
news week has asked the Russian Foreign Ministry for comment.
https://www.newsweek.com/commitments-putin-xi-notably-lopsided-isw-1789400 Pledges from Putin, Xi 'primarily unilateral': ISW