Pokemon is teaming up with the Van Gogh Museum for an enchanting TCG art collaboration
In perhaps one of my favorite Pokemon collaborations to date, The Pokemon Company International has teamed up with the Van Gogh Museum to host various themed activities, release some adorable merchandise, and release some awesome promotional cards.
"To celebrate the 50th anniversary of the Van Gogh Museum, Pokemon and the Van Gogh Museum have launched an official collaboration aimed at bringing the work of Vincent van Gogh to new audiences," the press release reads.
It continues: "Both Vincent van Gogh's work and Pokémon have a special connection to Japanese art and culture. Japanese prints had a profound influence on Vincent's art and his worldview." Vincent van Gogh greatly appreciated Japanese art and the goal of this collaboration is to introduce more people to the life and artwork of Gogh in an interesting and refreshing way.
The Van Gogh Museum will be hosting various Van Gogh x Pokémon themed activities from September 28th to January 7th if you are near the museum, which is based in Amsterdam. This includes art presentations, learning materials and courses on how to draw Pikachu!
The highlight for Pokémon and Vincent van Gogh fans, however, may be the revealed merchandise and card artwork. There's a Pikachu plush toy in the likeness of Van Gogh, a tote bag that says "Pikachu in a gray felt hat," and the most adorable Snorlax "bedroom" style puzzle.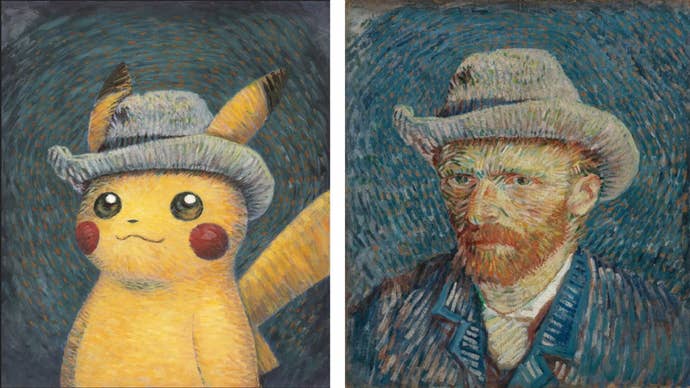 In addition, we cannot ignore the "Pikachu with Gray Felt Hat" promotional card for the Pokémon Trading Card Game. This was the first time I saw about the collaboration and it immediately caught my attention. Pikachu takes you into one of Van Gogh's artworks… on a Pokémon card? Say less.
This promotional card is available to all visitors to the Van Gogh Museum exhibition and will be shipped with eligible orders on the Pokemon Center website. I didn't need an excuse to order Halloween-themed Pokemon merch, but now I have the perfect reason to do so.
Van Gogh-inspired artwork of Sunflora, Eevee and Smeargle have also appeared online and are on display at the Van Gogh Museum, although it appears these will not be available as promotional cards like Pikachu.
What do you think of the collaboration between Pokemon and Van Gogh Museum? Will you go to the museum or sit at home with Pikachu and his gray fedora? Let us know.