Poochon breaks hearts as owners tell how she's waiting for them: 'The Blame'
A video of a lonely dog ​​has made people on TikTok feel guilty for leaving their pets alone. The video, which has been viewed 330,000 times, features apricot puppy Peach staring longingly out the window even with the blinds closed and captioned, "Peachy, what do you do when Mom and Dad go out? ', 'Waiting for you to come home.' Peach's parents captioned the video, 'Guilt Trippin' Us Since Day One'.
Poochon breed
Haven't you ever heard of a Poochon? The breed is a mix of the popular Poodle and the Bichon Frize. Known for their snuggly nature, the dogs want your attention 24/7 and need regular grooming.
Leave or not leave
Although most dog owners would be happy to stay at home with their pet all day, including the 23 million American households who have adopted a pet during the pandemic, according to the American Society for the Prevention of Cruelty to Animals.
Minnesota-based animal welfare organization Animal Humane Society says in an article on their website that how long your dog can be left alone depends entirely on your dog, his age, and his needs.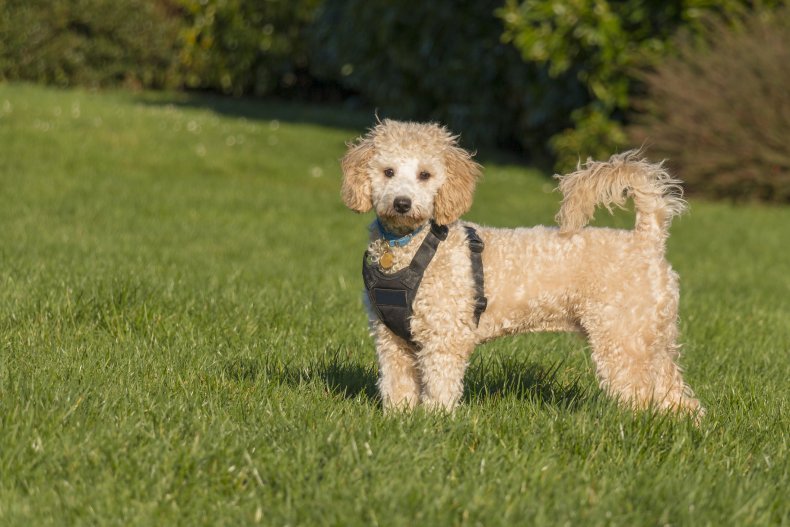 "How long your dog can stay at home depends on the exercise and interaction he needs from you," the website states. "Maybe they like the long hours curled up on your bed while you're out. Or maybe they need two-mile walks a day and safe mouth toys."
The organization suggests a few options to make alone time more fulfilling for your dog:
Hire a dog walker, even a day or two a week
Dog daycare (once a week can make a difference)
Offer mentally stimulating toys like treat puzzles
Leave it on TV or radio
Get another pet (this only works if they get along)
crate train them. Kennel dogs can be left alone longer, especially when properly crate trained.
The blame
Many people on TikTok shared their own experiences of leaving their dogs at home alone. One person wrote: "I would have to take them with me everywhere for the rest of my life." Another wrote: "My Cockapoo is doing the exact same thing that breaks my heart. I'm glad to see he's not the only one who is xx."
One user expressed a different opinion: "Mine really forgets we exist", while others expressed their emotions: "Brb will cry", "I'm not crying … swear."
https://www.newsweek.com/cute-dog-trending-tiktok-lonely-1734785 Poochon breaks hearts as owners tell how she's waiting for them: 'The Blame'