Powerlifter sets world record in bodyweight squat
A British powerlifter has broken the world record for most bodyweight squats in one minute.
Karenjeet Kaur Bains, 26, who became the first Sikh female powerlifter to represent Britain in 2019, has now made another piece of sporting history.
Bains of Warwick now holds the title for the most times a person has squatted their own bodyweight in a single minute – 42 reps at 67 kg (147 lbs).
"I'm very proud to hold a Guinness World Records title," she said.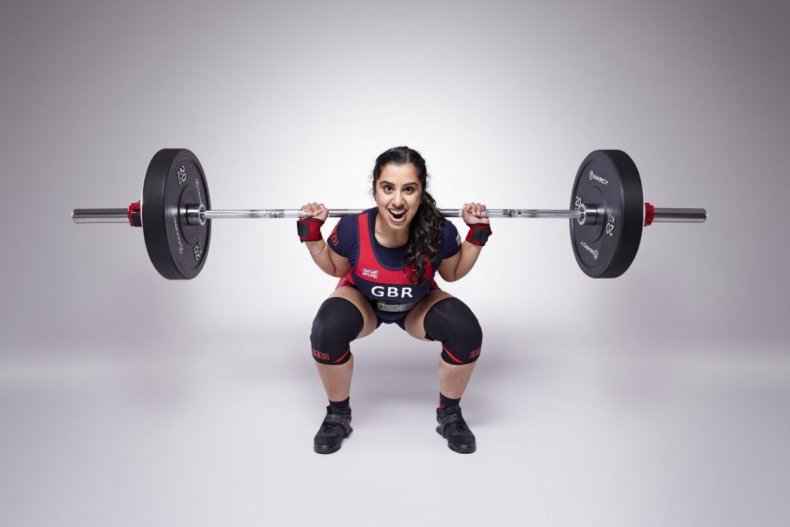 "To say that I have made a mark in history by not only being the first British Sikh woman to represent Britain in powerlifting, but also being the official world record holder is an amazing feeling."
"The goal to beat was 30 reps, so I was super excited to surpass that and set a much higher record."
"I also managed to beat the number of reps set by the male equivalent of that record, which was only 34, so that felt pretty empowering."
"Breaking that record spurred me on to set more records.
Bains, a five-time British champion, began powerlifting when he was just 17 after competing in athletics for 10 years.
She recalls being the fastest girl at her school and that "the boys didn't want to race" as she always "won the 100 x 40 hands-on".
Her father, a former powerlifter, has been her trainer since the beginning of her career, and they continue to train together at a gym they set up behind their backyard.
Bains follows a strict training schedule, exercising for an hour and a half, six days a week.
All this hard work has to be done alongside many hours of their day job as their sports category is not sponsored.
She only had two weeks of training to break the squat record on March 7th, all of which was done alongside her usual competition training.
Besides family, religion has played an important role in Bain's powerlifting journey.
"As Sikhs, we are meant to be known as a 'warrior race' that serves to protect the innocent and stand up for injustice, and that's the same mindset that I channel when I compete," she said.
"Often you'll see me let out a warrior battle cry just before the deadlift (you may have seen pictures of me roaring), and I channel that mindset of going onto the battlefield or into the arena toward my lift ."
Bains hopes her success will inspire other young girls to "break down barriers, defy expectations and show that women can be strong too."
"Sometimes it just takes one person to start out to be that role model," she said.
"If I had encouraged even one young person to take their sport seriously and reach the next level, I think I would have done a good job in my life."
Bains occurs in the year 2023 Guinness Book of Records.
Produced in collaboration with SWNS Talker.
This story was provided to Newsweek by Zenger News.
https://www.newsweek.com/woman-powerlifter-sets-world-record-squatting-body-weight-1750429 Powerlifter sets world record in bodyweight squat