Pregnancy centers targeted by the Massachusetts Attorney General deserve help
Following the decision of the US Supreme Court in Dobbs v. Jackson Women's Health Organization, we didn't expect an attorney general to threaten civil sanctions against reproductive health facilities. But Massachusetts Attorney General Maura Healey did just that.
On July 6, Healey issued a "consumer warning" against "Crisis Pregnancy Centers" in the Commonwealth of Massachusetts "aimed at preventing people from accessing abortion treatments." That same evening, vandals attacked the Clearway Clinic in Worcester, MA, smashing windows and destroying the property of the pro-life religious organization.
Not to be outdone by the attorney general's "advice," just weeks later, Healey's civil rights department sent a letter to at least one Pregnancy Center (PRC) suggesting that the department could seek sanctions against reproductive health facilities that report "pregnant." people" about the possibility of keeping their babies. Within days, vandals were attacking other facilities, spattering the walls red paint and scrawling "not a real abortion clinic" and "if abortions ain't safe, neither are you" over clinic entrances, Walls and park benches surrounding a statue of the Virgin Mary Mary.
All Americans should agree that such acts of violence and intimidation have no place in our republic. Surely Americans of good will can disagree on such an emotionally charged issue without resorting to window breaking and property destruction.
When the Commonwealth's Chief Legal Officer puts her finger on the scales of justice, we all suffer. An attorney general need not be committed to the pro-life cause to prosecute vandalism and property destruction. These are crimes under Massachusetts law. But as far as we know, the vandals remain at large. Authorities have not made any arrests. And to our knowledge, Attorney General Healey has done nothing to investigate and prosecute those responsible.
Furthermore, although Healey has threatened to unleash the full powers of her office on PRCs in Massachusetts, she does not appear to have bothered to send a similar letter to the leaders of Jane's Revenge, the group of vandals whose name appears on numerous spray paint emblazoned sidewalks, benches, walls and parking lots owned by PRCs.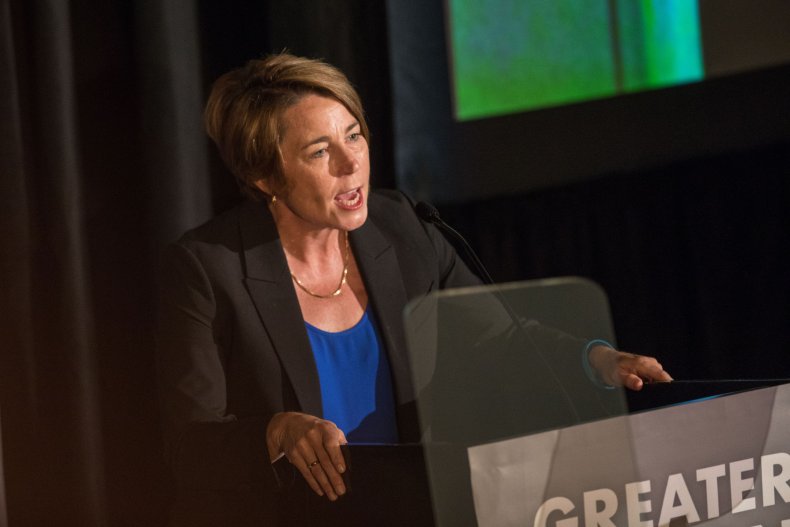 Who are these faith-based organizations receiving Healey's politically charged wrath? They are men and women motivated by their faith to provide medical and professional counseling services and to give away diapers, baby wipes and knitted booties to those in need. They are distributing free supplies including infant formula, baby food, blankets and clothes. Many offer parenting programs that help new parents face the important task of raising children. Others offer free STD screening, as well as free pregnancy testing, medical consultations, and professional advice. For those who react negatively to their abortion experience, PRCs provide supportive counseling and mentors. Some even recruit knitters in their communities to knit sweaters, ankle boots and blankets, which are given — for free — to women who request them for their babies.
Rather than protect these faith-based organizations that provide much-needed professional reproductive health services to Bay State mothers, as is the duty of her office, Healey put them at risk.
In a letter sent on behalf of our PRC customers, we asked Healey to remove the inflammatory "consumer warning" and withdraw her letter. We also asked them to articulate exactly what their office is doing to protect all Bay Staters. Has she directed law enforcement to investigate acts of violence against PRCs? Is she pursuing civil sanctions against those who disrupt access to reproductive health services in Massachusetts PRCs?
Both federal and state laws protect PRCs as reproductive health facilities. As the US Supreme Court recently stated, public officials must not "act in a manner that is intolerant of religious beliefs or [restrict] practices because of their religious nature." Officials may also act "in a manner that judges or presupposes the illegality of religious beliefs and practices" of that People's Republic of China.
Instead, the Supreme Court states: "The constitution obliges the government itself to religious tolerance, and even at the slightest suspicion that proposals for government intervention stem from hostility toward religion or distrust of its practices, all officials must pause to consider their own high standards Duty to religion to remember the Constitution and the rights it secures."
Tolerance is in short supply these days. The Massachusetts Attorney General is welcome to object to these PRCs and their volunteers. She should not be allowed to turn a blind eye to crimes being committed against her.
Andrew Beckwith is President and General Counsel of the Massachusetts Family Institute. Jeremy Dys is Senior Counsel at First Liberty Institute, a non-profit law firm dedicated to defending religious freedom for all.
The views expressed in this article are the authors' own.
https://www.newsweek.com/pregnancy-centers-targeted-massachusetts-attorney-general-deserve-help-opinion-1743794 Pregnancy centers targeted by the Massachusetts Attorney General deserve help