Prince William is praised for hugging in Echo of Meghan Markle Debate
Prince William hugged an older adult during a visit with echoes of one of Meghan Markle's very first royal jobs.
The Duke of Cambridge showed his emotional side when he met William Burns on Wednesday during a visit to Glasgow as part of a two-day tour of Scotland.
He also posed for selfies alongside Kate Middleton during a down-to-earth walking tour that sparked debate from the earliest days of Meghan's time as working royal.
Prince William and Kate Middleton's Very Warm Glasgow Walkabout
William and Kate shook hands and posed for photos with members of the public during a royal tour of the Wheatley Group in Glasgow, Scotland, on Wednesday.
The moment that really caught headline writers' eyes, however, came when the prince hugged Burns, 66, who seemed overwhelmed at meeting a future king.
That Daily Mail the headline read: "Touching moment as Prince William tore up royal rulebook to hug elderly man overcome with emotion during tour of Scotland."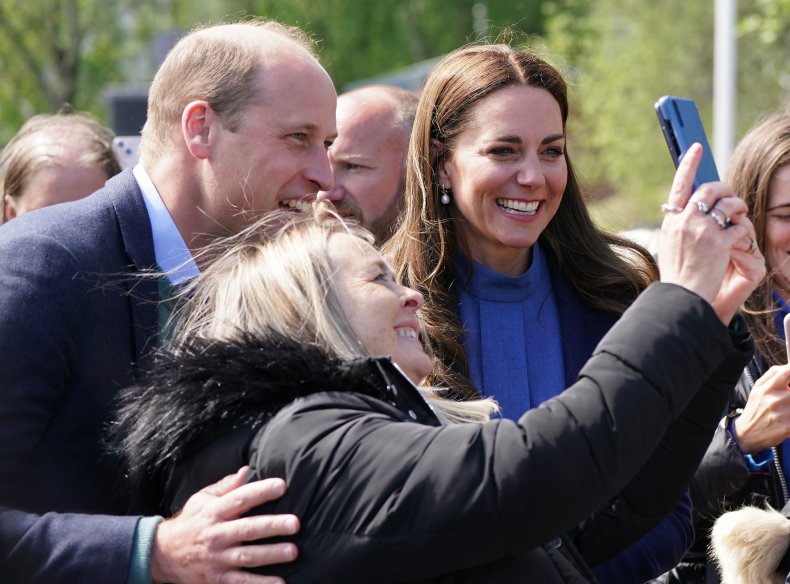 Meanwhile the daily mirror ran: "Prince William proved that men can still hug – and that's important."
Feature writer Emily Retter wrote, "I realized that the hug itself made me do a double take.
"Not just because it was a rare instance of a royal hug. But simply because it was a hug between two men.
"Because men still don't hug often, and it took a very public 'man hug' to remind me of that."
On the second day of his tour, Prince William visited Heart of Midlothian Football Club in Edinburgh, where he received shirts for his children with their names on the back.
He was there to support the Scottish Association for Mental Health's The Changing Room project.
Meghan Markle hugs fans during visit to Wales
Meghan relocated to the UK after announcing her engagement to Prince Harry in November 2017, before celebrating her first royal engagement in Brixton, London in January 2018.
However, the debate over their hugs captured the public imagination after her second job took her to Cardiff, Wales.
The future duchess was photographed hugging, posing for selfies and signing autographs, prompting a spate of headlines suggesting she had broken royal protocol.
Prince Harry once arranged them, telling a group of school kids at the Star Hub: "Everybody give Meghan a group hug."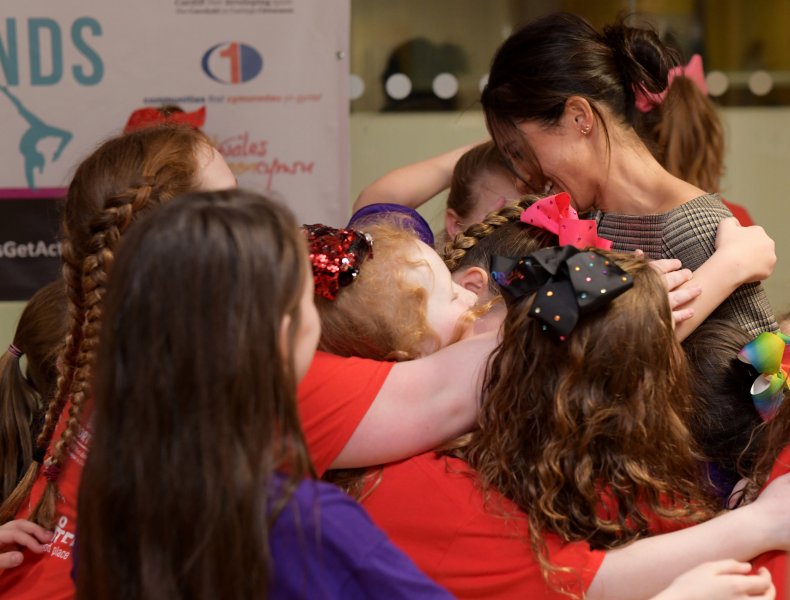 There were more hugs for her early royal jobs in Edinburgh, Scotland, in February and Birmingham in March.
Much of the reporting described the hugs as breaches of royal protocol, although many of the articles themselves were otherwise uncritical.
A headline in there The sun in April 2018 to read, "Meghan Markle can't stop breaking royal etiquette as she hugs guest at the Invictus Games trials…showing she's a natural with children with a cute toddler."
Bonnie Hammer, chair of NBCUniversal, told the 2018 documentary Inside the royal wedding as Meghan told palace staff she was a hugger.
Quoted by The Sunday Times At the time, Hammer said, "The guards greeted them and led them inside. After the first few times…she started hugging the boys, which wasn't exactly protocol. And at one point someone said to her, 'Well, people don't really do that.' She literally said, 'I'm American. I embrace.'"
How the coverage compares
Biography of Harry and Meghan find freedom describes the reporting on Meghan at the time as unfair.
Authors Omid Scobie and Carolyn Durand wrote: "Reportedly, her other 'mistakes' included walking ahead of Harry on one occasion, high-fiving a fan and giving a little girl a personalized autograph, complete with a heart and a smiley face.
"(The 'autograph' was actually a tactful Meghan, who dodged the favor by writing the young girl's name instead, as signing your own name as royal was a no-go.)
"'Why let facts get in the way of a story,' complained a Kensington Palace staffer that evening."
Prince William's embrace was described in the post Office more as tearing up the rule book than breaking protocol, but the two sentences arguably amount to similar statements.
A similar sentence also appeared in one Daily Mail Article about Meghan's visit to Cardiff with the headline: "Rip up the royal rule book! Meghan wears JEANS for her visit to Cardiff with Harry as she loosens the reins of protocol by signing autographs, posing for selfies and even letting a fan kiss her hand."
For more royal news and commentary, click here news week's The Royal Report Podcasts:
Much of the media coverage of Meghan, who went off protocol back in early 2018, has been positive about her, especially by 2022 standards, where criticism of the Duchess has become much more extreme.
Piers Morgan called Meghan "Princess Pinocchio", while Dan Wootton, a GB News presenter, referred to her as "Me Gain".
In contrast, the metro described a breach of protocol as a "powerful moment" during the post OfficeThe article about the Cardiff visit read: "Meghan proved she was as popular in Cardiff as her husband-to-be, as the crowd cheered her name and showered her with hugs during her first trip to the country.
"Admiring fans lined up from 6am to greet the couple."
The Royal Family website describes the protocol for meeting royals but notes that it is not mandatory: "There are no mandatory codes of conduct when meeting the Queen or any member of the Royal Family, but many people wish to follow the traditional forms .
"For men, this is a neck bow (just of the head), while women do a little curtsey.
https://www.newsweek.com/prince-william-praised-hugging-old-man-echo-meghan-markle-debate-royal-protocol-1706078 Prince William is praised for hugging in Echo of Meghan Markle Debate