Pro-wrestling legend arrests intruder and holds him at gunpoint until police arrive: 'We're safe with no harm'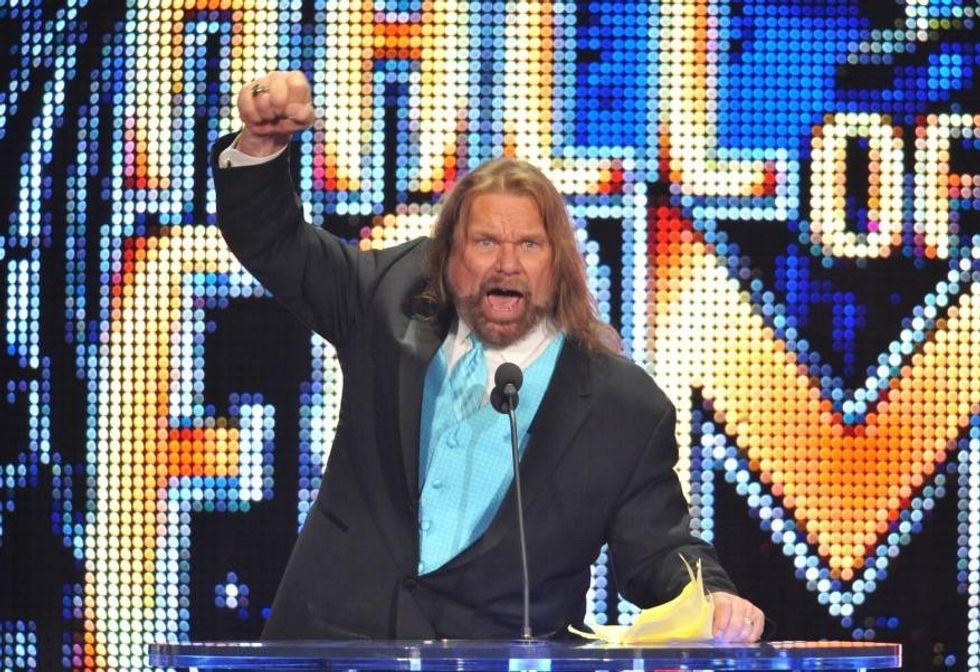 A Hall of Famer wrestler has had to defeat an opponent again almost a decade after his last appearance in the ring.
On the evening of December 8, "Hacksaw" Jim Duggan was at his home in South Carolina with his wife, Debra, when suddenly an unidentified man fell inside. duggan recently said Wrestling Inc.
"A man we had never seen before climbed our fence, ran through our yard to our front door and banged on our glass doors," Duggan said in a Twitter post around 6:45 p.m.
"Before we could reach the door, he opened it and fell into our house," Duggan added.
Duggan, 68, spent more than three decades as a professional wrestler and had several memorable bouts with the WWF in the late 1980s and early '90s, so his career trained him well for this moment. Duggan claimed he arrested the man and forced the man's hands behind his back. Then the man, known to be using a 2×4 in the ring, instead opted for another weapon — a .44 caliber handgun — to keep the suspect honest while they waited for police to arrive.
"I held him at gunpoint while Debra called 911," Duggan continued.
Though Duggan held back the threat, he's now grateful he didn't actually use violence against the man. It turned out that the man may have been trying to escape other suspects. The man, who was described as "hysterically terrified", explained that people in the neighborhood had been chasing him and trying to kill him and that he was banging on several doors to try to get to safety.
"Thank God we didn't shoot him," Duggan said.
Instead of shooting the man, Duggan turned off his outdoor Christmas lights and told the unnamed intruder to keep quiet. When the MPs finally arrived, Duggan was happy to let them do the work.
"We would like to thank the Kershaw County Sheriff's Department for their prompt and professional response," Duggan said added. He and his wife chose not to press charges.
"We are safe with no harm," Duggan's post concluded.
In 1988, Duggan won the first Royal Rumble and in 1994 he became the first US Heavyweight Champion of World Championship Wrestling. He was inducted into the WWE Hall of Fame in 2011. WWF was renamed WWE in 2002.
Duggan announced this last year prostate cancer, whom he continued to fight earlier this year. He recently completed radiation and appears to be in remission. On December 12, he advocated frequent physical examinations. "Early detection saves lives," he said.
https://www.theblaze.com/news/pro-wrestling-legend-apprehends-home-invader-holds-him-at-gunpoint-until-police-arrive-we-are-safe-with-no-damage Pro-wrestling legend arrests intruder and holds him at gunpoint until police arrive: 'We're safe with no harm'