Protests against the Cuban Communist Party – "Freedom! Freedom!'
Protests in Cuba have intensified as anger mounts over power and internet outages on the Caribbean island two weeks after it was hit by Hurricane Ian.
The demonstrations follow civil unrest earlier this month and large-scale protests that erupted last summer as frustration with the ruling Communist Party mounted. Local residents reportedly gathered on the streets Monday night to chant their demands and shout, "Freedom! Freedom!"
The entire country was plunged into darkness for days after Hurricane Ian hit it on September 27. Residents blamed the government for the infrastructure collapse and accused officials of being too slow to react to fix it.
Some areas are still without power two weeks later. A press release published Monday on the Cuban government's website reveals that in Pinar del Rio province, only "38.5% of electricity has been restored," while the water supply situation remains "complex." According to a report from an official meeting, more than 10,000 houses in the province had "totally collapsed".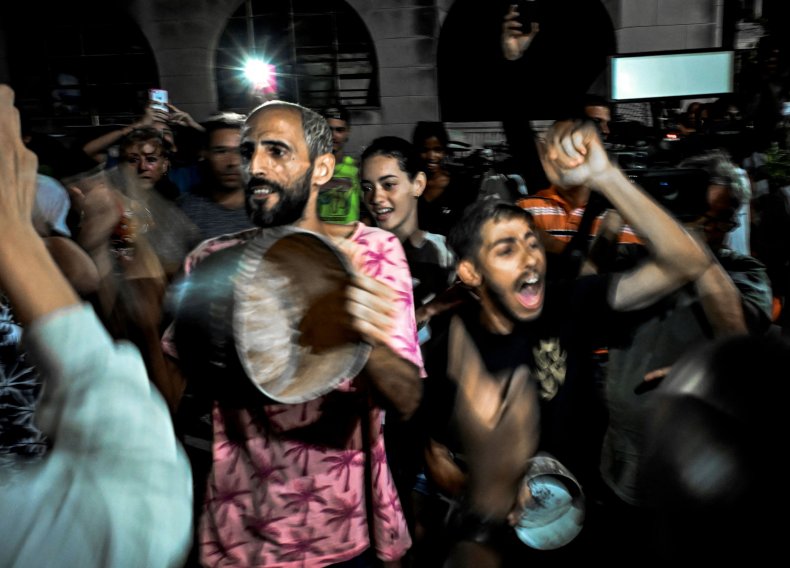 Some analysts noted a drop in internet usage after the storm, before almost completely halting two days later on September 30. Before the connection was cut, some news of protests had leaked. Last week, internet monitor NetBlocks.org published a chart showing the sudden outage, with director Alp Toker saying, "We can confirm the near-total internet blackout in Cuba. We believe the incident is likely to have a significant impact on the free flow of information protested."
Now it appears the demonstrations are not over, with reports flaring up again this week in Spanish online newspaper CiberCuba. The site was set up in 2014 by Cuban expats to report on the island, whose own press is heavily censored, according to Amnesty International.
CiberCuba reports that citizens have taken to the streets banging pots and pans, honking their car horns and chanting slogans. Protests took place in the capital Havana, as well as in Bejucal, Güines, Jaruco and San José de las Lajas, the website added.
CiberCuba quoted an unnamed Cuban woman, now living outside the country but in touch with the people there, as saying that Cubans "don't want any more promises or empty words; they want freedom…they've already taken away the internet; I've lost touch with everyone there." The protest in Bejucal was particularly lively, CiberCuba said, reporting that a large crowd marched through the streets shouting, "Freedom! Freedom!"
news week has asked the Cuban government for comment.
An article in Sunday's independent blog Havana Times claims most of the country's crops have been decimated by the hurricane, with increasing frustration directed at officials. One farmer was quoted as saying: "For years we tried to get paid for our produce. The state does not pay well and not on time. We had to wait for a hurricane to pass through that area and it destroyed everything for senior officials to meet with Guajiros [farm workers]."
It is unclear whether Cuba's President Miguel Mario Díaz-Canel Bermúdez or Prime Minister Manuel Marrero Cruz raised the issue. But Humberto López, a host of Cuban state television, warned citizens about the consequences of "anarchy" in Cuba, adding: "There are laws here, there is a very clear penal code."
As early as July 2021, Cuba experienced its largest anti-government protests in decades. Thousands took to the streets to demand change as they demonstrated against food shortages, blackouts and US sanctions.
The US sanctioned the island nation in 1962 when President John F. Kennedy instituted a trade embargo to stop the spread of communism. The sanctions remain one of the world's longest-running country-by-country boycotts.
On Thursday, US Secretary of State Antony Blinken met with activists from Cuba, Nicaragua and Venezuela, calling them "human rights defenders, [who are] do their best to ensure that the people of their countries have a voice, despite governments and regimes trying to silence them."
news week has contacted the State Department for comment on reports of recent Cuban protests.
https://www.newsweek.com/cuba-protests-demonstrations-internet-blackouts-1750828 Protests against the Cuban Communist Party – "Freedom! Freedom!'