Putin calls the blast in Crimea "terrorism" as concerns grow over a nuclear escalation
Russian President Vladimir Putin said Sunday the blast that damaged the Kerch Strait Bridge – the bridge that connects Russia to Russian-held Crimea – was an "act of terrorism" committed by Ukrainian officials be.
"There is no doubt. This is an act of terrorism aimed at destroying vital civilian infrastructure," Putin said in a video address, according to Reuters. "This was conceived, implemented and ordered by the Ukrainian special services."
Responding to the Russian leader's remarks, retired US Army General Mark Hertling said on Twitter: "The military or a representative in The Hague would say that this was indeed a well-planned and precisely executed conventional attack on undefended and valid strategic military forces." targets. Vlad may not recognize these."
Putin's statement on Sunday comes as Western officials have raised concerns over the past few days about the nuclear threat posed by Moscow. In a speech Thursday, President Joe Biden said Putin was "not joking" about recent threats to use tactical nuclear weapons and warned that such a decision could lead to "Armageddon."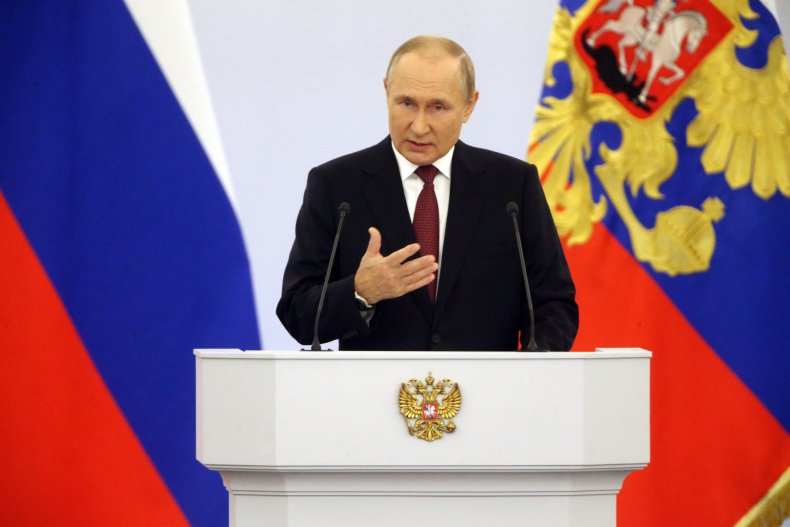 Anton Gerashchenko, Advisor to the Minister of Internal Affairs of Ukraine, quotes a Saturday tweet by author Stephen King.
"I can only quote @StephenKing in response: "After nine months of killing and in many cases torturing civilians; after entire cities have been destroyed; the Russians call the blowing up of a bridge 'terrorism'…" he wrote.
This is a breaking story and will be updated.
https://www.newsweek.com/putin-calls-crimea-blast-terrorism-concerns-nuclear-escalation-grow-1750202 Putin calls the blast in Crimea "terrorism" as concerns grow over a nuclear escalation