Putin conscripting occupied Ukrainians could foment 'mutiny' and desertions
Potential Russian efforts to recruit Ukrainians to fight their own country in the ongoing war could increase the risk of desertions, defectors and even "mutinies," experts say.
The General Staff of the Armed Forces of Ukraine said in an operational update on Thursday that Russia is preparing a bill that would legalize conscription for Ukrainians currently living in Russian-occupied territories who have been granted Russian passports.
The update said the law would legalize the drafting of Ukrainians who meet these criteria starting in spring 2023.
A partial mobilization announced by President Vladimir Putin in September provoked fierce opposition among Russian citizens who took to the streets to protest against conscription and within weeks hundreds of thousands had fled the country.
Experts believe that if Russia imposes military service on Ukrainians living in occupied territories, some of which have been declared "annexed" despite global outrage, attempts to get them to fight could also meet with strong opposition.
Henry Hale, professor of political science and international affairs at George Washington University, said news week that among Ukrainians who have accepted Russian passports there may be a "small minority" who are pro-Russian.
Most others accepted passports probably for "opportunistic reasons" such as access to the Russian market, and some might even have done so under duress, he said.
"From that perspective, I wouldn't expect these people to be at all happy about being drafted, let alone being actually sent to fight other Ukrainians," Hale said. "We saw a lot of resistance in Russia itself… I think [Ukrainians] even less likely to obey orders to line up."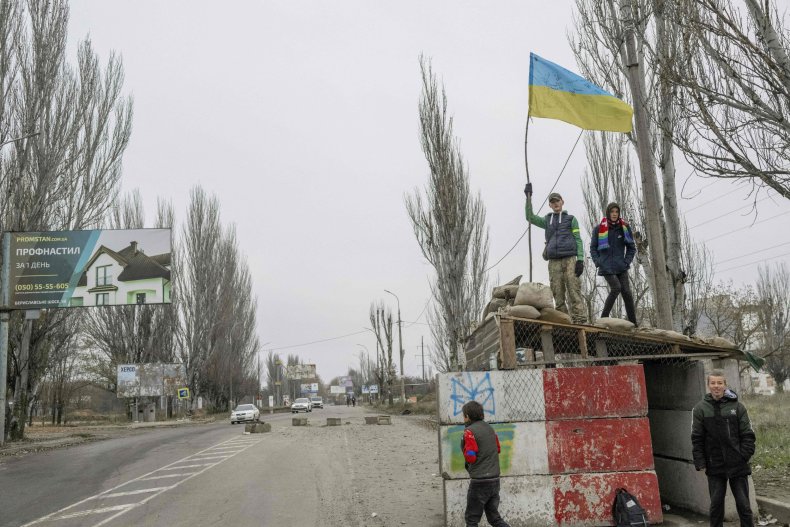 "I think if you try to bring in people like that, if they do eventually, you increase the risk of defection, mutiny and desertion," Hale continued. "So you are ultimately weakening an already quite demoralized and fragile occupying force."
In May this year, Putin signed a decree simplifying the process for Ukrainians living in occupied territories to obtain Russian citizenship by obtaining Russian passports, the Moscow Times reported.
Russia had already introduced a simplified passport procedure for Ukrainians in the eastern regions of Luhansk and Donetsk in 2019, but extended the simplified system to the Ukrainian regions of Zaporizhia and Kherson in the new decree.
Ukraine condemned the then decree, saying that issuing Russian passports to its citizens was not legally sound, Radio Free Europe reported. While Ukrainians who are granted Russian passports can be considered Russian citizens in the eyes of the Putin regime, it was not immediately clear whether international law would recognize such citizenship.
Separately, said William Pomeranz, director of the Wilson Center's Russia- and Eurasia-focused Kennan Institute news week that he believes that Ukrainians who have received Russian passports may not want to go to war.
"I think they would just turn and run," he said. He also pointed out that as long as Russia considers them Russian citizens and part of the Russian army, any Ukrainians who surrender could face "significant penalties."
Sean Spoonts, a US Navy veteran and editor-in-chief of the Special Operations Forces Report (SOFREP), also said news week that he would expect "many desertions" from Ukrainians drafted to fight for Russia, as well as many instances of Ukrainian conscripts "sneaking out in the middle of the night, crawling across the lines and trying to surrender".
On the other hand, Russia can take measures aimed at mitigating possible desertions of conscripted Ukrainians. Spoonts explained that Russia is currently operating paramilitary forces behind the lines of "unreliable units" to prevent them from escaping.
In a situation where Ukrainians are being called up to fight for Putin, "Russians are smart enough to mitigate [surrenders by Ukrainians] probably mixing them with other Russian troops to prevent them from surrendering and laying down their arms," ​​Spoonts said.
news week turned to the Kremlin with a request for an opinion and confirmation that a Ukrainian conscription law was being prepared.
https://www.newsweek.com/vladimir-putin-russia-drafting-occupied-ukrainians-could-fuel-mutiny-desertions-experts-say-1760756 Putin conscripting occupied Ukrainians could foment 'mutiny' and desertions