Putin 'detached from reality' made 'miscalculations' in Ukraine: Tony Blair
Former British Prime Minister Tony Blair said on Sunday that Putin was "detached from reality" in the face of the Russian invasion of Ukraine.
Blair's comments came during an interview on CNN. Host Fareed Zakaria played footage of Putin shaking hands with Blair during a trip to London in April 2000, marking the Russian President's first visit to the West since his election.
"He seemed rational, incremental, calculating, logical. Now he seems emotional, angry. asked Zakaria.
"The first Putin I met was pro-West, keen to have a good relationship with the West… Then he found the challenges of reform and change in Russia too great, I think, and decided to take power in a more autocratic way and then become a Russian nationalist," Blair said.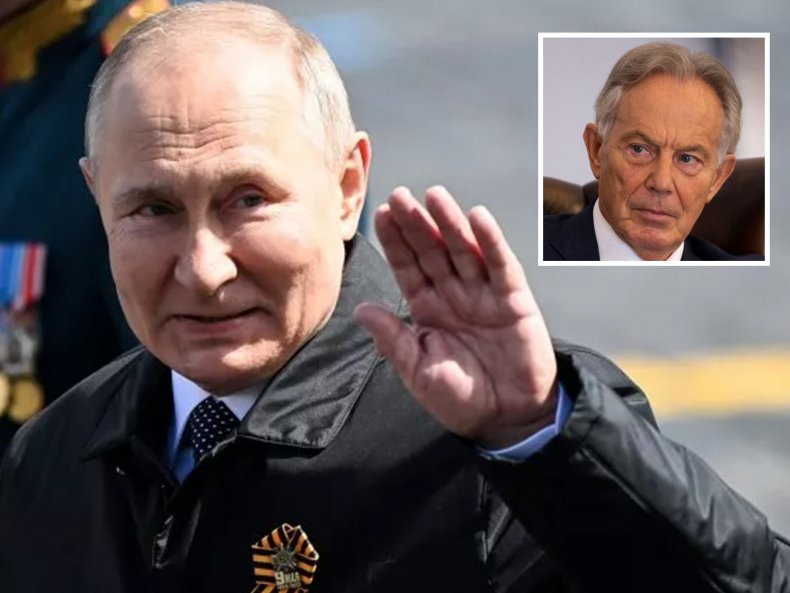 He added that the "second incarnation" of Putin was "cold and calculating" but still "completely rational in his own terms".
Blair continued: "I think everyone's afraid that they're now completely detached from reality and surrounded by people who aren't telling them the truth. And so this incredible miscalculation, I mean, put the malice aside, the miscalculation strategically and in every possible way was enormous."
Blair added that anyone who knows Ukraine "knows that there was never any talk of Ukrainians agreeing to such subjugation by Russia."
news week has asked the Russian Foreign Ministry for comment.
Former Russian Prime Minister Mikhail Kasyanov said in an interview on Friday that Putin "has already begun to realize that he is losing this war." He also said he believed the Russian president had been "misled" by his advisers about the state of the Russian military and how quickly the invasion of Ukraine would take.
In an interview on Sunday, Canada's Ambassador to Ukraine Larisa Galadza said that Putin "is not rational" and therefore nobody could have stopped the invasion of Russia.
"He didn't believe the story. He wasn't logical. He wasn't rational. He's not rational. So I don't know how to prevent that," Galadza told the CBC.
"I don't think there was anyone who could stop Putin from doing what Putin did," she added.
US Ambassador to Ukraine Kristina Kvien said Sunday she believed Putin was making "empty threats" against Finland and Sweden amid his war casualties as those countries move toward NATO membership. On Sunday, Sweden's ruling party put aside Putin's threats and agreed to an offer to join the security alliance, reversing centuries of nonalignment.
https://www.newsweek.com/putin-detached-reality-made-miscalculation-ukraine-tony-blair-1706787 Putin 'detached from reality' made 'miscalculations' in Ukraine: Tony Blair